Today I want to go in depth about one particular boot brand from our friends at Pinto Ranch! Black Jack cowboy boots are a newcomer to the boot making business started back in 1996. 24 years might sound like a long time to some of you, bet when it comes to names such as Lucchese, Tony Lama, or Rios Of Mercedes cowboy boots, that's just a drop in the bucket.
Black Jack boots is proud of their 100-step boot making process that begins with the selection of the best grade leathers and findings around the world that enables them to ensure fit, comfort, and durability. Their master boot makers bring over 200 years of combined experience and pride in their profession, along with management and sales teams that are second to none.
Black Jack boots use only the best exotic and smooth leathers that are hand picked and used for their vamps, heel foxings, and tops. They use Shanandoah calf and cream cow linings, and only leather side seams and piping. Black Jack cowboy boots commitment to produce the finest all leather handmade boot in the united States will not waiver, and the satisfaction of ever customer is their first priority!
Click image to view all the great western wear & premium cowboy boots from Pinto Ranch
BLACK JACK EXCLUSIVE PEANUT MAD DOG GOAT BOOTS
How can something be strong and soft at the same time? This is how. These Mad Dog boots are made of 100% leather, following a tradition of boot making that is more than 100 years old. The masters at Black Jack boots have designed and handmade this boot to be the best boot you've ever felt. Walking in a broken-in pair of your own, all leather cowboy boots is like walking in the comfiest sneakers.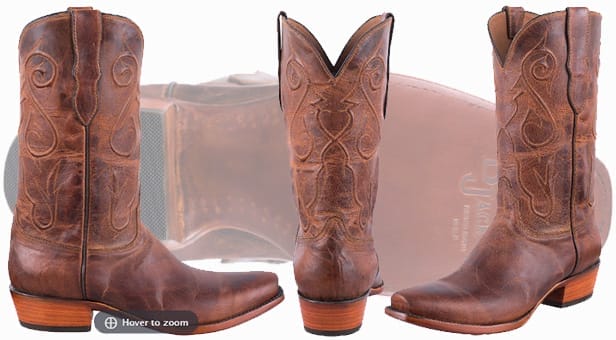 These boots feature a fancy 'Sunland' cording pattern, outlined by Golden Brown contrast stitching that accents the boot's rich Peanut color. The vamp is deep in texture, with a V toe that almost comes to a complete point. The fancy pull straps have a little flourish, and the whole boot is complimented by rich brown piping.
Here's a Detailed Description of What You Will Be Getting
Handmade Luxury Goat Leather Boots
Burnished Mad Dog Finished Leather
Color: Peanut Mad Dog
'Sunland' Cording with Golden Brown Stitching
Fancy 'S' Pull Straps
Single Welt Stitching
Black Jack 'V' Cutter Toe
1 3/8″ Cowboy Heel
Exclusively Available from Pinto Ranch
12″ Shaft
Outsole is Leather
Insole is Leather
Handmade by Masters in El Paso, Texas
A Pinto Ranch exclusive from Black Jack boots, one of the finest boot makers in the world.
This item is handmade from natural materials in El Paso, TX, so there may be variation in appearance when compared to the provided image.
Black Jack Exclusive Natural Caiman Tail Cowboy Boots
If you are thinking about exploring the "wild side" of cowboy boots, this may be the boot for you! An aggressive look on this amazing pair of caiman tail cowboy boots from Black jack. The vamp is made from the caiman tail instead of the belly which is usually the most common. Very noticeable indeed and they also feature an understated but modern "Ruidoso" cording pattern with complimentary chocolate stitching. As usual I love the "V" snip cowboy toe and of course the pull straps sport an overlaid caiman hide.
Handmade: Yes
Material:Caiman, Goat
Color:Natural, Tan Mad Dog
Details:Ruidoso Cording, Brown Piping, Overlay S Style Pull Straps
Toe type:"V" Snip Toe
Heel type:"3" Cowboy Heel
Outsole:Leather
Insole:Leather
Heel Height:1 3/8″
Shaft Height:12″
Manufactured:El Paso, Texas
34 Different Pairs In 10 Different Styles Of Black Jack Boots

The first pair: BLACK JACK FOR PINTO RANCH MEN'S TAN BUFFALO SHOULDER BOOTS – A classic style made in El Paso Texas, a two tone cowboy boot made from buffalo leather with a beautiful snip toe and cowboy heel. A beautiful tan and dark brown boot made by Black Jack.
The second pair: STALLION WOMEN'S DISTRESSED VINTAGE KIDSKIN AND CAIMAN COWGIRL BOOTS – I had to put this pair of beautiful women's cowgirl boots by Stallion because it was in the picture next to the Black Jack ginger pirarucu boots. A beautiful pair of women's vintage camel kidskin boots with caiman wingtip, heel foxing, and of course, handmade in Texas by Stallion boots!
The third pair: black BLACK JACK EXCLUSIVE GINGER CHESTNUT PIRARUCU BOOTS – Made from the largest fish in the Amazon, this beautiful cowboy boot by Black Jack is definitely a show stopper and gives a whole new meaning to the phrase "A fish story". The Marfa cord and stitch pattern looks almost like a blazing fire, with cascading, exotic lines zig-zagging up the front and back of the boot.
The fourth pair: BLACK JACK PIRARUCU FISH COWBOY BOOTS IN CHOCOLATE – Another Black Jack boot by that behemoth fish from the Amazon, the beautiful Pirarucu. These Chocolate Pirarucu Fish boots are as really something else, with a beautiful, dynamic skin that forms in a brilliant diamond pattern, and an exciting cord and stitch pattern.

Click Image: This is the place to buy the best boots – Hands down! Get The Best Prices
All About Handmade Black Jack Cowboy Boots Made In Texas
Black Jack cowboy boots for Pinto Ranch is a premium handmade boot collection made exclusively for our stores by Black Jack master boot makers. Designed and manufactured in El Paso, Texas, Black Jack Boots uses 100% genuine exotic and smooth leathers that meet Pinto Ranch quality and style standards.
Black jack is a boot company that takes great pride in their boots since 1996. They also create beautiful handmade belts and accessories that definitely look as good as their boots. They have a 100 step boot making process that begins with the finest leathers found around the world which results in a superior fit, comfort and durability. Black Jack's master boot makers bring over 200 years of experience and pride into their boot making which shows in every pair of Black Jack cowboy boots.
Their commitment to produce the finest all-leather handmade cowboy boots will not waiver and the satisfaction of every customer that owns a pair of Black Jack boots is their first priority!

That Sums It Up for This Great Pair Of Boots
"One thing I grew up knowing was the importance of quality. I will not sacrifice quality to get a lower price" – Jerry Guerra, Black Jack Boots Founder and President
Here is what one customer on Pinto Ranch had to say about his new pair of Black Jack boots: "Amazing pair of boots. Absolutely love my new boots. They look rugged but are extremely comfortable. Great value for the money. As always, your customer service is superb.".
This is one heck of a pair of boots that you will enjoy for years to come. The quality of these handmade men's Black Jack cowboy boots is second to none. We know sometimes you can't afford a pair of Black Jack, Stallion, or other super high quality boot. If that's the case, check out our article on some really good boots that won't break the bank. Dan Post men's boots or Dan Post women's boots are definitely something you need to check out or even our section on cheap cowboy boots might be your style.
Pinto Ranch has a great selection of men's cowboy boots and of course a beautiful selection of women's sexy cowgirl boots. They have everything you may need when it comes to boots, belts, buckles, cowboy hats, etc… etc… You definitely can't go wrong with the quality and quantity of products they offer.
If you're a sports fan, check out our college team cowboy boots here and spread the word! If you have any questions, requests, or just want to chat about some great handmade Black jack cowboy boots or other questions about Black Jack, please let us know below. I hoped this post helped you out in your quest for a great pair of fitting boots. As always we hope that we helped you to find your new favorite pair of cowboy boots!