There is indeed no shortage of cute boots on the market. But, cute boots that won't start falling apart after a few wears? Not so much.
I kinda had the same feeling when I saw Lane boots for the first time. After all, they were super pretty, and in my experience, something that pretty never lasts long. Boy, was I wrong.
Gotta say, Lane boots are the type that you buy now and wear through at least two administrations. They are the Docs of the West. They are just… good. How much and why, read on to find out.
Behind the Brand
The story begins with Patrick Lane. He originally tried working with several different manufacturers, but he was not happy with the design and quality. So, he founded his own brand in 2007.
In 2009, the first pair of Lanes was made. Since then, they have released hundreds of different styles.
Today, the boots are beloved across the globe and are a staple in every Cowgirl's wardrobe.
Lane Boots For Women: Why They Are The Best Cowgirl Boots Around
If you were in the room with me, I would just throw my favorite pair at you and this conversation would be over. But, since you can't play with the real thing right now, I'll try to do them justice with words only.
Passion
I guess that's the key ingredient. These people actually care about what they are making. They are not doing it just because this style is "hot this season", but because they care.
Design
Yes, they are pretty. But it doesn't take a degree from an art school to see that it goes beyond that. Every stitch, every rivet, every cut is carefully thought through to create something truly outstanding. And you can not accuse them of being something you've seen a million times before. The foundation may be familiar, but what they do with it is often magical.
Louboutins of cowboy boots
No, this is not the reference to the recognizable soles (though there's that). It's about math.
When Christian started designing shoes, he spent a lot of time figuring out how to make those sky-high heels as comfortable as possible. This is what they have in common with Lanes. Most cowboy boots pinch until you properly break them in, but not these guys. Each style is adjusted to offer max comfort from day one.
100% Handmade
And the most important factor, this. Each boot passes through a pair of human hands at every stage of production. Its quality control at its finest. Also, the people who make your boots are not random strangers who don't care about their job. They are skilled artisans with years of experience and love for the craft.
Are Lane boots ethically made?
Yes, no sweatshop shenanigans here, only artisans that are passionate about what they do. As of now, there are no other red flags either.
Are Lane boots vegan?
No, sorry if you were looking for good vegan boots. All boots are made from genuine leather.
Can I get custom-made Lane boots?
Sorry, but not for now. However, follow their social media pages and/or subscribe to their newsletter. If they start accepting custom orders, that's where you'll find out first.
Top Lane Boots for Women
Let's start with a "sensible" model first, because everyone needs good basics in their collection. At first sight, Emma is a very simple boot that comes in neutral colors. Yes, leopard print is neutral, and there's no way to make me believe otherwise.
She is pretty much what you should expect from a solid pair of boots that you can wear anywhere and with anything. I love the detailing – the decorative stitching adds dimension and interest without being too loud. Emma would look great with a simple jeans and T-shirt combo, as well as pretty floral-print or white summer dresses.
Ignore the name, because there is nothing plain about this Jane. Just like Emma, she is also a "safe" option that will work with any wardrobe and for any occasion, but she has a different feel to her.
Jane looks truly handmade. Kinda like the stuff you would see in these fancy studios where they don't use any modern tools and machinery. It gives her a certain Old West charm that never goes out of style. I love her with a pair of leather pants for a proper road warrior look, but Jane will look great even when you go for something more casual or girly.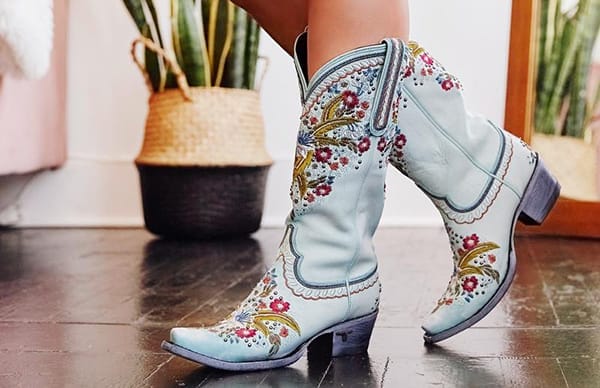 Chloe is the style of a boot that led me to Lane in the first place. She's so cute and girly without looking juvenile.
I love how she has a completely different feel depending on the color. The blue looks like something a Disney princess should have in her wardrobe, while the brown seems to have time-traveled from the era of corsets and bustles. Chloe is a type of boot that will make your well-worn jeans and a white T-shirt look fancy in a flash. She can also be something blue for that awesome Cowgirl bride.
Lane boots know how to do a good bootie, and this pair is my favorite. You can imagine how this boot moves and sways when you put a pep in your step.
Featuring hand-lacing, studs, vintage-inspired conchos, ankle height, and burnished suede in all the right places. You're walking in the new west when you wear the Wind Walker Bootie's. Lane brings meticulously handcrafted, unique styles and current trends to the women's Western boot market. Bench Made and Hand Crafted in Leon, Mexico by skilled artisan.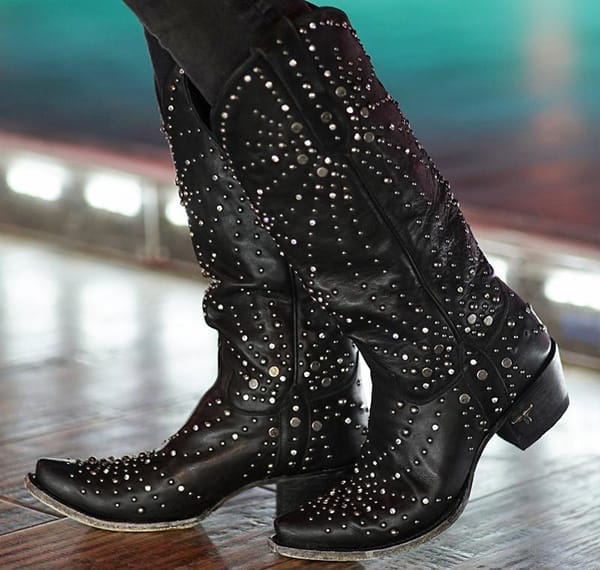 I remember seeing a picture of these for the first time. It took me a while to realize that those are not rhinestones, but rivets.
Look, there's good design, and then there's good design. Whoever took the time to pick the rivets and figure out the pattern is brilliant. Not only do these boots look like you're wearing 4th of July fireworks on your feet, but they truly sparkle. If you love glam and drama, you have to have these. I'm waiting for my size to come back in stock to snatch a pair.
Speaking of the 4th of July… Or any other day for that matter.
I know it's easy to slap the flag on shoes and clothing these days, but what's the point if you can't do it right? These boots also come in gray and black, but I think that the brown ones work the best. Pardon, burnt caramel. The flag simply pops in this color combo, and I love how it all works with the signature turquoise sole. Plus, the mid-calf height is perfect and will take you from fireworks and summer festivals into Thanksgiving and Christmas gatherings.
Remember how I said that Chloe is a great bridal boot? Now, wait until you get to know Sweet Paisley.
This is one of the most beautiful pairs of boots I've ever seen. And everything about them is perfect. The embroidery looks delicate, but it's not too sparse. The toe shape works flawlessly with it, and the bone shade is just lush. Even if you're not looking for boots to go with that special dress, Sweet Paisleys are the pair that will make any day special.
I was obsessed with Sienna Miller's look around the late nineties. Though she's a Brit, her look back then was pure coast-to-coast Americana. A bit Cali, a bit New York, with a regular rotation of cowboy boots.
This pair looks exactly like some of the boots she used to wear and I'm. Here. For. It. You don't have to be a Cowgirl to know that this pair of ankle boots are a must-have. But, the difficult question: brown or charcoal?
Wrap up
What's left to state is that I can wax poetic about how beautiful and sturdy Lane boots are. I can show you a video tour of the factory to see where and how they are made. I can also show you a sea of 5-star reviews.
However, the proof is in the pudding. You will understand that this is not a simple fluff piece when you have them on your feet, and especially after wearing them for years and years.