When you think of women's sexy cowgirl boots, what comes to mind? Is it a fashion accessory, waiting for you to showcase around town? Or is it strictly just a pair of boots that cowboys or cowgirls wear, riding a horse off into the sunset? Well, they are that and a whole lot more. When it comes to women's cowboy boots, sex appeal is welcome characteristic many of these boots project.
Our exotic leather collection brings an array of choices to complement a classic, yet fresh design. Skirts and dresses alike are wonderful outfits for women to pair with our women's cowboy boots. You can add a little class with a little country flair to kick your night out with a bang, while sporting the very best crocodile, ostrich, lizard, calf skin, and python boots that you will look fabulous in. Check out some of our handmade boots below.
The Influence Of Sexy  Cowgirl Boots Is Undeniable!
When you read the fashion magazines or stroll through shops, you'll be hard-pressed not to see the western influence in plenty of ads, pictures or real world photos of somebody famous.  From high fashion houses like Ralph Lauren and Chanel to mainstream designers for big box stores, and everything in between, western style and sexy cowgirl boots are a big part of American culture and fashion.
From head to toe (or from cowboy hat to cowgirl boot), western is classic, timeless and of course sexy! It has and always will complement any wardrobe – you don't have to be a cowgirl or cowboy to be sexy, but it helps!

STALLION WOMEN'S BLUE FULL QUILL OSTRICH COWGIRL BOOTS
Click Image To View Boots & Get Info
The materials they are made from are all natural, which are calf and ostrich. You'll definitely get compliments when you wear these blue leather roper boots. The Stallion Boot and Belt Company are responsible for bringing you these beauties.
Blue Is Cool, And These Sexy Cowgirl Boots Are No Exception
Handmade in El Paso, Texas, these pair of girls' cowboy boots are a beautiful blue. With it being a deeper tone of blue, it can be worn nicely with just about any solid color dress or skirt. Why not dress up and throw these pair of boots on? You'll love the cowgirl heel and the ease of getting the boots on with the pull on straps.
Sexy Cowgirl Boots, As American As Apple Pie
It is because of the rich history and fashion influences that western apparel stays relevant decade after decade. Sexy cowgirl boots is a trend that has never went out of style. It doesn't matter the year, 1890 to present day, cowboy boots have always looked good. From the plains of Texas to the streets of New York, there is just something sexy about a good pair of cowboy boots.  Western is more than a passing trend as it represents a lifestyle – the American lifestyle… making western wear the only fashion that is truly American.

Cowgirl boots also have a sexy factor that can't be denied. From Hollywood stars such as Olivia Wilde, Taylor Swift and to many super models to count, sexy cowgirl boots have been cultivated and popularized to a height of unimaginable poularity. Today couture runways and the celebrity music scene give cred to western chic and cowgirl boots that garners envy and respect.
How About Tobacco? Boots, Not Cigarettes
Any time something is made out of ostrich, you know it is going to be of high quality with a lot of pizzazz to boot. The Women's Kango Tobacco Mad Dog Smooth Ostrich Tooled boots reminds me of some sort of tobacco packaging I've fished my cigarettes out of, but in a good way. You know how they make the packages of cigarettes so sexy sometimes? That's what these women's cowboy boots remind me of. They have a very unique design and because the color is brown, it will look great with anything in your closet. It's not a simple brown, though.
Find some of the Best Women's Cowboy Boots right here or if you are looking for something a little cheaper, check out some great boots for women by Dan Post.
WOMEN'S KANGO TOBACCO MAD DOG SMOOTH OSTRICH TOOLED SEXY COWGIRL BOOTS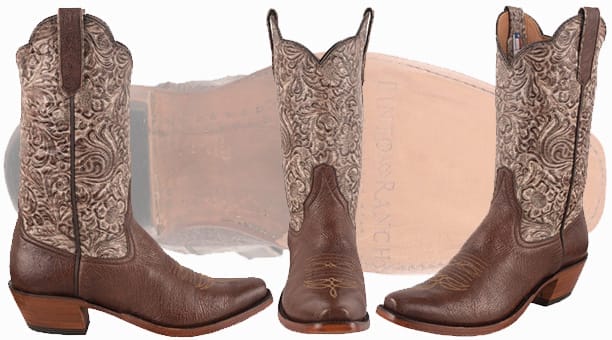 Click Image To View Boots & Get Info
The unique pattern makes it stand out, making it an easy staple piece. This one is also handmade in Texas, which means you are putting an American to work while also making you look great at the same time!
Short But Sweet Is The New Sexy
Are you more into a shorter heel and boot? These would be perfect for you! Even with a short design, these sexy women's cowboy boots from Stallion are once again handmade and colored in a mysterious color: dark suede. Doesn't that sound a bit sexy and mysterious? Hey, who knows, maybe you would rather check out some hot sexy rhinestone cowgirl boots instead!
STALLION WOMEN'S BLACK NUBUCK OSTRICH LEG ZORRO BOOTS
Click Image To View Boots & Get Info
Anyway, the material is made from, you guessed it, ostrich. I like the look of ostrich-made boots myself. These do have a zipper and are a three-piece construction. The modest 2-inch heels is great for anyone who wants to wear a short heel and still wear something as luxurious as ostrich.
Again, A Shorty But Sexy Cowgirl Boot
Stallion makes several awesome ladies cowboy boots in varying styles and sizes. These particular ladies cowboy boots are open as it moves towards the back, mirroring that of a traditional heel. All handmade from El Paso and crafted from the beautiful ostrich, these black mules go with literally anything. Looking for something to wear?  Check out our page about Dresses you can wear with cowboy boots.  Some great tips on where to get what you need today.
STALLION WOMEN'S BLACK FULL QUILL SEXY OSTRICH MULES
Click Image To View Boots & Get Info
You can dress them up or down. I love how you can slide into them, like a house-shoe. Of course, this is so much better. With the full quill ostrich skin, you will cause jealously whenever anyone sees you wearing them. Plus, your feet won't hurt at the end of the day, so they are great for the office and for the party after work. If you don't like the black, they do have a brown pair of mules for sale as well.
Throw A Crocodile Some Beef
So, I know I have been talking a lot about ostrich boots, but this crocodile and calf one deserves to be talked about too. Who loves a long boot? This pair of women's cowboy boots are a contrast in both style and design. The length continues on for 14 inches. Stallion makes great boots and this is another one of their designs I'm simply in love with. It is still handmade in El Paso and features a very classic boot look. There is a zipper that zips from inside the boot, which will prevent you from zipping any skin and has a low 2-inch heel.
STALLION BLACK CAIMAN MAJESTIC ZIPPER WOMEN'S COWGIRL BOOTS
Click Image To View Boots & Get Info
The uppers are made from calf and laced with buck, while the remaining is all crocodile. They are a black tone and ready to be worn with that sexy short dress you've been waiting to wear.
Sexy Cowgirl Boots, That About Wraps It Up
So, what did we learn today? Stallion makes awesome boots for both men and women's boots. Short is a very good thing and crocodile paired with calf is one sexy boot. Yes, boots are definitely a fashion staple that is not one dimensional these days. Any and everybody can be fashion forward in a pair of handmade boots, especially when they are made out of one of the most popular materials in the world. Once you do find the perfect match of sexy cowgirl boots, you can always count of them looking spiffy, since you now know how to maintain them properly.
Did you ever consider buying a sliding pair of women's cowboy boots? I hope you will after reading this. They are fun, flirty, and so comfortable to wear. It is like a mini-leather boot, but it still all the things the big boots have. Whether you prefer ostrich, crocodile, lizards, or pythons, a good boot it not hard to find, especially when you are looking for some great women's cowgirl boots at Pinto Ranch.  You might want to check out some of our other great articles on Ladies Biker Boots and work boots for women.  We will help you find whatever kind of handmade boot that will help you look great!