Dan Post – The Brand

Hey everyone it's Eric W. here, with wehearthandmadeboots.com and I'm going to be giving you all a rundown on the Dan Post Men's Boots. For starters, I must mention that Hat Country has some great Dan Post boots as well as many other boots and accessories that you might be in the market for. Dan Post has their own site as well, but it features the same items as Hat Country and they have the same pricing. Hat Country also has some great deals and sales all the time, so if you any of you are looking for a site that can take care of you, then you should head over to Hat Country right now.
While on the site, I saw some awesome boots, actually some amazing men's boots and those boots inspired me to write this amazing review. Alright, I've rambled on enough for right now, let's dig our heels in!
What Comes With a Pair of Dan Posts Boots?
Dan Post is a brand of boot that sets itself apart and strives to make its name synonymous with superior fit and handcrafted design and comfort. Usually, when you find a perfect pair of boots, there is a brief "break-in" period, but with the Dan Post Men's Boots, they sought to rebel against that long-standing belief. Each pair of boots has exotic skins and leathers and their Poron system that absorbs shock and adds comfort and support.
Comfort with the Ultimate Flex!
The Dan Post Men's Boots are not shy about their wish to break the mold and they have spent the past few decades innovating a comfortable fitting boot. If you're worried about moisture in your boot or support, then these boots will help with a leather boot cover. There's also a three-part insole which adds stability to both the arch and heel and flexibility to the ball of the foot. Also, they have their patented Poron® system which reduces the shock. But, let's not get too bogged down in the details. Dan Post is the boot that will give you comfort, flexibility, and style.
[embedyt] https://www.youtube.com/watch?v=jMrcXLG27KQ[/embedyt]
Find a huge selection of high quality handmade men's discounted cowboy boots right here!
The Price is Right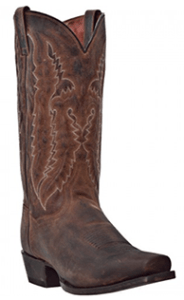 Now, you've been on our site for quite sometime and if not, that's fine too. We here, do not focus too heavily on the price, because we have a solid belief that value trumps price. And when it comes to Dan Post, the average price point is between $150 – $250. Not bad for a pair of well-made, hand crafted boots. And with that $150, you don't just get a pair of men's boots, you get a pair of Dan Post Men's Boots, and all the great value within. These boots aren't just going to sit on a shelf and wither away, these boots will be in the limelight, the cornerstone of your wardrobe, whether you want to take a stroll through the park or place yourself at a nearby watering hole. The Dan Post will always come through. Dan Post really does have a pretty good boot at an affordable price.  If you are looking for some of the higher ticket item boots such as Lucchese, Tony Lama, Stallion, or Rios of Mercedes cowboy boots, we have some great information on them as well. We also have some info on Dan Post women's boots.
As I mentioned above, the prices listed for both sites are the same, but I would definitely advise to go with Hat Country. They have some of the greatest deals and sales that make it worth a few visits per month. They also have a boatload of other accessories available for you to peruse at your leisure.
The Renegade comes in three different toe styles from Dan Post.  The round toe, the snip toe, and the square toe.  You can find all three styles and the rest of Dan Post men's boots here!
Dan Post – Not Your Average Boot! Not Your Average Styles!
As I mentioned before, Dan Post has some amazing boots featured on Hat Country and I'm sure that these won't disappoint. The Dan Post Men's Renegade R boots have decorative stitching, which to me looked like flames etched into the leather. Well, I guess they do have a point here. Walking around with these on will definitely allow you to bring some heat to wherever you go. Renegade is absolutely the right name for these bad boys, because you will undoubtedly be betraying the norm. These two styles are surefire standouts among the Dan Post brand.
I also liked the Milwaukee style of Dan Posts as well. It has a similar color scheme to the Renegades R and S, but it features a longer 13 in. shaft and a Rounded Toe. Although, I failed to see the connection with these boots and Wisconsin, I do appreciate that they both have the same average price point and the same stitching that drew me to the Renegades.
With these, I couldn't help but make a Bugs Bunny reference, but you will not have made a wrong turn or a wrong choice when you get a pair of the Albuquerque style of Dan Post Men's Boots. These distressed tan boots don't feature the decorative stitching that the Renegades and the Milwaukee does, but they do have an all over waterproof leather. These boots are ideal for those days when you wanna get real muddy or those moments when you get caught in the rain and you start panicking. I like that these also have the Mini-Lug Traction outer sole, so these are perfect for those of you who like the great outdoors and want a boot that can match your lifestyle.
These are just a few of the styles that Hat Country has to offer. If I were you, I would head over there right now and see the full site for yourself. Maybe the Milwaukee's stand out for you? Maybe those Renegades belong on your feet? Maybe you want to make a pit stop with the Albuquerque's? Whatever your taste is, Hat Country has it for you. Especially, if you want to slide into a pair of Dan Post Men's boots.
In Conclusion
The Dan Post Men's Cowboy Boots provide comfort through their Poron system and they have pioneered the breakthrough of boots that have little to no "break-in" periods. If you want a boot that challenges the status quo, that breaks the mold, and even a boot that labels itself as a renegade, then the Dan Post brand is a perfect fit for you. Check out the many available styles and option on Hat Country and pick a pair or two and leave a comment below. Tell us what you think about the Dan Post, the good, the bad, the ugly and don't forget to share this post. Can't wait to hear from you all soon. Until next time, this Eric W. with wehearthandmadeboots.com.
Hey, maybe you are out looking for a pair of special boots for that special someone. Don't forget to check out  the article with links about Dan Post Women's cowboy boots!
As always, if you have a pair of Dan Post boots and have something to share, feel free to share it below in the comment section. If you have a question, do the same. You never know who is on here reading this and it may just be a Dan Post expert that may help you out.
Save
Save