The other day I did an article on Lucchese cowboy boots. I wanted to give you, the boot connoisseur so to speak, a little info on who actually makes the boots you own or are thinking of owning. I learned a lot while looking into their history and thought it would be a good idea to do articles on the 5 brands of boots we talk about the most here at We Heart. So today I decided to write about another super popular brand and that is Tony Lama Cowboy Boots.
Well let me tell you something, it was a difficult task at first. I really confused myself when doing some research on Tony Lama. I actually got a little confused and thought that the article I did on Lucchese was actually the wrong info and I somehow got information on Tony Lama. I had to do a double take on several occasions and re look up Lucchese's info and Tony Lamas to make sure I got it right.
Why was it confusing? Well for one thing, they are both Italian immigrants. That was the main thing that kind of threw me for a loop. The difference being Lucchese was born in Italy and I believe Tony was born in New York. I couldn't find any info that states that directly. Tony Lama started as shoemaker's apprentice at the age of 11. I don't really think that would fly in today's world lol! He joined the U.S. Calvary as a cobbler for the soldiers stationed at Fort Bliss, Texas and when he was through with his service, he stayed in El Paso. He opened a small cobbler shop and repairs were his main business, but his handmade boots soon became popular and in his first year he sold 20 pairs of what was to become Tony Lama's handcrafted boots.
Who Wants These Boots?
After a few years of making boots for his customers in El Paso, the word had hit the streets. Stores that specialized in western wear started asking Tony for his boots to sell in their stores. Because of the demand, Tony developed methods to be able to produce his handmade boots more quickly and in greater quantities to meet this demand.
Click BOOTS for more info and to PURCHASE!
It also didn't hurt that Tony had six children and they all actively got involved in making these now famous cowboy boots and by the 1950s Tony Lama boots were being marketed nationally
In 1946, a custom pair of Tony Lama boots was presented to president Harry S. Truman. The boots were inlaid with gold and silver and were absolutely gorgeous. If you read the article I did on Lucchese boots, you will remember that President Lyndon B. Johnson was a fan of their boots. Hey, if a president is wearing them, they must be great boots!
Why Get A Pair Of Tony Lama Boots?
Me being Italian, I know there are three things they are famous for. Well there are more than three, but my top 3 that come to mind is cars, food, and footwear. When it comes to boots, that has kind of been proven by Lucchese and Tony Lama. The proof of the pudding is in the eating as they say.
Fifty years after the first store opened, it's now 1961 and the company moved to a much larger operation producing around 750 pairs of boots a day. They were eventually sold to Justin industries and if you wear any kind of western style clothing, you definitely know that name. Justin might own Tony Lama, but they have kept the same tradition in boot making that Tony started back in El Paso. If you want a top quality pair of boots that are handcrafted with exquisite attention to detail, you can't go wrong with Tony Lama.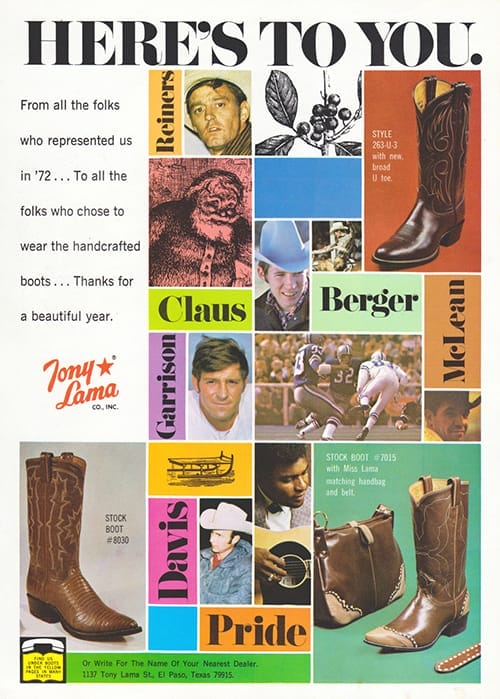 Okay, Let's Talk About Pricing
Once again my favorite place for cowboy or cowgirl boots and western wear is Pinto Ranch. I found 27 pairs of men's Tony Lama boots and 12 pairs for women. The cheapest men's boot was $371 and the cheapest women's boot was $399. The most expensive boot was almost $1,500 for men and right at a $1,000 for women.
You are definitely getting what you pay for. These boots will last for years. These are top quality boots and come in a bunch of different styles, leathers, and colors. Sporting a pair of these around will most likely get you noticed. Top quality items usually do. You can get these boots for the ladies made from cowhide, lizard, Nile crocodile, and ostrich. For the guys, you can get the same and even a pair in kangaroo, goat, and even made from caiman. All the leathers are the finest quality and made in the same tradition as fine Italian craftsmanship in footwear that Tony Lama is famous for.
Where Can I Get A Pair
My best recommendation to get a pair of these beautiful boots is always Pinto Ranch. Why is that you ask? Well for one thing, they only carry the best. Also, they offer the best in not only Tony Lama, but other brands as well, so you just might find something you like better in say Lucchese, BlackJack, Stallion, or another top quality boot maker.

Also, they offer more than just boots. They have a huge selection of western wear ranging from belts, cowboy hats, western style jeans, shirts, and other types of clothing. Heck, they even have a saddle shop where they make their own handmade leather saddles on a daily basis.
If you've read any of our other articles, you know their return / exchange policy is second to none! You can return a pair of boots if they don't fit correctly or decide to get a different pair free of charge. They will even pay the shipping, so that is one last thing you have to think about. According to Pinto Ranch, their first priority is your happiness with the pair of boots you choose. They want to make sure you have the correct fit and are 100% happy with the boots you choose
Another boot style that deserves a good look at is the Arlow. It features An Elegant golden Chestnut leather upper with orange and yellow stitching. It's mahogany caiman narrow round toe foot shows a well-polished finish. With this boot style and all other Tony Lama Boot styles, it also features the Lama Comfort Technology insoles which offer support and comfort. A single stitch welt around the leather out sole adds durability and extends the life of this boot.
Check out our Review of Tony Lama Boots!
Let's get into the last style of the Boots that I want to talk about that jumped out at me when I saw it. It doesn't have wings but it's design and style will make you soar. It's none other than the Griffon. When my eyes met this glorious display of craftsmanship, I knew I had to add it to the list. The Griffon has a distressed golden brown leather exterior accented by a multi-color stitching. A smooth ostrich square toe foot has added texturing for that lived-in feel. However, none of this would be complete without the Lama Comfort Technology insole. It's double stitched welt adds durability and the rubber out sole provides both oil and slip-resistance. It also features a horseshoe pattern that adds traction to each step.
Cowgirls, Rejoice!
Something would surely be amiss if I neglected to mention my lovely rodeo vixens. You need a boot that can handle your stride as well, right? No worries, Tony Lama has a collection of styles that will knock you off your feet (hopefully into a pair of Tony Lama Cowboy Boots *wink). Of course there are plenty that I could mention, but there are two beauties that grabbed my eyes and clutched my beating heart.
Magnolia Rose: Yes ma'am, the Magnolia Rose! Now, I'm a sucker for a beautiful woman wearing some sexy boots, but a beautiful woman sporting my favorite color (red), now that would just give me a heart attack and send me to an early grave. This 16-in tall heel features of plum leather, with a fashionable pink, white, and purple stitching. The golden brown foot sports a square receipt toe and the scalloped collar as flair and style to this blooming Magnolia. A Buckaroo spur heel allows for an easy fit. The orthotic insoles provide comfort and support for the would-be Rodeo Fashionista.
There You Have It
I would say these aren't your grandparents pair of boots, but they very well could be. Tony Lama's style and tradition lives on in every pair of boots that Tony Lama makes today. If you've never had a pair of cowboy boots or even if you own a closet full of them, it's definitely worth your while to check out a pair of these works of art.
Hey, as I said, presidents have worn these boots and there is good reason. Only the best for the commander in chief. With over a 100 years of boot making experience, Tony Lama puts that knowledge and skill not to mention attention to detail in every pair of women's and men's boots they make. You won't be disappointed!
As always, if you have any comments or questions about Tony Lama or any type of handmade boot, go ahead and leave us a comment below.