Hello everyone! I've decided to do a review of Tony Lama boots men or Tony Lama's men's boots in proper English. I'm hoping to give you the information that you need to know to make an informed decision on whether you would like to have a pair of these boots. I'm gonna break it down detailing Comfort, Durability, and Style / Trends. Style and Trends breaks down some "style" information if it applies (i.e. Different styles these particular boots come in if applicable, and maybe even certain style situations such as work or play that you might want to wear them. I will also break down the "biggies" such as price, key features, and any pros and cons that I have come across in my review of this boot.  Also, check out our earlier post with more information on Tony Lama boots here.   As always, if you have a question or comment, I myself and any viewers would love to hear about it in the comment section below. Let's get started.
Comfort – A Boot With Great Feel And Support
As any boot, Tony Lama's need to be broken in and start feeling a little better on your feet with every passing day of wear. You definitely want to wear them on some pavement to roughen up the soles. They can be very slippery on smooth surfaces coming right out of the box. I have definitely noticed great support for my feet and my ankles which I thought might be a problem, but they feel great. When it comes to comfort, I could definitely wear these for both work and play.
Durability – Work Or Play, Your Feet Are in Tony's Hands
Who said quality craftsmanship in America is dead? Quality craftsmanship is evident is these boots. You definitely get your moneys worth. Tony Lama boots started out handcrafting cowboy boots in 1911 and they have kept up that tradition to this day. Each pair of Tony Lama boots are meticulously hand crafted and built with the finest parts and exotic materials that give Tony Lama it's signature look. These boots will last a night out on the town and even more importantly, out on the trail or modern job site. Once you purchase a pair, you can throw away any notion if these boots will hold up or not. They are as good as the name stamped on the sole of these beautifully constructed boots.

Click image to view the great western wear and premium cowboy boots at Pinto Ranch
Here is the first boot I want to show ya. Definitely one of the best cowboy boots ever!
Tony Lama Signature Series Men's Chocolate Caiman Belly Boots
Material: Caiman Belly and Calf
Color: Chocolate
Details: Corded Shaft, Full Caiman Belly Pull Straps
Toe type: Round Toe – Tony Lama 'C' Toe
Heel type: Walking Heel – Tony Lama '7' Heel
Outsole: Leather
Insole: Channeled Leather Insole
Heel Height: 1 3/8″
Shaft Height: 13″
Manufactured: El Paso, Texas
This chocolate caiman cowboy boot style from the Tony Lama Boots Men Signature Series Collection are an instant classic in the perfect shade of brown. Western details include a corded pattern on the shaft and full exotic caiman belly pull straps. The boot is finished with a round toe and a comfortable 1 3/8″ walking heel. You can literally wear these boots with jeans, dress slacks, whatever.  Definitely will catch the eye of anyone that appreciates fine footwear, especially a boot connoisseur! You can find a whole selection of other Tony Lama boots by Pinto Ranch. Just Click Here.
Tony Lama Fit Guide Video
Styles And Trend
When it comes to style, look no farther, Tony Lama invented it when it comes to cowboy boots. Men's, women's, and even kids boots, Tony has you covered. Casual, Classic, Dress, or even work boots, Tony Lama has it all. Pointed tip to the more recently popular square toed boot, they make them all. You can also get these boots in everything from calf skin to the more exotic caiman, crocodile, kangaroo, and others which definitely ups the price. The great thing about Tony Lama's, they have been one of the most popular boot brands since their conception over 100 years ago and I really think they will be around for another 100 years. When it comes to style, it's your money. If you drop a thousand dollars on a pair of boots, you better hope they get you some attention. No need to worry about that in this case. These boots are sure to get you noticed. You can regularly find a pair of these boots on some of the biggest musicians on the planet not to mention, athletes and other celebrities. Putting on a pair of Tony Lams boots is like putting on no other! You definitely will be a life long wearer of these works of art!  Check out these ultra luxurious Tony Lama Signature Series boots today.
Features – What You Get
As I said earlier, work or play, Tony Lama Boots men has you covered. Tony Lama gives you many different styles of boots depending on where you will be wearing them. Let me go over some of the key features for you.
-You can compare Tony Lamas to these great Handmade Lucchese boots or you can check out our Lucchese Boot Review
Why are they so comfortable? I have already went over how great these boots look and feel, but never went into detail about it. Looks wise, you know you can get your basic leather made boots and also choose from a number of exotic materials, but what makes these boots so comfortable you might ask? Well, for one thing, Ortholite inserts. These inserts are extremely flexible and breathable. They also retain over 95% of their thickness over time which most other inserts can't compare to. The inserts also have anti-bacterial characteristics and can be easily removed to be cleaned and also replaced if need be. They also contain something called a "cushion comfort package". It's basically just a lot of technical stuff about how the sole is constructed and the quality materials used inside the boot. What it basically comes down to is "Yeah, they are super comfy!".
A Beautiful Caiman Boot In Beautiful Black Cherry!
Tony Lama Signature Series Men's Black Caiman Belly Boots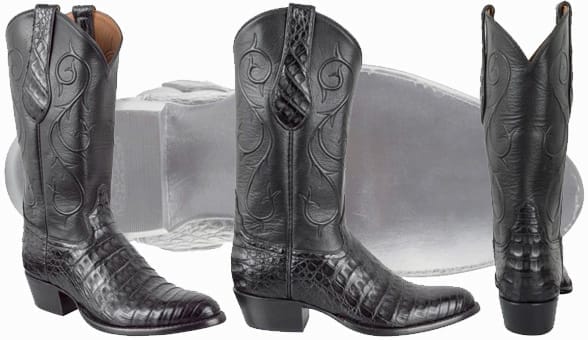 Material: Caiman Belly and Buffalo Calf
Color: Black
Details: Corded Shaft, Full Caiman Belly Pull Straps
Toe type: Round Toe – Tony Lama 'C' Toe
Heel type: Walking Heel – Tony Lama '7' Heel
Outsole: Leather
Insole: Channeled Leather Insole
Heel Height: 1 3/8″
Shaft Height: 13″
Manufactured: El Paso, Texas
Tony Lama's Signature Series men's black caiman belly boots are some beautiful exotic cowboy boots that gives a distinct look and are absolutely beautiful to look at.  The perfect cowboy boot for business, formal or a night out wearing a pair of jeans. The shaft features bold cording in an ornate pattern, and the pull straps are overlaid with exotic Caiman Belly. Tony Lama Western Boots are designed and constructed to fit your life no matter what occasion and they are constructed to last. Hand crafted and hand tooled, their durability makes them built to last and super comfortable for your hard working feet!
Tony Lama has a pair of boots for everyone men and women alike. If you have any of these boots or any questions about what type of special features you might need, be sure to drop us a line or ask in the comment section below. We will help you out or maybe someone else will have an answer to your question.
A Stunning Pair Of Antique Tan Ostrich Boots, It's Full-Quill Highlights Are Stunning!
TONY LAMA SIGNATURE SERIES MEN'S ANTIQUE TAN VINTAGE FULL-QUILL OSTRICH BOOTS
Material: Full-Quill Ostrich and Calf
Color: Tan
Details: 8-Row Brown and Tan Stitch Pattern, Pull Straps with Ostrich Underlay
Toe type: Square Toe – Tony Lama 'E' Toe
Heel type: Walking Heel – Tony Lama '7' Heel
Outsole: Leather
Insole: Channeled Leather Insole
Heel Height: 1 3/8″
Shaft Height: 13″
Manufactured: El Paso, Texas
I just had to write about this gorgeous cowboy boot From the Tony Lama Signature Series. This full-quill ostrich boot features a narrow square toe that gives the classic style a contemporary vibe. The brown and tan 8-row western stitch pattern and leather pull straps with full-quill ostrich underlays round out the western details. The style is finished with a comfortable 1 3/8″ walking heel. As usual, this boot by Tony Lama is a work of art!  It almost makes me want to put them on a pedestal in my home and show them off.
This item is built from natural materials, so there may be a slight variation in appearance when compared to the provided image.
Tony Lama is a well known legendary brand known around the world as the boot of the American west. Their commitment to quality and authentic craftsmanship remains the same since the day they produced their first pair of cowboy boots in 1911. The newly designed Signature Series Collection features hand-picked styles built in the El Paso, Texas factory by the brand's top craftsmen.
-Check out my favorite, the Tony Lama Crocodile Belly Boots!  Beautiful Handcrafted boots! –
Here is a beautiful pair of Ropers!  Classic and Smooth in one boot!
Tony Lama Signature Series Men's Kango Tobacco Full-Quill Ostrich Roper Boots
Material: Full-Quill Ostrich and Calf
Color: Kango Tobacco
Details: Western Stitching on Shaft, Pull Straps with Ostrich Underlay
Toe type: Round Toe – Tony Lama 'C' Toe
Heel type: Roper Heel – Tony Lama 'TW13' Heel
Outsole: Leather
Insole: Channeled Leather Insole
Heel Height: 1″
Shaft Height: 11″
Manufactured: El Paso, Texas

A full-quill ostrich roper boot in a rich Kango tobacco color, with contrasting Kingsman echo cowhide shaft, that has a subtle depth beyond that of other roper boots. The smooth ostrich coordinates with tobacco fancy pull straps, with smooth ostrich inlays, and subtle stitching on the shaft. A very smart design and the slightly contrasting colors of the shaft and bottom portion of this boot look really great.  For this price, you can't beat this pair of Tony Lama Roper boots.
As stated earlier, these Tony Lama boots are made from natural materials, so there might be a slightly different look to your boots than the picture.  That's what gives cowboy boots their character and one of kind status!
Still Undecided?
I love these Tony Lama boots more and more every time I wear them! They have been through allot in the past year and there still is no denying their amazing comfort and they still look great. I almost wish they would wear out so I could get a new pair. I definitely recommend a pair if you are still on the fence. From the first day you get them, you will fall in love with them. No matter if you spend $150 or $1,500, these boots will be a great addition to your wardrobe or a great pair of work boots. Yeah, yeah, I didn't want to say wardrobe when talking about "work boots". It just doesn't sound right.
We also did a blog on Roper boots and a couple posts on some awesome work boots and hiking boots!
Share this Tony Lama boot review on Facebook or somewhere else online and see what kind of response you get. You never know who you know might already have a pair!  If you're a sports fan, check out our college team cowboy boots here and spread the word!
Save
Save
Save
Save