Hi everyone, it's Eric W. with another post about a type of boot that may be the most legendary cowboy boot out there. Now, I love all kinds of cowboy boots and I could go on for pages at a time about each one, but have you ever seen a beautiful pair of snakeskin cowboy boots? I mean, a really good pair like Cobra-skin, Python-skin, Rattlesnake-skin and other exotic boots? I can practically hear the hiss when I type it.
Well, I have, a few in fact, and I want to tell you all about them and why you should add some cowboy boots to your repertoire. Anyone who loves and appreciates the art of boot-making or even the craftsmanship of handmade boots, should seriously consider getting a pair.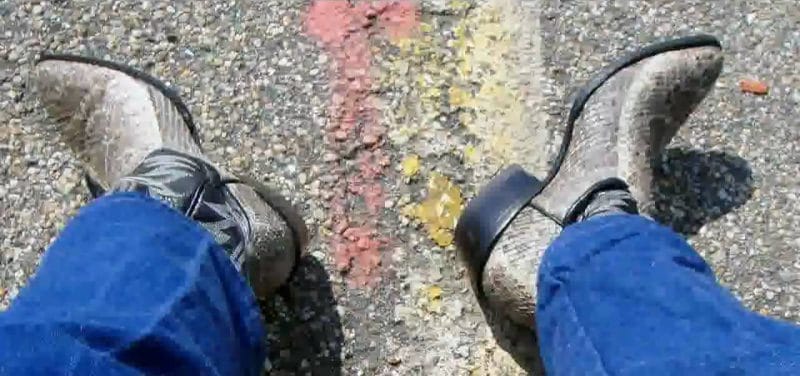 Snakeskin boots might actually be the first pair of boots that I was really in awe when I first saw them.  As a little boy, I did kind of have a fascination with snakes.  I constatnly had one or two in an aquarium that basically drove my mom and sister nuts, but man were they cool!
Like cars, there are so many makes and models and there are so many great companies that make them, that it can be a bit daunting if you are just looking for a specific pair. So, if you would, I'm going to give a quick rundown on some styles I've seen and some reasons why you should invest in some snakeskin style boots.
C'mon Man, Give Me Some Skin!
If you do a quick search through Google, you will be instantly bombarded with images and shopping sites eager to package and ship a pair for you. But, I would suggest doing a bit of digging so that you can manage to find that perfect pair that stands out. Because, I did and trust me, I was not disappointed with what I found.
Dan Posts Black Python Snakeskin Boots
Of course, my search started with Amazon. They have an expansive list of amazing styles and colors. My favorite color is black and sure enough, I found them. I managed to find a pair of stunning black snakeskin cowboy boots. The Dan Post black python snakeskin boots has a black leather upper and ornate stitching, with a lower black authentic python skin on the bottom. I know it may not be the typical color you associate with a python, but I bet that you would agree that black can match and compliment almost any outfit.
Another good-looking boot by Dan Post is the Omaha Western Boot with an authentic python skin on its lower half and a black stitched upper half, similar to the Laredo. It seems to me that black is in, seeing as how both the Laredo and Dan Post feature black and gray or black and silver color schemes with their python printed boots. Which, I assure you, pleases me greatly. The Laredo differs in that it is definitely a cheaper boot because it uses a synthetic snakeskin print instead of an authentic snakeskin like the Dan Post boots feature.
Eastern Rattlesnake Snakeskin Boots
Pinto Ranch has another great boot, the handmade eastern rattlesnake Cowboy Boot. These are a pair that sport a tan leather upper and the iconic genuine eastern rattlesnake leather on the foot. Handmade exclusively for Pinto Ranch and truly one-of-a-kind, these cowboy boots feature exotic Eastern rattlesnake vamps with all the right western touches. Details include a Tiguan cording pattern on the coyote mad dog 12″ shaft and pull straps with rattlesnake overlays. The boot is finished with a contemporary snip toe and a cowboy heel. The price is definitely more than the python snakeskin boot I mentioned above from Amazon, but this is a quality handmade boot made exclusively for Pinto Ranch. You aren't going to find this kind of quality anywhere else.  You can find a great selection from Pinto Ranch of Men's handcrafted cowboy boots here or handcrafted women's cowboy boots here.
Sink Those Fangs In!
I've given you all a couple of my favorites, now it's time for me to let you all know why. We all want to know the why. Why buy them? Why snakeskin? Why should you sink your fangs into a pair of these fantastic boots!? The reason is that each boot that you find will feature that handcrafted art, the craftsmanship, the style. That moment when you slide your foot into some snakeskin. Also, a few models feature a lower price point than other brands mentioned. But, I don't worry much about price, so long as my boots last a long time and as long as I can get plenty of value from them. You may be safe wearing these boots if you actually do come across an Eastern Diamondback or any other type of snake for that matter.  Check out our article "Are Cowboy Boots Snake Proof".  Really some interesting stuff in it. One other thing, we haven't forgotten the ladies.  Check out these beautiful snakeskin boots for women.
Take Care of your snakeskin boots by checking out our Boot Care and Accessories page!
And more on the style, you know how cool it would be to waltz around town showing off, I know you would, because I sure would. Could you imagine, everyone staring at your boots, see, I knew you would end up grinning a little! But man, these snakeskin are right up my alley, black and white exterior, long measured shaft, awe-inspiring stitching,
all at a low price. You would be hard-pressed to top the snakeskin cowboy boot.
Let's Wrap This Up!
I'm sure I could, with a lot of time and perusing of the internet, pick a hundred, maybe even a thousand styles to choose from, but I wanted to focus on a few that drove me to make this post. If you ever find yourself coming into contact with a pair of Handcrafted Tony Lama boots, or some Dan Post Omaha's then wear them out and comment below. We would love to see plenty of reviews and comments, so have at it! Also, feel free to share this post with others who are looking for something new to try out in the boot department or who just want to know what this blog is all about. Make sure you subscribe below to get the latest and greatest blog posts, reviews, and updates from wehearthandmadeboots.com.
If you love quality handcrafted boots, check out these beautiful Handmade Lucchese Boots!
As always, if you have a question or comment about snakeskin cowboy boots, make sure you post something below. We will be glad to help you out or you never know who might reply back with some helpful information.
Save
Save
Save
Save
Save