Cowboy boots are as American as apple pie. They definitely are a fashion statement unlike no other. Everyone from ranch hands, movie stars, country music singers and rock stars and even presidents and former governor / movie star Arnold Schwarzenegger (Huge fan of cowboy boots) sport them on air or just around town. These people wear them because they have a classic or distinctive look. Cowboy boots have a rugged quality that gives you a look that just not everyone can attain wearing any other kind of footwear. It doesn't matter if you're a man or a woman, no matter what you wear, a pair of cowboy boots are going to be a stylish addition to your wardrobe that look great and can stand on their own.
Now there are plenty of dressy styles of cowboy boots. There are also a bunch of different toe types featured with cowboy boots that can give your whole outfit a competently different look. Not to mention different leathers like alligator, ostrich, buffalo, etc… and they could be worn with a pair of dress pants or corduroys, That's not a problem. They also look great in a dress or skirt for the ladies. Nobody is arguing this. But I guarantee you if you were to ask the average person walking down the street what they imagine in their head a person in cowboy boots is wearing, you are gonna probably get three answers. A cowboy hat, a western style shirt, and of course, a pair of jeans. We will get to the cowboy hat and western style jeans in another article sometime down in the road. For the purpose of this article, it's all about boots and jeans.
Click BOOTS for more info and A Great Price!
These Men's Rios Of Mercedes Cowboy Boots Look Awesome in Jeans!
I figured it was about time to talk about cowboy boots and jeans since they go together like peanut butter and chocolate. Sorry, I'm a little partial to Reese's peanut butter cups. Normally I stick to the topic at hand when it comes to boots. I say what I like about them, or don't like if something is wrong, but I really never mention any complimentary items (for better lack of words) that help give cowboy boots that special distinctive look that we all know and love.
Click image to view all the great western wear & premium cowboy boots from Pinto Ranch
Just Our Opinion, But Some Basic Rules For Jeans
When wearing a cowboy boots with your favorite pair of jeans, men should choose a style of jeans that allow them to fit over the boot comfortably. Find out a little more about cowboy boots being comfortable here. Guys should also stay away from "skinny jeans" since you will have a problem getting the leg over the shaft of the boot. We talk about that in another article "What kind of pants go with cowboy boots". Women can do the same as the guys, but the more popular style is for a woman to wear tapered jeans that tuck into their boots but ladies, you also look great wearing a dress with cowboy boots, something most guys can't and shouldn't try to pull off in my opinion lol.
Click BOOTS for more info and to PURCHASE!
As I said above that this is basically an opinion, but in my opinion cowboy boots should not be worn with baggy cut jeans. Even straight cut jeans they don't look right sometimes. To be completely honest, I don't even think they look right in overalls. It's just not a good look unless you're 70 years old and it's not even a good look then, but hey, at 70 I bet you really don't care.
Now the brand name of the jeans isn't that big of a deal, but you know the first name to be thrown out there is gonna be Wranglers. I mean that's a given. I do believe that Wranglers call them "cowboy cut" and not boot cut though if you are looking. I do love my Levi's and if you have a pair that are boot cut, that is completely acceptable in my opinion. Pretty much any type of boot cut jean, high end or low end is fine, I just don't really wear any jeans unless they are Levis or Wranglers.
After all that being said, you might not want to wear your jeans on the outside of these men's college themed cowboy boots and there are even some ladies college logo boots also. That's just my thinking here because the name of the college is on the upper shaft.
What Color Jeans Go Best?
The color of your jeans has to be an important factor when it comes to wearing a pair of boots. These days you can get jeans in every color imaginable. There's also all the faded styles, holes, super dark jeans, red, blue, etc… etc… Since I'm a little vanilla when it comes to the style of jeans I wear, I usually just stick with the classic style washes and color. Basically a medium or dark was jean is perfect in my opinion. I'm not a big fan of the super light colored jeans, but if that is what I was gonna wear, my cowboy boots would be a lighter color also. I really think that would make the boots and jeans compliment each other just perfectly.
I might be a little outdated when it comes to the lightness of the jeans, especially these days. Anymore on TV like the country music entertainment awards, I see so many different styles of clothes and types of jeans being worn with cowboy boots, it's getting a little crazy. I will say this, the clothes for a lot of these country singers are getting crazy, but they are all still wearing cowboy boots.
These distressed pair of boots would look great in jeans!
There isn't a rule of thumb when it comes to the color of jeans these days, I was just telling you what I like. You are your own person, so go ahead and do what makes you happy. Hey, that is why you bought a pair of cowboy boots in the first place right?
When Wearing Boots, Jeans Are King
This was actually pretty short and sweet and to the point. Remember what I said, there isn't any die hard rules to wearing cowboy boots (color or summer / winter) with a pair of jeans. I'm just any ordinary dude with an opinion. We know you can wear them with just about anything, but there are some types of jeans that just look better when wearing a pair of boots. It's just that simple. You know what boots look great with jeans? Head on over and check out these beautiful black cowboy boots for both men and women.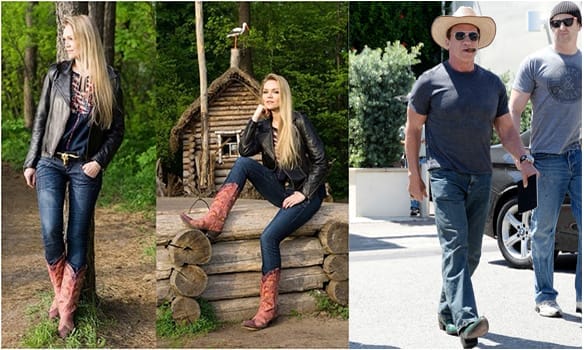 A hundred years ago, cowboy boots were worn just like they are today. Now don't you go on saying that there weren't any around a hundred years ago. I believe jeans were invented in 1873, so it's been well over a 100 years.
Though times have changed and obviously there are many types of long pants out there and different styles of jeans, the classics still remain in the form of the average pair of Wranglers or Levis jeans. In my opinion, that's the best looking way to wear a pair of cowboy boots, but as I said, wear what you want, they're your jeans and your boots.
If you have any questions, comments, moans groans or complaints about wearing boots with jeans , go ahead and let me know below!