I wanted to take a moment and let everyone in a some great deals for Rios Of Mercedes cowboy boots. The title of my article is Rios Mercedes Boots Sale, but it's actually "Rios Of Mercedes". I wanted to state that because everyone seems to get that wrong when they talk about them or search for their boots online. There isn't't any difference of the two, it's just one is pronounced correctly and one isn't. I'm sure they would love it if everyone started pronouncing their name correctly and included the "Of" in their name lol.
Anyway, Pinto Ranch has a ton of boots by Rios Of Mercedes to choose from and usually a bunch of them are on sale. They have 32 pairs available for guys' and 10 pairs of boots for women. Out of those 32 pairs of men's boots, There are about 15 pairs that are on sale at the time of this article and 5 or 6 on sale for the ladies. Don't worry though, there are always some great sales going on here, so you will always be able to find a great pair of handmade Rios Of Mercedes boots on sale here. I would like to mention that there is almost always some great sales with the other brands they offer, so make sure you browse the boot section and check everything out. You might find something unexpected.
Always A Boot Sale That's Easy To Find
It really is too good of a deal to pass up on some of these boots. The hardest part is picking which pair you like the best. I've mentioned before that Pinto Ranch has the largest selection of handmade cowboy boots online. Hundreds of pairs by the best names out there. Finding your pair of Rios Mercedes boots is pretty easy. Under the Pinto Ranch logo at the top of the screen, run your mouse or finger over the "Cowboy Boots" and then select Men's Boots or Women's Boots. Don't select anything under those if you want to see all the boots. Once it takes you to either men's or women's boots, can then select "Rios Of Mercedes Boots" under Brand.
You don't have to select any of the other categories such as Price, Leather, Size, etc… on the left if you don't want to. The less you select, the more pairs of boots that will show up. Once you have selected the Brand, all the applicable pairs of boots will show up and any that are on sale will show an orange rectangle that says "SALE" at the top left of the boot. Under the boot it will show the original price and what it's on sale for now.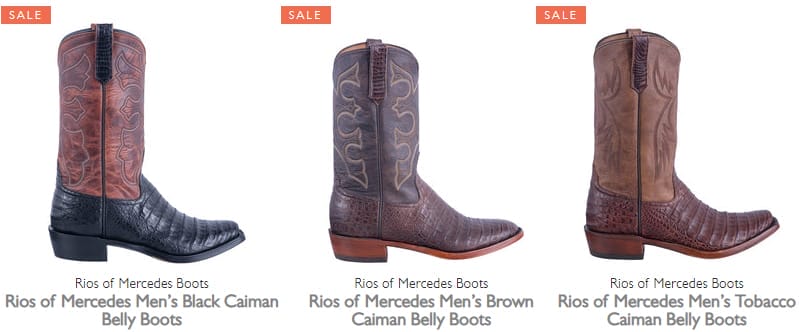 What Types Of Boots On Sale For The Guys?
As I stated earlier, the guys' have a ton of options for some great Rios Mercedes boots that are on sale. At the time of this article I found boots made from caiman, elk, hippo, elephant, carpincho, and ostrich. Pretty much everything you are looking for in a pair of cowboy boots and most of these boots are around $200 off their regular price. Considering these boots are from one of the premiere cowboy boot makers out there, you really can't beat that.

Find a great selection of Cheap Cowboy Boots here!
From unique designs with inlaid leathers and western stitching to exotic leather boots such as alligator, crocodile, and ostrich there is definitely a pair of cowboy boots for every guy out there. You will be walking a little taller with a pair of handmade cowboy boots on sale from Pinto Ranch who carries the largest inventory of handmade boots in the U.S.
Make sure you read some of their reviews by the way. If you are all about buying a great pair of Rios Mercedes boots on sale, you want to do it from these guys'. They have the best service hands down and their reviews prove it.

You can check out a great review we did on Rios Of Mercedes boots right here and it will take you right to all of their boots for men and women.
Rios Mercedes Boots Sale For The Ladies
What's better than shopping for your new favorite pair of boots? Shopping for your new favorite boots on sale and saving money. When I last looked, you had plenty of options to find a great pair of boots here. I saw women's cowboy boots made from cowhide, goat, suede, and ostrich. I saw savings of up to $250 on some already inexpensive boots (especially when compared to the prices of the guys' cowboy boots).
You can find a Ladies Cowgirl Boots Sale here!
Remember, these are all handmade and are going to last decades with proper care. Rios Mercedes cowboy boots have been called "wearable art". From beautiful designs with inlaid leathers and embroidery to exotic skins such as alligator, crocodile, ostrich, and lizard, Rios Mercedes carries only the best cowgirl boots. With all that being said, you just stumbled on a sale and are gonna save you a ton of money. Money you could use to buy another pair of boots if you so choose.
Rios Of Mercedes Boots Are Worth Every Penny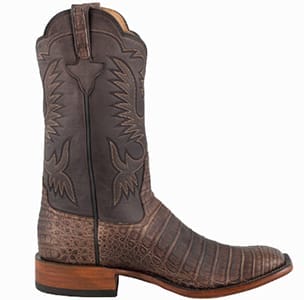 Worth every penny and you can still save a couple hundred bucks. Pinto Ranch is an every changing environment. They are always adding different styles of boots and sometimes they get rid of some. If you see a pair of Rios Mercedes boots on sale that you want, I would scoop them up. You never know how much longer they are gonna be there. Boot makers like to keep it fresh. They are always coming up with new styles and looks and sometimes they aren't much different from a pair they already have out there. You never know. When this happens, they stop making one style and switch it to a slightly altered variation of the older boot. Once this happens, you don't really know how long that older pair is gonna be on sale because someone might snatch them up. Discount cowboy boots can go fast! That's why I'm saying if you see a pair of cowboy boots on sale, I would grab them. Just some friendly advice.
One thing I didn't mention earlier was the return and exchange policy with Pinto Ranch. Say you're browsing the site and stumble upon the Rios Mercedes boot sale that we have been talking about or any other brand of boots on sale or at regular price, you are in good hands. There is FREE shipping on all boot exchanges and returns. The will cover the return shipping until you find the perfect pair of boots for you. This is on top of the original FREE shipping of your initial order.
Free shipping, Rios Mercedes boot sale and the piece of mind of the best return or exchange policy out there. That's a win win win situation when it comes to boot shopping.
Thanks for checking out these great pairs of Rios Mercedes handmade cowboy boots on sale and we hope you find your favorite pair today!