Let's talk today about two things. The first is Black Jack boots and the second is a Black Jack Boots sale! I guess that's kind of the same thing. If you are new to the cowboy boot world, you need to look into Black Jack handmade cowboy boots. Now you could go to the Black Jack Boots website, or you could check these boots out which are made exclusively for Pinto Ranch. That means this is the only place you are going to find these boots and for some reason I think Black Jack saved the best for Pinto. I'm not sure why they did this, I'm just telling you that is what they did. Let me give you one personal observation. They know how to make a damn good boot, they know nothing about websites. Their site is horrible. Luckily Pinto Ranch knows what they are doing and made a great site that is an absolute pleasure to use and they filled it with the best cowboy boots and western wear available. That's how it's done.
Watch Handmade Black Jack Boots Being Made
Black Jack Boots for Pinto Ranch is a premium handmade boot collection made exclusively for Pinto Ranch by Black Jack master boot makers. Designed and manufactured in El Paso, Texas, Black Jack Boots uses 100% genuine exotic and smooth leathers that meet Pinto Ranch quality and style standards. This is the only place you can find these boots. While writing this article there are 33 different pairs of Black Jack boots available and out of those 33, 21 of them are on sale. We will list a couple here and also a link or two so you can view all of these magnificent boots.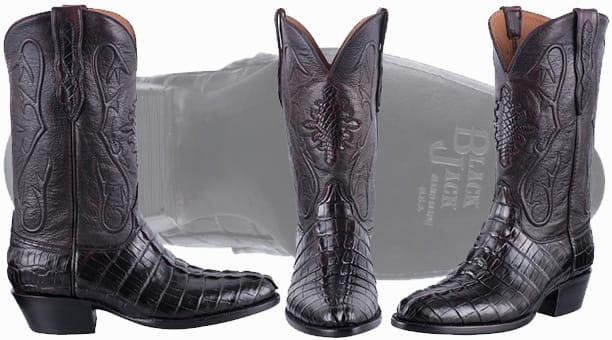 Click Image To View Boots & Get Info
Black Jack Hornback Alligator Tail Boots On Sale!
$550 savings! Yeah, that's right. That is an awesome deal if you ask me. That's not a Black Jack boot sale, that's a give away! The exotic hornback alligator tail makes one beautiful boot. This boot is accented by deep dark cherry black tones with a hand cording and stitch pattern that compliments it beautifully.
PRICE: Was: $1,550.00 Sale Price: $999.00
Handmade: Yes
Material: Hornback Alligator Tail
Color: Black Cherry
Details: Hand Cording and Stitch Pattern, Pull Straps with Alligator Overlay, Alligator Underlay
Toe type: "6" Round Toe
Heel type: Walking Heel
Outsole: Leather
Insole: Leather
Heel Height: 1 3/8″
Shaft Height: 12″
Manufactured: El Paso, Texas
Click image to view all the great western wear & premium cowboy boots from Pinto Ranch
Click Image To View Boots & Get Info
Men's Black Cherry Smooth Ostrich Cowboy Boots On Sale
I love finding cowboy boots like this on sale! This dress boot is absolutely gorgeous and the price is amazing! The vamps are made from smooth ostrich leather with a deep black cherry color featuring a traditional toe medallion. A round toe with a comfortable walking heel makes this an amazing dress boot. If you are ever in the situation where you're a little dressed up for a night out on the town, wedding, semi formal to formal function, these are the perfect boots for the occasion. I think they even look great in a pair of jeans.
PRICE: Was: $675.00 Sale Price: $540.00
Handmade: Yes
Material: Smooth Ostrich
Color: Black Cherry
Details: Hueco Cording, Overlay on Pull Straps, Toe Medallion
Toe type: Black Jack '6' Toe
Heel type: Black Jack '3' Heel
Outsole: Leather
Insole: Leather
Heel Height: 1 3/8″
Shaft Height: 12″
Manufactured: El Paso, Texas
Click Image To View Boots & Get Info
Mad Dog Black Jack Goat Leather Boots On Sale Now!
I absolutely love goat leather cowboy boots. Tough, durable, comfortable and a classic look to boot! I can't believe the price on these things. Handmade and cheap as hell! I also love the snip toe. This is a cowboy boot with a classic look and a new modern feature like the snip toe. Made from 100% leather, the boot makers that have designed and make this boot are actually saying "This boot will be the best boot you've ever felt!". Break these babies in and it will be like you are walking in a pair of you're favorite sneakers
PRICE: Was: $495.00 Sale Price: $371.25
Handmade: Yes
Material:Goat
Color:Peanut Mad Dog
Details:Golden Brown Sunland Cord and Stitch Pattern, Brown Piping, S Style Pull Straps
Toe type:"5" Snip Toe
Heel type:"4" Cowboy Heel
Outsole:Leather
Insole:Leather
Heel Height:1 3/8″
Shaft Height:12″
Manufactured:El Paso, Texas
If goat leather cowboy boots aren't your thing, remember, Black Jack has a ton of different styles and exotic leathers to choose from. Do you like fish? Ever heard of fish boots? If you haven't, check out these amazing Pirarucu fish boots or this Pirarucu boots sale made by you know who, Black Jack boots!
---
FREE SHIPPING ON ALL BO OT EXCHANGES & RETURNS
We believe the right fit is the most important thing, and that is sometimes hard to achieve with an online order. Pinto Ranch will cover you're return shipping until you find the perfect fit under the following conditions.
It's within 60 days of you're order.
The boots have not been worn and the sole is in new condition.
The boots are shipped back in the Pinto Ranch-provided shipping box. Any boots returned in just the boot maker's boot box will be charged a $20 boot box replacement fee. Please use the original plain kraft shipping box from you're order to affix any labels and ship.
---
A Great Black Jack Sale With Unbeatable Prices
Well there are some great boots I just showed you above at some really great prices. Kind of gave you some great diversification with those boots being goat, alligator, and ostrich. You can head on over to the Pinto site and find a lot more boots on sale and if you look around you will also find some other great pages with discounted and cheap boots from Tony Lama Boots, Lucchese, Rios Of Mercedes, with some great boots on sale as well.
It really doesn't matter if you are browsing a Black Jack boots sale or just the regular priced Black Jack boots, they are all top quality. Everything on this site is. We hope you liked some of these discounted boots. If you are looking for some other discount boots, make sure you check out some of our other pages.
Thanks for checking out these great pairs of handmade Black Jack boots and we hope you find you're favorite pair today!