Hello everyone! I've decided to do a Lucchese boot review of my favorite pairs of Lucchese men's boots. I'm hoping to give you the information that you need to know to make an informed decision on whether you would like to have a pair of these boots. I'm gonna break it down detailing Comfort, Durability, and Style / Trends. Style and Trends breaks down some "style" information if it applies (i.e. Different styles these particular boots come in if applicable, and maybe even certain style situations such as work or play that you might want to wear them. I will also break down the "biggies" such as price, key features, and any pros and cons that I have come across in my review of this boot. Also, check out our earlier posts with more information on Lucchese boots here. As always, if you have a question or comment, I myself and any viewers would love to hear about it in the comment section below. Let's get started.
Comfort – A Boot With Great Support & Feel
As any boot, Lucchese boots need to be broken in and start feeling a little better on your feet with every passing day of wear. You definitely want to wear them on some pavement to roughen up the soles. They can be very slippery on smooth surfaces coming right out of the box. I have definitely noticed great support for my feet and my ankles which I thought might be a problem, but they feel great. When it comes to comfort, I could definitely wear these for both work and play.
Make sure your boots fit correctly. Here is a Guide by Lucchese to get a great Lucchese boot fit!
Durability – Work Or Play, Your Feet Are in Tony's Hands
Who said quality craftsmanship in America is dead? Quality craftsmanship is evident is these boots. You definitely get your moneys worth. Lucchese boots started out handcrafting cowboy boots in 1883 in San Antonio, Texas and they have kept up that tradition to this day. Each pair of Lucchese boots are meticulously hand crafted and built with the finest parts and exotic materials that give Lucchese it's signature look. These boots will last a night out on the town and even more importantly, out on the trail or modern job site. Once you purchase a pair, you can throw away any notion if these boots will hold up or not. They are as good as the name stamped on the sole of these beautifully constructed boots.
Here is the first boot I want to show ya. Definitely one of my favorite Lucchese boots ever!
Lucchese Men's Antique Italian Red Giant Gator Boots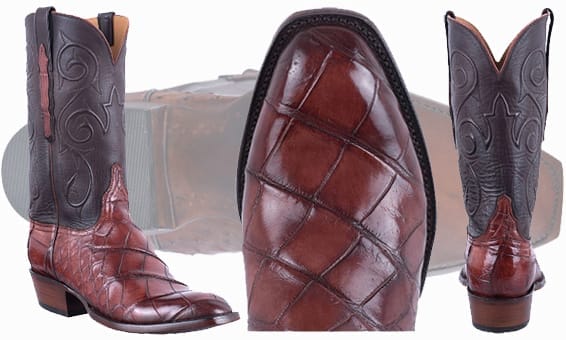 Comfort: Really Comfortable
Durability: Tough As nails
Style: Unique & Classic
Seller: Pinto Ranch
Price: $1,595.00 (Now on

Sale

and even cheaper!)
These wild alligator boots from Lucchese are absolutely amazing! Handmade, unique and an instant classic if you ask me. made from wild American alligator, no two are exactly alike. Each exotic skin cowboy boot is like a fingerprint and gives them an uniqueness that is truly special. The shaft is made from ranch hand calf skin and these boots feature a classic cord and stitch pattern and the pull straps feature gator overlays that compliment the gator vamps. The walking heel and round toe complete these beautiful boots and make them a stylish and comfortable dressy kind of cowboy boot you can wear with just about anything.
Lucchese has a distinct advantage over the competition and they tend to keep it that way. The Texas based boot (footwear) company has been making boots that have stood the test of time and been part of not only Texas culture, but American culture since it's conception. They not only makes cowboy boots, by many accounts Lucchese makes the best cowboy boots!
Because of this perception, it has put Lucchese miles ahead of other brands that use the same styles, materials and craftsmanship techniques that they use. So how have they done it? How has Lucchese become the go to boot for cowboy boot enthusiasts around the world? Simple, a superior product and making sure that consumers know that.
As the industry trends have shown, most successful brands have ridden on its lore. They continuously promote a story or idea that entices buyers to think it better than the rest. To whit, it's about selling the cachet more so than the actual item. But for Lucchese, the myth and the make go hand in hand. It has stuck to its guns and hasn't cut corners to widen its profit margins. In a factory in El Paso, Texas, it employs hundreds of craftsman, many of which have worked there for decades and are skilled in a particular facet of the boot-making process.
Styles And Trend
When it comes to style, look no farther, Lucchese perfected it when it comes to cowboy boots. Men's, women's, and even kids boots, the Lucchese brothers have you covered. Casual, Classic, Dress, or even work boots, Lucchese has it all. Pointed tip to the more recently popular square toed boot, they make them all. You can also get these boots in everything from calf skin to the more exotic caiman, crocodile, kangaroo, and others which definitely ups the price. The great thing about Lucchese, they have been one of the most popular boot brands since their conception in 1883 and I really think they will be around for another 100 years. When it comes to style, it's your money. If you drop a thousand dollars on a pair of boots, you better hope they get you some attention. No need to worry about that in this case. These boots are sure to get you noticed. You can regularly find a pair of these boots on some of the biggest musicians on the planet not to mention, athletes and other celebrities. Putting on a pair of Lucchese boots is like putting on no other! You definitely will be a life long wearer of these works of art! Check out these ultra luxurious Lucchese cowboyboots today.
From Italian craftsman that immigrated to Texas to give you the finest quality cowboy boot America has to offer!
Features – What You Get & Why
As I said earlier, work or play, Lucchese Cowboy Boots has you covered. Lucchese gives you many different styles of boots depending on where you will be wearing them. Let me go over some of the key features for you.
-You can compare Lucchese to these great Handmade Tony Lama Boots in our Tony Lama Boot Review
Why are they so comfortable? I have already went over how great these boots look and feel, but never went into detail about it. Looks wise, you know you can get your basic leather made boots and also choose from a number of exotic materials, but what makes these boots so comfortable you might ask? Well, for one thing, channeled leather insoles. These insoles form to your feet and allow them to breathe. You can also expect leather hell counters that form to your feet for optimum comfort with a great fit. Did I mention the full-size steel shanks that are secured by lemonwood pegs that give you the maximum arch support you can find in a pair of cowboy boots. Another great quality of these boots is a premium leather outsole that can be resoled multiple times that will give you years of wear and durability. What it basically comes down to is "Yeah, they are super comfy!".
A Magnificent Baby Buffalo Roper Boots
Lucchese Men's Black Baby Buffalo Roper Boots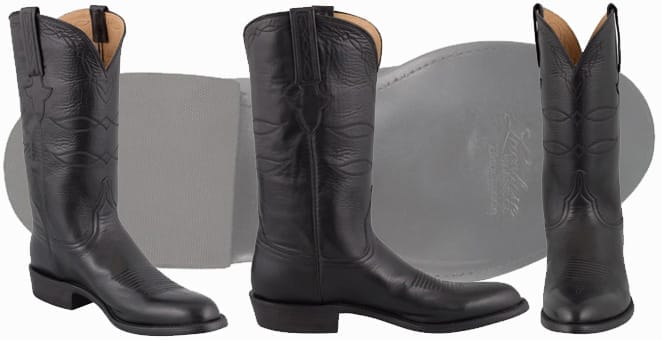 Comfort: Very Good
Durability: Superb
Style: Contemporary Style
Seller: Pinto Ranch
Made in El Paso, Texas
Price: $750 – $795
Lucchese did it again with these Pearl Bone Goat boots that are a steal for this price if you ask me! A contemporary style with no shortage of quality with a distressed finish in pearl bone (gray) smooth leather. I just love the snip toe these Lucchese boots sport and they fit nicely with your favorite pair of jeans
I wanted to review these boots because I really think most will absolutely fall in love with them and as I said, you just can't beat the price for a pair of Lucchese. If you have a pair of these boots or any questions about any of the features of these handmade beauties, be sure to drop us a line or ask in the comment section below. We will be sure to help you out or maybe someone else with a similar pair will have an answer to your question.
A Stunning Pair Of Antique Chocolate Ostrich Boots, It's Hand Stained Full-Quills Are Stunning!
Lucchese Men's Antique Chocolate Full Quill & Smooth Ostrich Boots
Comfort: Very Good
Durability: Superb
Style: Original Lucchese Classic
Full Quill Ostrich Vamps
Hand Stained
Snip Toe
Exclusive Design
Seller: Pinto Ranch
Made in El Paso, Texas
Price: $1,295.00
A classic look for Lucchese is a just one of the reasons I wanted to review this boot. Not very often when you come across a pair of hand stained full quill ostrich boots. An iconic style of Lucchese, they have paid attention to every detail. The vamps are 100% full quill ostrich leather with ranch hand quarters. Ornate full quill underlays formed by filigree cording and stitching with French pull straps which truly elevate these boots to a Lucchese classic!
One thing to keep in mind, these Lucchese classics are made from natural materials (exotic leathers), so there might be a slightly different look to your boots than what you see in the picture here on the site. Trust me, it's not drastic and it's 100% nothing to worry about, I just thought you should know. That's what gives cowboy boots their character and one of a kind status if you ask me.
Still Not Sure? Do Your Own Review Of Lucchese And Be Happy
I love these Lucchese boots more and more every time I wear them! They have been through allot in the past year and there still is no denying their amazing comfort and they still look great. I almost wish they would wear out so I could get a new pair. I definitely recommend a pair if you are still on the fence. From the first day you get them, you will fall in love with them. No matter if you spend $350 or $1,500, these boots will be a great addition to your wardrobe or a great pair of work boots. Yeah, yeah, I didn't want to say wardrobe when talking about "work boots". It just doesn't sound right.
We also did a blog on Roper boots and a couple posts on some awesome work boots and hiking boots! The Best Cowboy Boot Reviews Here all in one place!
Share this Lucchese boot review on Facebook or somewhere else online and see what kind of response you get. You never know who you know might already have a pair! If you're a sports fan, check out our college team cowboy boots here and spread the word! If you have any questions, requests, or just want to chat about some great handmade cowboy boots or other questions about getting a pair of Roper handmade cowboy boots, please let us know below. I hoped this post helped you out in your quest for a great pair of fitting boots. As always we hope that we helped you to find your new favorite pair of cowboy boots!