Unbelievable is all I have to say about these boots! I could seriously just sit in my living room at put them on the coffee table and stare at them. Have you ever said that about a pair of boots before? I think it's the pattern of the Alligator vamps mixed with the beautiful red color of the alligator leather used to make these masterpieces.
Now they say the vamps are made from antique Italian red giant alligator vamps, but they say this because Sam Lucchese came her from Italy and that is why they call them Italian alligator and not Lucchese American alligator boots. No matter what they are called, you have to agree, they are stunning!
This boot is part of the Lucchese Classics series of boots. The reason they are called classics is that they are made following the same design Lucchese used to create what we know as cowboy boots today. With all that being said, let's talk about the fine details of this boot a little more.
HANDMADE, EXCLUSIVE ANTIQUE ITALIAN RED GIANT ALLIGATOR LUCCHESE CLASSICS COWBOY BOOTS.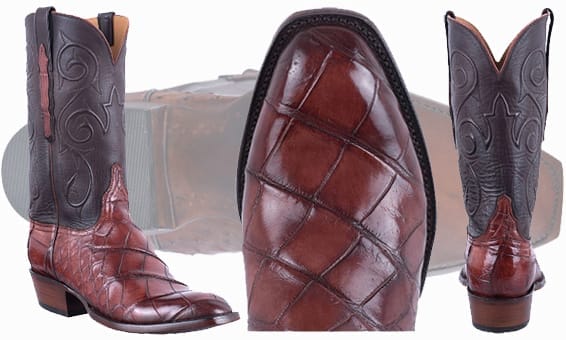 Click BOOTS for more info and to PURCHASE!
The Red Giant Gator Boots Key Points
Handmade: Yes
Material: Giant Gator, Ranch Hand
Color: Antique Italian Red
Details: Stitching, Overlay Fancy Pull Straps, Cording
Toe type: Lucchese 'X1' French Toe
Heel type: Lucchese '3' Walking Heel
Outsole: Leather
Insole: Leather
Heel Height: 1 3/8″
Shaft Height: 12″
Manufactured: El Paso, Texas
A Stunning Look For A Stunning Brand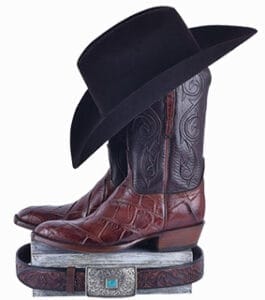 As you can tell, I love these boots! The pattern from the giant gator gives these boots a look that I have just never seen in another pair of boots. I'm pretty sure it's that large scaling pattern that is prevalent here that you don't see on Nile crocodile or caiman or other boots made from alligator. It's definitely very unique and just makes them pop. You combine that with the beautiful red or even brandy color of the leather and I just love it.
The shafts are Hand-lasted all-leather uppers with cream cow vamp linings. The shafts are also a great dark brown or chocolate color that really compliments the red of the gator leather. Some really detailed stitching produces a really great design on the shaft of the boots and has a nice flow with the giant scale pattern of the vamps.
Check out all the different styles and types of exotic cowboy boots hereor check out our Lucchese boot review!
Hey, We Only Select The Best Handmade Cowboy Boots
Every premium boot by Lucchese that we talk about is handmade by the best boot makers in Texas. Boot makers who know their craft using only premium exotic and natural leathers and tried and true techniques. Lucchese has curated the best boot makers in the U.S. to make boots that meet all of your expectations when you think of what it takes to be the world's finest boot maker.
Hand-lasted all-leather uppers with cream cow vamp linings
Channeled leather insoles that form to your feet and allow them to breathe
Leather heel counters that form to your feet for optimum fit and comfort
Full-size hammered steel shanks secured by lemonwood pegs for maximum arch support
Premium leather out soles that can be resoled multiple times for years of wear
Premium stacked leather heels
From exotic leathers to unique finishes, fancy stitch patterns and hand-stitched toe bugs, Lucchese boots stand above the rest. Pinto Ranch houses the largest inventory of handmade boots in the U.S. and you definitely won't be disappointed. Not only the best selection of boots to choose from, but you also get the best customer service in the industry. That is a guarantee that has stood the test of time.
The Best Shipping & Return Policy Ever
All boot orders within the U.S. qualify for FREE UPS Ground Shipping (excludes Hawaii and Alaska).
FREE SHIPPING ON ALL BOOT EXCHANGES & RETURNS
We believe the right fit is the most important thing, and that is sometimes hard to achieve with an online order. Pinto Ranch will cover your return shipping until you fine the perfect fit under the following conditions.
It's within 60 days of your order.
The boots have not been worn and the sole is in new condition.
The boots are shipped back in the Pinto Ranch-provided shipping box. Any boots returned in just the boot maker's boot box will be charged a $20 boot box replacement fee. Please use the original plain Kraft shipping box from your order to affix any labels and ship.
These Gator Boots Will Never Become Extinct
The alligator is a blast from the past like it's cousin the Nile Crocodile (which make a beautiful pair of cowboy boots by the way). A remnant of the dinosaurs that still have found a way to survive in these modern times. The Lucchese Men's Red Giant Gator boots are definitely a pair of boots that have been, are now, and will be in style for years to come. Since they are made by Lucchese, you know they will last.
I would really fine it hard to believe if you din't look at these boots and weren't automatically impressed just with the looks of them. But, yeah the magic word "but", if for some reason you aren't as giddy as I am about them, just head over to Pinto and look at all the other great boots they have. As I said, they have the largest online western boot selection on the internet. Be sure to check out their reviews also. I'm not really sure what people are more impressed by, the products they sell or their customer service. They are both equally outstanding.
Top quality brands with the best customer service and exchange policy that you can fine. They also have a great selection of stuff like cowboy hats, belts, western shirts and other articles of western clothing for guys and girls.
If you have any questions, feel free to drop us a remark in the comment box below. Questions or comments of all kind are welcome.