Let's get into some genuine caiman cowboy boots. If you don't watch The Discovery Channel or Animal Planet, then you might not be familiar with a caiman. Basically, caiman are small-sized crocodiles. There is one species that is really big, the black caiman, but for the most part, they are smaller. Caiman are found throughout Central and South America. I bet if you look hard enough you might find one in Florida, seems like Florida is full of invasive species, but as yet none have been recorded as far as I know.
Lucchese Classic Belly Caiman Cowboy Boots
If you took alligator, crocodile and caiman boots and put them side by side, you might have trouble distinguishing the difference between the 3. That is unless you know what you are looking for. For one, caiman skin is less supple than other skins and usually takes on dyes somewhat unevenly. Caiman scales have what you would call a calcium rivet smack dab in the middle of each scale. This actually accentuates the pattern of the scales. Because of this you will have to decide if you like this look or not. To me it gives the scales a slight distressed cowboy boot look and I absolutely love it! Caiman also have small creases in each and every scale called osteodorms which basically is like a unique caiman fingerprint. To me, this is another reason to love caiman cowboy boots. I'm pretty sure uniqueness is something many look for in everything from handmade cowboy boots to cars and even meals that you eat.
Check out all the different styles and types of exotic cowboy boots here
There are 28 different caiman cowboy boots at Pinto, but I'm gonna talk about 4 of them here today. If you wold like to see all of them, you can head right here and check them out.
BLACK JACK MEN'S NATURAL CAIMAN HORNBACK BOOTS
Click Image To View Boots & Get Info
I hate to start off like this, but this might be the most expensive caiman boot by Black jack boots at Pinto, but I just had to list it first because I love everything about this boot. Seriously, this caiman boot is absolutely sick! It's super unique if you ask me. It literally looks like dinosaur skin. They don't have the color listed with the boot because I don't even think this is a real color. It's like a dinosaur gray with dark accents that I'm gonna call distressed dinosaur accents. It's amazing!
Check out all the genuine caiman Black Jack Boots Here.
The vamp is 100% genuine caiman and the shaft is a black calf skin with beautiful sticking and the pull straps of course have a caiman overlay. Black Jack has their own custom toe types and this is listed as Black Jack "V" toe type. To me it looks like a french toe and I do like a french toe, so I'm definitely upset about that. You can check out toe types here if you would like.
Handmade: Yes
Material: Genuine Caiman Hornback and Calf
Color: Natural
Details: Tulia Cord and Stitch Pattern, Pull Straps with Caiman Overlay
Toe type: V – Black Jack 'V' Toe
Heel type: Walking Heel – Black Jack '3' Heel
Outsole: Leather
Insole: Leather
Heel Height: 1 3/8″
Shaft Height: 12″
Manufactured: El Paso, Texas
RIOS OF MERCEDES MEN'S CHOCOLATE SUAVE CAIMAN BOOTS
Click Image To View Boots & Get Info
I do love me some cowboy boots from Rios Of Mercedes and they hit one out of the park with 4 different pairs of genuine caiman cowboy boots. Out of the 4, this was my favorite pair. I think it might have to do with the combination of the light chocolate color of the boot, the fact that it's a square toe, and maybe because it has the word "suave" in the name of it!
This boot has a traditional 12″ shaft and Rios Of Mercedes uses a very supple caiman vamp with a super soft remuda shaft. The dark stitch pattern in the shaft really brings out the color variation in the skin of the caiman on the vamp. Rios Of Mercedes boots, they always have a winner!
Handmade: Yes
Skin: Genuine Suave Caiman Vamp and Remuda Shaft
Color: Chocolate with Gold, Beige, Chocolate and Black Stitching
Details: Modern Stitch Pattern, French Pulls with Caiman Overlay, Rose Collar, Single Stitch Welt, Piping on Sides and Opening
Toe type: Milan Toe or Square Toe
Heel type: Roper Heel
Outsole: Leather
Insole: Leather
Heel height: 1″
Shaft Height: 12″
Manufactured: Mercedes, Texas
LUCCHESE BLACK ULTRA GENUINE CAIMAN COWBOY BOOTS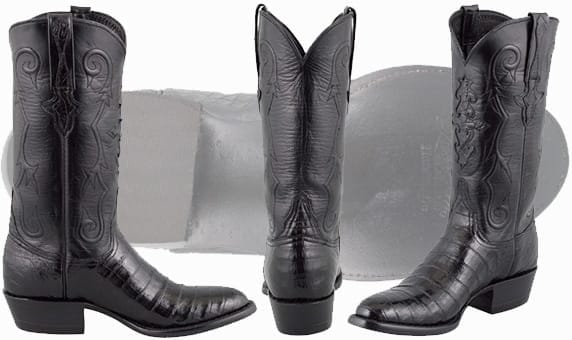 Click Image To View Boots & Get Info
Now here is a pair of genuine caiman cowboy boots that are absolutely magnificent! Lucchese just keeps doing what they know how to do and that's make an excellent pair of boots that are top quality and just look stunning! Using the best part of caiman, the belly, this boot is soft, sleek, and definitely ready for action. An all black boot with a shaft that is adorned with elegant cording and a Bayou caiman inlay. Besides a stunning look, you also get extreme comfort with a round 6-toe and a 1 3/8″ walking heel.
Handmade: Yes
Material: Genuine Belly Caiman Crocodile Vamp, Calfskin Shaft
Color: Black
Details: Caiman Overlays and Inlay, Cording on Shaft
Toe type: Lucchese '6' Toe
Heel type: Lucchese '3' Heel
Outsole: Leather
Insole: Leather
Heel Height: 1 3/8″
Shaft Height: 12″
Manufactured: El Paso, Texas
On a side note, Lucchese has 6 pair of caiman crocodile boots listed here. I'm only showing you this 1 pair.
I'm being serious here. I don't care if it's a pair of Lucchese caiman cowboy boots or ostrich boots, buffalo boots, or even if they made a boot out of ghost turds (sorry, ghost turds is a term we used in the Marines when cleaning the barracks. They were those small clumps of whatever (lint, string, hair, cotton, dust, etc…) that seemed to float around the barracks while you were trying to sweep the deck.). Get yourself a pair of Lucchese boots and try them on. My point being, I think Lucchese could make a pair of boots that is a work of art out of just about anything. You won't be disappointed!
TONY LAMA SIGNATURE SERIES MEN'S CHOCOLATE CAIMAN BELLY BOOTS
Click Image To View Boots & Get Info
With a name that is synonymous with excellence, Tony Lama knows how to products a beautiful pair of genuine caiman cowboy boots! The smooth color of this dark brown caiman belly leather is almost breathtaking. The vamp is of course 100% caiman belly featuring a round toe and a 1 3/8″ walking heel. Tony Lama decided to extend the beautiful color to the 13″ shaft that is made from calf skin with some beautiful stitch work and 100% full caiman belly pull straps.
Material: Genuine Caiman Belly and Calf
Color: Chocolate
Details: Corded Shaft, Full Caiman Belly Pull Straps
Toe type: Round Toe – Tony Lama 'C' Toe
Heel type: Walking Heel – Tony Lama '7' Heel
Outsole: Leather
Insole: Channeled Leather Insole
Heel Height: 1 3/8″
Shaft Height: 13″
Manufactured: El Paso, Texas
This is one beautiful boot and whenever I want to wear a dark brown pair of exotic leather boots, this is definitely a go to pair! Tony Lama as you know is the legendary brand known around the world as the boot of the American west. As I said, this is only 1 pair out of 6 Tony Lama genuine caiman cowboy boots. Make sure you check them all out, I'm sure you will find one that gets your attention.
Well That Should Be Enough Caiman To Get You Started
I'm glad I got to show you these 4 pairs of genuine caiman cowboy boots. They are all magnificent and if you follow the links, there are actually a total of 28 pairs of men's boots made from that little croc and there are 6 pairs of women's caiman cowgirl boots.
For the guys, I didn't even mention that Stallion has 2 pairs of caiman boots they offer here. They are both ankle boots and you will definitely want to check them out, especially if you like ankle boots.
If you have any questions about any of these caiman boots or any other pair of boots we've talked about, please let us know in the comments below. Any boot we write about is made from the best leather out there 100%. If it's not, we will tell you right off the bat. If it's from Pinto Ranch, I can already tell you that each and every boot they sell are top quality and made with the finest leathers available. All the brands that they offer are only top quality boot brands and don't offer inferior products. These boots aren't your $100 pair of Wal Mart boots. These boots will last for decades.
Thanks for checking out these great pairs of genuine caiman cowboy boots and we hope you find your favorite pair today!