We've decided to do something a little different with this post. We are gonna not only talk about cowboy boots, but we are also gonna talk about some beautiful dresses you can wear cowboy boots with. These are dresses I know you will love that you can wear with your new favorite pair of boots!
When I'm trying to think what I want to wear with a great pair of cowboy boots, there are instinctively three things that come to mind. Jeans, shorts, and of course spurs. I'm just kidding about the spurs, but to each her own. The third thing is obviously a dress. Do you already have an idea in your mind of what kind of dresses you can wear cowboy boots with? If not, let me help you pick a couple out. Who know, you might just come up with your new favorite outfit!
Drive Them Crazy In This Figure Flattering Wrap
The Veronica M. Kravitz Snake Skin Wrap Dress will definitely turn heads no matter what the occasion! The bold snakeskin print is a unique style that isn't usually seen in dresses of this type and will definitely make you stand out in a crowd. I think one look at this beautiful dress and it speaks for itself.
You already might have the perfect pair of shoes or boots that would look great with this dress. If that is the case, all you need is the dress and you are ready to "Rock It!". We have made it super easy for you to get, just click on the dress and it will take you right to Pinto Ranch where you can purchase the dress and maybe find a few more items that you are sure to love.
If you don't have a pair of boots that you think will look great with slithering work of art, don't worry, we've got you covered! Some of the biggest things to think about when choosing a pair of boots are toe type, color, and style of the boot (i.e. long shaft, ropers, short shaft, etc…). When it comes to toe type on a pair of cowboy boots, do you like snip toe, roper toe, round toe, etc… Yeah I know, it can get a little overwhelming, but also a little fun!
We have picked out 3 pairs of gorgeous boots that look great with this Veronica M. Kravitz classic!
The 1st pair of boots is by Tony Lama, a name that is legendary when it comes to cowboy / cowgirl boots. The Women's Midnight Black Lizard Wingtip Boots are exclusively available only at Pinto Ranch. The boot is mostly black cowhide with some beautiful lizard accents. It has a 15-inch shaft which further helps to accentuate the slimmig qualities of Veronica's sleek figure flattering snakeskin wrapped dress.
The stitching of this boot is definitely "classic western" in its look, but in much greater detail than you will find in most boots out there. One of the things that stands out the most to me in this boot is the beautiful wingtip lizard overlay that grabs your attention with a combination of winding curves and straight lines that just seem to meld into one beautiful pair of boots. You can also see the exquisite use of lizard in the heel foxing and pull straps that help to complete this gorgeous pair of boots.
The 2nd pair is a gorgeous chocolate colored pair by Lucchese, another boot maker that needs no introduction. These Women's Chocolate Ranch Hand Boots are a perfect fit that help solidify this beautiful western look created by Veronica's snakeskin wrap dress and the classic look that is always evident in a pair of Lucchese handmade boots.
This pair of ranch hand boots also has a tall shaft of 13 inches (just a tad shorter than the black lizard wingtip boots mentioned earlier. The beautiful chocolate color looks great with dress and people are definitely gonna have a hard time deciding on which they like better, the dress or the boots.
The 3rd pair of boots in another pair of Tony Lamas that are definitely a favorite of boot lovers around the world. The Tony Lama Women's Black Full Quill Ostrich Boots might be smaller than the previous pairs talked about above, but what they lack in size, they definitely make up in looks and attitude.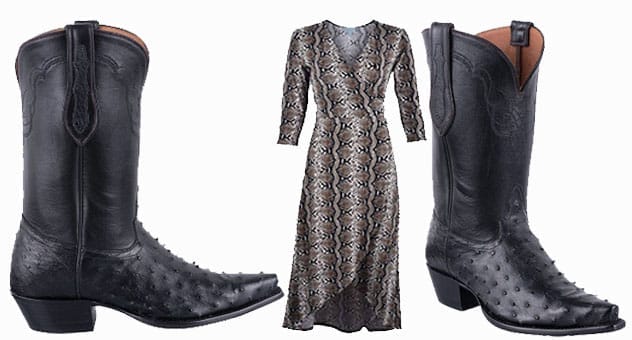 Nothing stands out like a pair of full quill ostrich cowgirl boots! A midnight black boot with a narrow square toe might not be the thing that stands out the most in this beautiful pair of boots. I'm not sure if its the full quill bumps produced by the ostrich skin or the beautiful red crown stitching that accentuates the pull straps and overlays of the boot. This gives these boots an elegant and refined look that goes perfectly with this snakeskin wrap dress that is definitely a combination that is hard to beat.
Find some of the Best Women's Cowboy Boots right here or if you are looking for something a little cheaper, check out some great boots for women by Dan Post.
Classic Western Look In This Stunning Lightweight Dress
The Scully Honey Creek Feather Print Dress is a beautiful dress style that screams that it needs to be worn with a pair of cowboy boots. Scully is most commonly known for their leather products such as their classic flight jackets used by pilots in World War I and II. They also made a name for themselves with their classic fringed coats still worn by women today.
You will love this long sleeved dress not only for its lightweight, but its beautiful feather print with a colorful design that is sure to catch the eye of anyone looking your way. It has a classic western look and a cinched waist hem with ruffles that would make it a great match with your favorite pair of cowgirl boots.
The 1st pair of boots is Old Gringo, one of my newer favorite brands of boots! These Women's Rust Raevyn Roxy Short Boots are the perfect blend of a pioneering blast from the past and a modern day vogue look that look great in any atmosphere or situation that presents itself.
These beautiful boots are made from a distressed semi-suede leather with a 7-inch shaft which compliments this dress nicely. They also feature laser-cut detail windows in rounded, sunburst sprite patterns that are highlighted with shining studs and a single button strap on the sides to keep the boot secure.
The 2nd pair is another pair of gorgeous boots by Old Gringo. The Women's Bone Viridiana Cowgirl Boots are a bone color suede with a 13-inch shaft with a beautiful ornate design in white embroidery that is absolutely stunning!
These creamy suede Nubuck leather cowboy boots are an eye popping statement in themselves. Pair it with The Scully Honey Creek Feather Print dress and you have a winner! The white embroider is absolutely beautiful and really stand out against the creamy bone color of the classic suede boot. A intricate design that doesn't go too far standing out on its own against the boot, but also allowing for classic western look of the feather print dress to make its own statement as well.
The 3rd pair of boots is a pair of Tony Lamas. Tony's Signature Series Kango Tobacco Full Quill Ostrich and Bourbon Mont Blanc Boots is definitely a mouthful. Once again Tony Lama has done it again with this pair of rich, stately take on classic country style and a fashionable look that could easily be walking down a runway in Paris.
The beautiful tobacco color combined with the always stunning look of a full quill ostrich boot is a perfect pairing to the Scully Honey Creek Feather Print Dress. Don't take our word for it, you be the judge. If I were you though, I wouldn't loan out either one of them.
Vintage Style With A Look Like Royalty
From the Vintage Collection Women's Red Queen Dress, you will definitely look like royalty whether you are walking down the red carpet or into your favorite club. An exquisite dress highlighted by red trim, flowers, and beads.
This magnificent design has some beautiful floral arrangements that are embellished with fine black and red beads that are accented by red embroidered lines running up and down sheer fluted sleeves and a double ruffled hem. The most amazing feature of this dress though has to be the back with the wide keyhole and scoop neck. This dress is definitely sexy with a regal understated look that will definitely be remembered by all that see it.
The 1st pair of boots that would look absolutely amazing with this dress by Vintage Collection would be a pair of Women's Red Lizard Cowboy Boots by Stallion! If you have't heard of Stallion boots, you sure are missing out. Stallion is relatively new in the boot world. Especially when you compare them to the likes of Tony Lama and Lucchese who have been in the industry for over a 100 years.
Being new though doesn't mean they haven't been recognized from boot lovers all over the world. Commonly worn by people like Arnold Schwarzenegger, Tom Cruise, Shakira, Bob Dylan, Madonna, Brooke Shields, Sade, etc…etc…etc… As you can see the list is long and very diverse and that's just a short sample of people wearing these boots made by boot makers that are considered the best in their craft.
The boots feature a lizard Gallegos vamp, overlay pull straps, collar and heel foxing is a fierce red color that is sure to get you pulled over if they had wheels! They have a very "chic" look with a 2-inch heel that helps complete the overall look of this magnificent boot.
The 2nd pair is a pair of Lucchese Women's Black Ultra Caiman Crocodile Triad Boots. A classic black boot with a snip toe and a 1 1/2 inch walking heel. It really has a beautiful look to it especially the vamp because Caiman crocodiles have larger scales and a very unique look that you don't find in other boots made from exotic leathers.
Combined with a beautiful and soft black shaft made from calf leather that is embellished with the famous Bowie inlay and exquisite silver stitching this boot is typical Lucchese meaning its both stylish with a classic look.
Whatever The Dress, Whatever The Boot, Own It!
There you have it, there's 3 gorgeous dresses and I think we gave you about 8 pairs of boots that will go awesome with them and most likely go with a dress you already have in your closet. Or, you may have a pair of boots in your closes that matches perfectly with one of the dresses we mentioned. Either way, you definitely are gonna look great! You can also check out some magnificent women's roper boots that i'm sure would go great with something in your closet as well.
If you aren't sure if you like one of the dresses or one of the boots, no worries, there are a ton of them to choose from. It doesn't matter if its dresses you can wear cowboy boots with or a pair of women's ostrich boots that look good with shorts, jeans, whatever, I'm sure you will be able to find something you like at Pinto Ranch.
Hopefully this gave you an idea in your mind of what kind of dresses you can wear cowboy boots with if you already didn't know? If you did, hopefully we helped you get a few more ideas and maybe you saw something you just absolutely loved. If this is the case, please let us know below in the comment section or let us know something you might be looking for. Either way, we hope you had a great time viewing all the great dresses, boots, and other western wear that we talked about and Pinto Ranch has to offer.