I was going through my closet the other day admiring the several pairs of cowboy boots I have acquired over the last couple years. I got a glimpse of a pair of black dress shoes in the corner and then it dawned on me. Where in the heck are my black cowboy boots?
The truth of the matter is, I don't have any. I had a pair a couple years back, but the airline had lost them. I got a ticket voucher or something for it, but I never replaced them. The more I thought about it, the more upset I got. I don't know if upset is the right word, but I did have a sickening feeling in my stomach because those black boots were pretty awesome. They kind of put a "pep in my step" so to speak.
I went and ordered a pair from Pinto Ranch and I will talk about them a little bit. It was kind of a hard decision because they have several men's black cowboy boots to choose from. Can't really afford more than one pair at the moment, but here are several that I really liked.
Ladies, if you are looking for women's black cowboy boots, you have come to the right place. Scroll down and we have included some of our favorites along with links.
This Is The Pair Of Black Cowboy Boots That I Bought
Yeah, I love them! They were $639.99 on sale from $795. If you don't know anything about cowboy boots, these aren't a pair of Ariat or Tecova boots. These are the best quality handmade boots by a company that has been making boot for well over 150 years. I don't buy cheap boots. It's just that simple. You may say "hey, you could have bought some black cowboy boots at 'this place' for $150!" Yes, I could have. Good luck with that. I guarantee you that these boots will last me for decades. There are so many subtle differences between a pair of boots that cost $800 or more and a pair that cost $200, it isn't even funny. That's subtle differences. There are also some major differences. You can read about those differences HERE.
Check out & buy these boots right here
RIOS OF MERCEDES MENS BLACK AND NAVY PYTHON BOOTS
Why I love these boots! First thing I want to say is when I say black boots, I'm kind of throwing in Navy blue into that mix. They look black, but have that Navy sheen to them that really catches the eye. The scales on the Python leather is incredible. You look at these boots and you know they aren't to be taken lightly. I can't wait to see what my friends say about these babies! The lower vamp is Navy blue python while the shaft is jet black calf skin. You really never see this combination anywhere when it comes to cowboy boots. The stitching on the shaft is pretty awesome also. I actually thought they were the ends of arrows, but it's called a wheat stitch pattern. I guess you learn something new every day.
There were 3 reviews listed on these boots and they were all 5 stars. I have a feeling I will give them the same once I get them. I have a couple pair of Rios boots (this will be my first black pair) and they really fit well. No worries about the fit, if they don't fit quite right, you can send them back at no cost and they will ship another pair at no cost. Shipping is FREE at Pinto Ranch.
Why should you get a pair of black cowboy boots from Pinto Ranch? The handmade heart and soul that every Rios of Mercedes boot maker puts into his work every day is what makes the Rios difference!
Free Shipping On All Shipping In The U.S. For Boots
Free Shipping On All Boot Exchanges & Returns
The Best Customer Service In The Boot Industry
Men's & Women's Black Cowboy Boots
Lucchese, Stallion, Lane Boots, Old Gringo, Tony Lama, Riosof Mercecdes & Many More
Square Toe Black Cowboy Boots & Many Other Boot Toe Types
Black Cowboy Boots On Sale For Men, Women & Children
⭐⭐⭐⭐⭐"Beautifully made, good looking, great fit. I owned other pairs of Black Jacks so I wasnt worried about the fit so an internet purchase wasn't risky. These are very comfortable and the scale pattern is great looking. Shipping was really fast as well. Thanks" ~ Reid H. (Verified Buyer from Pinto Ranch)
⭐⭐⭐⭐⭐"Shopping with Pinto Ranch is easy and my delivery arrived sooner than I thought. Great selection of women's apparel and boots" ~ Eileen H. (Verified Buyer from Pinto Ranch)

Other Men's Black Cowboy Boots
There are several men's black boots to choose from and to be honest, I'm trying not to pick any boots that are on sale. I don't want you to read this article and they no longer exist on the site. You can see all of there boots that are on sale right HERE.
You can see all Black jack black cowboy boots here!
The first boot I want to talk about (not counting the one I purchased) is the Black Jack Exclusive Black Caiman Flank Boots. This is truly an all black boot and the pattern of the caiman crocodile leather is awesome! They have a round cowboy toe and really cool pull straps and stitching on the vamp. The stitching is also all black. The entire boot is black and the pull straps match the rest of the boot. Reading about these boots, they are exclusively made by Black Jack Boots for Pinto Ranch. You won't find these babies anywhere else. Looking at these boots, I really think you could wear them with jeans, dress pants, just about anything you usually wear cowboy boots with. Girls have that "little black dress" when they talk about their special outfits. I think these black cowboy boots are the men's equivalent.
You can see all Stallion cowboy boots here!
The last men's boot I want to talk about is the Men's Black Cherry Full Quill Ostrich Zorro Boot by Stallion. I had to throw a shorty into the mix. This is a 7 1/2″ boot made from full quill (those bumps on the boot) ostrich. Ostrich leather boots are very sought after. You can't help but look at them and when you wear them out, you will know exactly what I mean.
If you aren't familiar with Stallion boots, they usually have a pretty hefty price tag. Easily can go over $1,000. They do howerver get to walk down the red carpet quite a bit. Many stars, actors, musicians love to wear them because of their amazing quality and style. Their quality is top-notch. These go for just over a grand at $1,095. Pretty pricey, but they will most likely last you forever and a pair of boots like this never go out of style. Technically these boots aren't black, but a deep black cherry color that look black at first. They say it's a few shades darker than Oxblood and I'm assuming that's pretty dark. Anyway, they are pretty wild and I absolutely love them!
Women's Black Cowgirl Boots
I had to get a little help to pick out some black cowgirl boots from Pinto Ranch and Lane Boots. Not saying I don't have good taste, but there have been many times when I thought something looked good on a girl and I got the "are you crazy" look or vice a versa.
So to help me out, I recruited a female friend to go through and pull out a couple of her favorite boots from the site. I was pleased that it took her a little bit of time. That way I know she just wasn't picking the first pair she saw to appease me. She also gave me some write-ups on why she liked them, and I incorporated it into this article.
First, Here Are Some Beautiful Ladies Black Boots By Lane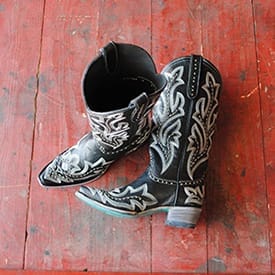 We really love Lane boots for the simple reason that they have definitely thought out of the box when it comes to women's cowboy boots. Quality designer boots with a western influence is what they were after and they definitely hit it out of the park! You can check out their gorgeous black boots right here. for that matter, that link will show you all of their amazing boots in a plethora of different colors and styles.
I bet you are sick of buying an expensive pair of boots only to find out they really weren't put together well or used materials that just weren't up to standards after you looked at the price tag. One great thing about cowboy boots is that even a decent pair will last a long time. Luckily for you, Lane boots uses top quality materials with some of the best handmade craftsmanship in the business!
Some Amazing Women's Boots From Pinto Ranch
All women's cowgirl boots by Stallion here!
The first pair I wanted to talk about are the Women's Black Cowboy Boots made from Baby Buffalo by Stallion boots. She really liked these boots and why wouldn't you? Super soft baby buffalo boots are one of the favorites on Pinto Ranch. The leather is super soft and they are super comfortable as well. They are the "classic women's black cowboy boot" that comes to my mind. Beautiful stitching on the shaft is complimented by the toe medallion and fancy pull straps. They will look great in a dress, jeans, shorts or if you decide to wear boots with leggings.
All women's cowgirl boots by Lucchese here!
The 2nd pair I wanted to talk about are the Women's Black Full-Quill Ostrich Boots by Lucchese. This is kind of a mixture of a classic look mixed with the exotic by Lucchese. The vamp is made from one piece full-quill ostrich skin while the shaft is calfskin and super soft. It also has a slightly higher 1 1/2″ heel for comfort and a medium round shape toe by Lucchese. This little black cowboy boot is exquisitely finished with a simple, but very cool cording detail that encompasses most of the shaft while the pull straps contain an ostrich overlay. Definitely a pair of boots that won't go unnoticed.
Last but not least is a pair of Women's Black Mayra Boots from Old Gringo. My friend didn't particularly like these boots and I knew that was going to be the case. Right when I saw them, they caught my eye. Her tastes are a little "vanilla" at times and I knew they wouldn't be one of her favorite. She did say however "Yeah, I don't really like those but I feel like some people may.". Guess what, a lot of people do. There were 10 reviews on Pinto ranch for these tall black cowboy boots and they were all 5 stars. Here are a few of the reviews:
All women's cowgirl boots by Old Gringo here!
"My new favorite boots! So comfy and true to size ❤️"
"I love my boots they're so comfortable they require no breaking in I can walk all day long and then ! Delivery was fast and I even got a discount !Thank you pinto ranch"
"These are beautiful, very comfortable, and great quality! I am very pleased with the purchase and customer service is great!"
You definitely can't blame me for including these black boots with a modern western look to them. They have an extra tall 18 inch tops, metallic silver stitching that embellished the shaft all the way up. Included is a half zipper inside the ankle and pull straps make for easy on and easy off. Fashion and style combined by Old Gringo to make these magnificent boots! A bonus (in my opinion) is a distressed vintage look on the heel and outsole. Lots of people love these boots and there is a very good chance that you will to!
Black Western Boots – Style, Sophistication & They Look Great!
What do black cowboy boots remind you of? I'm thinking of a bad guy in some kind of cheesy western or Johnny Cash. Both of those immediately came to mind. I'm gonna go with Johnny Cash. He did wear black cowboy boots and he is one of the coolest and most well-known country stars of all time. You really can't argue with that.
Something has changed in the last 20 years or so and that's you don't have to be "country" to wear cowboy boots. These days western boots and clothing for that matter, have jumped in popularity with just about every genre I can think of. No need in wondering why it took so long, it has finally happened and it doesn't look like it's going anywhere for quite some time.
Tall or short, exotic leathers or smooth leathers, plain boots or embellished? All these are questions you should be asking yourself as you update not only your wardrobe, but your cowboy boots. Black cowboy boots definitely portray a sense of style and sophistication that you just don't find in other boots or other footwear for that matter. Next time you have to go do a wedding, formal party, etc… try something a little different and "upgrade" to a pair of black cowboy boots. The result will be amazing!
Most of the boots in this video seem to be on the cheaper side. Not bad boots, but they definitely aren't the same quality as say Lucchese, Stallion and others. You can find most of the boots from this video right here – Hat Country's Black Cowboy boots. If you are looking for a little higher end boot, check out the link here for some black cowboy boots at Pinto Ranch. These are super high end and of course cost more, but you get all the name brands under one roof.
Why You Should Be wearing Black Cowboy Boots
For a lot of guys, it's hard for them to see why they should buy a pair of "fancy" western boots. Not only can the be expensive, it's just something they aren't use to seeing unless they grew up around others that wore them. They literally seem like a novelty item or something they see someone wearing in a movie.
But a savvy dresser can think of a pair of black cowboy boots or any pair of cowboy boots for that matter as a secret weapon. At a distance it looks like a quality leather shoe. Up close though, the distinct advantages start to show!
Black cowboy boots have a Unique Shape. A lot of people think of a cowboy boot and immediately think of that long this toe that looks really uncomfortable. Although that toe is still quite popular today with any dress shoe, there are many different toe types in cowboy boots that you really should get to know.
All cowboy boots from black to brown suede give a little added height to the wearer. Unless you are playing ball in the NBA, this is definitely a welcome benefit for sure. If you are already tall, don't worry. There are many options when it comes to heel height.
Decoration is something you can find on almost every pair and a black boot is no exception. Whatever your taste, there is a boot out there for you. You can go from one extreme to the other in just one boot. Above and below the cuff of your pants can be 2 completely different types of decorative features from colors, decorative stitching and leather tooling, it just makes cowboy boots a whole lot of fun!
My favorite word to describe a pair of black cowboy boots is "Uniqueness". If you are in Texas or the Southwest, you are in a unique club when it comes to footwear. When you are outside these areas, you will most likely be the only guy in the room wearing a pair. It will definitely give people something to remember you by.
Last but not least, wearing a pair of black cowboy boots adds a hint of mystery or the "bad boy" image to the wearer. Kind of something an outlaw would wear or the guy that plays by his own rules.
Black Cowboy Boots Should Be In Your Wardrobe
I really loved doing this article on black cowboy boots. I can't believe it took me cleaning out my closet to discover I no longer had a pair. What a crime if you ask me. You can literally wear these boots anywhere, any time. As I said, a pair of black boots really are a style all to themselves. They look spectacular and I think people will look at you in a whole different light.
I really suggest you get a pair if you already don't have a pair, you are definitely missing out. If you do have a pair, maybe it's time to treat yourself to another. Some great styles I have shown you here today and don't forget, there are hundreds more that I couldn't talk about today on Pinto Ranch's site. If you have any questions about black cowboy or cowgirl boots or any other boots or boot brands for that matter, let us know below.
As always, I hoped we helped you find your new favorite pair of black cowboy boots today!