I thought it was about time to bring a little color into the cowboy boot world! Red is the first color that came to mind and I wanted to talk about a couple pairs of women's red cowboy boots that are to die for. If you have even a little bit of fashion sense, you know that stepping out in a pair of red cowboy boots is definitely making a statement. Whether it be Confidence, A little Sassy, definitely sexy, whatever the message may be, you will definitely be turning heads.
Have you asked yourself, where can I get a pair of red cowboy boots? Well if you have, you are in luck.  Below is a great selection of women's red cowboy boots that are to die for! Five different styles of red cowboy boots all with their own unique personality. From your favorite pair of cut off jeans to a nice dress or a pair of Wranglers, we've got you covered in these amazing cowgirl boots!
Click image to see all Women's Red Cowboy Boots!
The above picture is a quick look at 5 of the amazing pairs of red cowboy boots at Pinto Ranch. You can click on it and head on over there at anytime and get more info, pics, prices, and whatever you need. One thing you will also want to do is read any reviews.  One of the best things about Pinto Ranch is reading the reviews of previous customers.  You literally will not find a bad review for service.  Service is top notch.  If you purchase a pair of boots and for some reason you don't like them, no worries.  Their exchange / return policy is amazing and it won't cost you a penny.  Make sure you check that out.
Below I picked 3 pairs of boots that I really like and gave you a ton of information on them.  You can click on the image of the boots and it will take you right over to where you need to be to view more pictures of them and more info is provided. If you aren't into red cowboy boots, they have tons of other options so make sure you shop around and have a great time.
Old Gringo Women's Red Nevada Cowboy Boots
Click image for more info on these Beautiful Cowboy Boots!
A beautiful boot and one that is very popular at Pinto Ranch. The red leather is burnished which is a polished look to give these boots a richer look that definitely stands out. Full of ivory stitching gives the boots a traditional western look and really pops against the burnished red leather.
One thing that really stands out to me is the distressed heel and outsole. I absolutely love that look! It gives these classic women's red cowboy boots a vintage look that will only get better the more you wear them. Vintage is in whether it be vintage cowboy boots or vintage western wear. If there is one thing that you can count on, it's that Old Gringo always puts out a great handmade cowgirl boot combining vintage charm with contemporary styling.
Handmade: Yes
Material: Goatskin
Color: Red
Details: Ivory Stitching on Shaft, Foot and Heel Counter
Toe type: Snip Toe, Old Gringo '4Long' Toe
Heel type: Cowgirl Heel
Outsole: Leather
Insole: Leather
Heel Height: 1 3/4″
Shaft Height: 13″
Manufactured: Leon, Mexico
Women's Red Cowboy Boots, Only Top Quality Here
If you've browsed We Heart Cowboy Boots at all, you've probably noticed we don't do cheap! When I say cheap, I mean these boots aren't gonna go lame on you the second time that you wear them. You aren't gonna find a hundred dollar pair of boots on here that last 10 years because in my opinion, those don't really exist. It's not the norm anyway. Every pair of guys or girls pair of cowboy boots we talk about here are handmade and are seriously gonna last you for decades. Even with regular wear, they are gonna last a lot longer than those $100 boots from Boot Barn or wherever else.
Great fashion tips for wearing red or any other women's cowboy boots
From some $300 boots to a pair costing over $1,500, you are definitely getting what you pay for. A lot of these boots already have reviews on them and you should read them. The biggest complaint I have seen is about maybe somebody getting a pair that didn't fit correctly. That's not a problem here because that is easily resolved at not cost to you. I haven't seen any complaints about quality or service. Both of those things are second to none at Pinto Ranch and that's why they are hands down my favorite place to shop and buy cowboy boots. They have the best styles from ladies ropers and tons of sexy cowgirl boots that you are sure to love!
What's your favorite color, red or black? Check out these great black cowboy boots for men and women!
But hey, it's up to you. It's your prerogative. Spend a little, get a little. The one thing I love about the brands that we talk about here is their name means something. It means quality, durability, style, and most importantly it means that the satisfaction of their customers is their first priority. They all have a money back guarantee, but you won't need it because they do right by making the best boots out there. Besides the manufacturers guarantee on quality, Pinto Ranch steps in and gives you a refund / exchange policy that doesn't cost you a penny and is second to none. In my opinion, all of this makes the thought of online boot buying a no brainer. Feel confident in not only the boot buying process, but how great you will feel wearing these beautiful boots!
Rios Of Mercedes Deep Red Women's Milan Cowboy Boots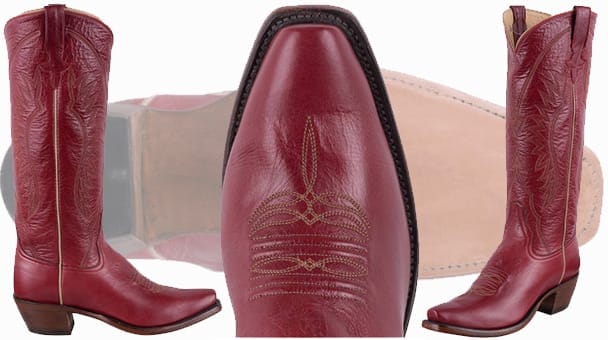 Click image for more info on these Red Cowboy Boots!
I've been a big fan of Rios Of Mercedes cowgirl boots for sometime now. When it comes to women's red cowboy boots, these definitely look like they could be walking down the runway in Milan with not problem!
These cowgirl boots are tall with a mixture of classy and sexy all in one. They make a statement without even trying with so much style they had to make them this tall to hold it all in! The deep red tone of these Milan boots are complimented by the oak tones of the all leather sole and cream piping that runs vertically up the shaft till it reaches the pull straps. The tomahawk stitch pattern in the shaft is absolutely amazing! The stitching is in cream and red and done very subtly but elegantly at the same time.
This women's red cowgirl boot is made exclusively for Pinto Ranch by Rios Of Mercedes. Rios designs and hand makes all of their boots under one roof in south Texas.
Handmade: Yes
Material: Leather
Color: Deep Red
Details: Tomahawk Stitching, Bug and Wrinkle Medallion, Walking Heel, Short Toe
Toe type: KS Short Toe
Heel type: Ladies '4' Heel
Outsole: Leather
Insole: Channeled Leather Insole
Heel Height: 1 1/2″
Shaft Height: 16″
Manufactured: Mercedes, Texas
Old Gringo Women's Golondrina Boots
Click image for to see more of these Women's Red Cowboy Boots!
Golondrina is Spanish for swallows which are beautifully displayed on a pale turquoise shaft. These golondrina red women's cowboy boots by Old Gringo will remind you of old cowgirl show boots that are absolutely darling!
A unique pair of boots with a look that will keep you smiling all day long. You can't get the blues in a pair or red and turquoise cowboy boots with inlays of golondrinas, flowers, hearts and arrows. The heel and outsole are beautifully distressed to give these show boots a more vintage look which will of course make them even look better the more you wear them.
Handmade: Yes
Material: Goatskin
Color: Turquoise, Red, Brass
Details: Leather Inlays of Birds, Hearts, Flowers, and Arrows, Pull Straps
Toe type: Snip Toe, Old Gringo '4' Toe
Heel type: Cowgirl Heel
Outsole: Leather
Insole: Leather
Heel Height: 1 3/4″
Shaft Height: 12″
Manufactured: Leon, Mexico
Find some of the Best Women's Cowboy Boots right here or if you are looking for something a little cheaper, check out some great boots for women by Dan Post.
Red Cowboy Boots Will Put A Pop In Your Step
Come on, I was right wasn't I? I definitely needed to put some color in your day with a pair (or 3) of women's red cowboy boots. They are fun, exciting, sexy, a little bit of everything. I think I hit 3 great pairs of boots here that fit 3 different types of styles. A little bit of everything for your particular taste. If red cowboy boots aren't your color, check out these great black cowboy boots for men and women.
I think you will definitely find one of the above pair of boots to your liking. If not, head over to Pinto Ranch and check out the many choices of women's cowboy boots they have to offer. They have over 140 different styles of women's cowboy boots by 10 different boot makers. Black, red, brown, they have a ton of different colors to choose from. From alligator to snake skin, they have a ton of leathers and exotic leathers to choose from.
Cowgirl boots that are unique, stylish, comfortable and of course superbly crafted, these are the highest quality cowboy boots on the market and they are all at your easy disposal.
If you have any questions, requests, or just want to chat about some great handmade cowboy boots, please let us know below. I hoped this post helped you out in your quest for a great pair of boots. As always we hope that we helped you to find your new favorite pair of women's red cowboy boots!