If you're online today and one of your goals is to find a pair of womens ostrich cowboy boots that are not only unique, but extremely comfortable and the best handcrafted boots that money can buy, then you have come to the right place! Every pair of women's boots offered through Pinto could practical be shown in a museum. They are artwork for your feet. You could wear them walking down the streets of Paris to a night out line dancing or with a pair of your favorite jeans. They are that awesome!
I'm gonna talk about a few of the 18 different styles of ostrich boots offered by 4 different brands of boot makers at Pinto Ranch. These are definitely some of my favorite women's exotic skin boots. Though they are made by four different companies, they all have a two things in common. First, they are all made from ostrich leather of course. The second is that they are all top quality boots. Pinto doesn't play around and waste your time with lower quality products of any kind.
Check out these Rios of Mercedes full quill ostrich boots for men and women!
TONY LAMA SIGNATURE SERIES WOMEN'S BRANDY FULL QUILL OSTRICH BOOTS
Tony Lama does it again with these beautiful pair of ladies' ostrich leather boots!
Click BOOTS for more info and to PURCHASE!
You will definitely fall in love with these boots as soon as you see them. They have a shorter 11 inch cowhide shaft. The ostrich is a beautiful brandy color and the peaks (quill bumps) are darker tones for each and every quill that compliments the chocolate piping on the boot. They are also adorned with some beautiful floral embroidery in rose and cream colors that make the boot "pop" a little bit. These boots are super fun and you can probably already imagine the possibilities with what you could wear these little gems with.
Price: Was $795.00 Now $596.25
Material: Full Quill Ostrich and Cowhide
Color: Brandy and Russet
Details: Floral Stitching, Contrast Piping, Pull Strap Overlays, Full Quill Ostrich Skin
Toe type: LN Toe
Heel type: Signature Series '47' Cowgirl Heel
Outsole: Leather
Insole: Channeled Leather Insole
Heel Height: 1 3/8″
Shaft Height: 11″
Manufactured: El Paso, Texas
With all these different boots to choose from, there are a ton of beautiful designs, exquisite embroidery and inlaid leathers of the finest quality. You are basically at a one stop shop for the finest cowgirl boots anywhere. You are definitely in the right place at the largest inventory in the United States of handmade cowboy and cowgirl boots and fine western wear for men and women as well!
Let's Talk A Little About Women's Lucchese Boots
LUCCHESE WOMEN'S BARNWOOD FULL-QUILL OSTRICH BOOTS
First off, you can never go wrong with Lucchese. The name is synonymous with excellence when it comes to handcrafted western boots. And once again, they haven't disappointed when it comes to this beautiful full quill ladies' ostrich leather boot.
Click BOOTS for more info and to PURCHASE!
These women's ostrich boot is a beautiful brown like a barn wood door and is a one piece full quill ostrich vamp with a matching color calfskin 12 inch shaft. Each quill has a slightly darker highlight that accents the boot perfectly. The calfskin shaft is expertly finished with a beautiful yet classic cording detail with full-quill ostrich overlays on the pull straps.
Not only are these ladies' cowboy boots beautiful, but they are practical with a classic look at the same time with a great medium round 2 inch toe.
Price: $1,195.00
Handmade: Yes
Skin: Full-Quill Ostrich Vamp, Calfskin Shaft
Color: Barnwood
Details: Ostrich Overlay on the Leather Pull Straps, Cording on Shaft
Toe type: Medium Round – Lucchese "2" Toe
Heel type: Cowboy Heel – Lucchese "4" Heel
Outsole: Leather
Insole: Leather
Heel height: 1 1/2″
Shaft Height: 12″
Manufactured: El Paso, Texas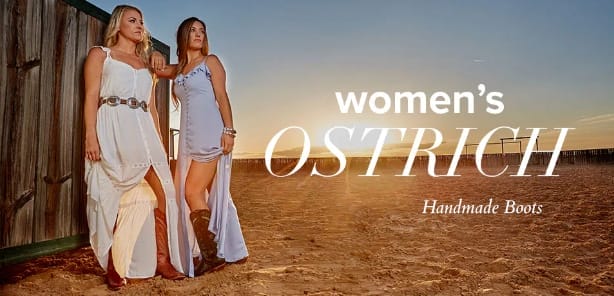 Your New Favorite Pair Of Little Black Ostrich Boots
TONY LAMA SIGNATURE SERIES WOMEN'S BLACK FULL QUILL OSTRICH BOOTS
Another beautiful pair of ladies' cowgirl boots, but this time, they are all back and they are definitely to die for!
Again, a smaller boot with an 11 inch shaft. Again with Tony Lama or any other brand of ostrich boots at Pinto Ranch, these full quill ostrich skin boots are once again beautiful, soft as can be, and as you would expect, of the highest quality.
Click BOOTS for more info and to PURCHASE!
There are definitely some subtle things going on in this boot that you probably didn't even notice. Did you see the red stitching at the top of the boot and at the pull straps? The contrast between the supple black of cowhide and ostrich leather is absolutely amazing without being pushy! These boots have just the right amount of flare in all the right places. Between the full quill ostrich vamps and the subtle red stitching up top, everything combines to make one beautiful pair of ostrich skin boots. I don't even think I should mention the crown stitching on the pull straps and overlays. I don't think you will be able to handle it!
They also have two five star ratings over at Pinto Ranch. Nothing but great things being said about these boots!
Price: Was $795 Now $596.25
Material: Full Quill Ostrich and Cowhide
Color: Black
Details: Ornate Western Crown Stitching, Full Quill Ostrich Vamp, Overlay Pull Straps, Contrast Crown Stitching
Toe type: LN Toe
Heel type: Signature Series '47' Cowgirl Heel
Outsole: Leather
Insole: Channeled Leather Insole
Heel Height: 1 3/8″
Shaft Height: 11″
Manufactured: El Paso, Texas
Find some of the Best Women's Cowboy Boots right here or if you are looking for something a little cheaper, check out some great boots for women by Dan Post.
These Three Should Give You A Good Start
Well, there's 3 out of 18 of beautiful ostrich skin boots for the ladies' out there. That leaves 15 more to check out and you can do that at Pinto Ranch. Also, if ostrich isn't floating your boat, there are around 170 different types of ladies' boots for you to choose from. Exotic skins ranging from alligator, buffalo, to lizard skin boots and the best snakeskin boots for women out there. It' literally is one of the largest pair of handcrafted ladies' boots in the country!
Free Shipping | Free Exchanges
Pinto Ranch will cover your return shipping until you find the perfect fit
As I mentioned at the beginning, these ostrich skin cowgirl boots could practically be on display in a museum. I just know if you check them out, you will fall in love with one of them. Make sure to read some of the reviews plastered all over their site and you will see that the customer service is second to none.
If you have any questions about womens ostrich cowboy boots or any other ladies' boot for that matter, give a shout out down below and we will get right back with you. Have a great day and we hope you find your favorite pair of boots!