I think it's about time we start talking about the best cowboy boot brands out there and not really so much on just one particular boot in itself. So today I'm gonna talk about the top 10 cowboy boot brands and why you should check them out before any others.
If they are in this list, it's not just because of their name. They have made it here because they have a superior product. I'm not gonna sit here and give you some bogus info on a boot brand just because they are popular. One other thing I want to mention, I'm not gonna mention 10 different boot brands. After sitting here and thinking about it, I really can't come up with that many that I think are worthy of making the cut. That may sound a little strange, but to me when someone says "top 10", that kind of means you are in a league with higher standards than the norm. This list is in no particular order.
Links are provided below to each brand on the amazing Pinto Ranch website. They have not only the best cowboy boots, but a great selection of western wear and unbeatable customer service and an amazing return/exchange policy. Always a ton of Boots on SALE!
Who Makes The Best Cowboy Boot?
Well, that is one heck of a question if you ask me. I think it would come down to personal preference, but I think I can say with relative certainty that it's one of the boot brands on this page. My two favorites here are Stallion and Lucchese.  That's just me though. Lucchese because that is what I started out on and they will always be my first love lol! Stallion boots because OMG, they are absolutely incredible and they are pretty new to the boot world.  Their quality is second to none in my opinion. 
Lucchese Boots – The Name With The Quality To Back It Up
Lucchese became legendary in the boot world for a reason. Celebrating craftsmanship and the adventurous spirit since 1883. If you want style and be known for wearing an icon, Lucchese boots are the boots for you!
⭐⭐⭐⭐⭐"I have eight pairs of Lucchese boots that I began purchasing in 1978. Every pair is just like new and none have been resoled. I have other brands as well and they too have held up well, but they are not Lucchese's. Nothing feels like a Lucchese! Love the fit and the look is incredible " ~ Colby S. (Verified Buyer from Pinto Ranch)

Lucchese boots (pronounced loo-kay-zee) are absolutely amazing. First pair of cowboy boots I ever owned (after I was 25 years of age lol). These boots are also at Pinto Ranch and you can see all 54 pairs of Lucchese boots for men and women right here.
The lowest price pair I found was $399 (This is a steal, I mean literally this is like robbing a bank for quality like Lucchese!)
The highest price I found was $2995. You can see the difference in pricing is pretty extreme.
One of my favorite pairs of Lucchese boots is the LUCCHESE MENS PEARL BONE MAD DOG GOAT BOOTS – I love the look and hell, I love the name!
You can find out more about the name Lucchese boots right here. They have been synonymous with cowboy boots coming up on 150 years. The reason for this is definitely the quality. We know Italians make some of the finest shoes in the world. What happens when an Italian immigrant whose father is a shoemaker immigrates to the United States and their ship arrives in Galveston, Texas? They move to San Antonio and setup a boot making shop and sell boots to the United States Calvary.
Lucchese boots have a great Vision statement: "Celebrating craftsmanship and an adventurous spirit, which brings thee enduring values of the American west to the world!".
With Lucchese, it really comes down to 3 basic characteristics when making a pair of boots. Fit, comfort and style. With every pair of their boots, you know you will be getting all three.
*Side Note:  The lower priced boots are all currently on sale (24 pairs). You can SAVE some big money on them so get them while they are hot!!!!
Rios Of Mercedes Boots – A Family Name Long On Tradition
Why should you be wearing a pair of Rios of Mercedes boots? The handmade heart and soul that every Rios of Mercedes boot maker puts into his work every day is what makes the Rios difference!
⭐⭐⭐⭐⭐"Great feeling, tough boot. Very comfortable to walk in when broken in!" ~ Mike C. (Verified Buyer from Pinto Ranch)
⭐⭐⭐⭐⭐"So where do I start? I LOVE THEM! I was a little hesitant ordering these at first, but I am so glad I did! They are awesome!" ~ Thomas W. (Verified Buyer from Pinto Ranch)
The lowest price pair I found was $299 (These boots are on sale and are almost $200 off their regular price. I guarantee you will fall in love with these boots like I did)
The highest price I found was $1,046.25. (These are also on sale and are about $350 off their regular price) The quality of these boots is right up there with Lucchese, Stallion and the big boys if you ask me.
One of my favorite pairs of Rios boots is the Rios of Mercedes Black Americano Full Quill Ostrich Cowboy Boots for Men for $537 (on sale from $895). I love a all black pair of full quill ostrich boots and at this price I want 2! One of the best cowboy boot brands in my humble opinion.
This is another brand that has been around for a long time. Almost 170 years to be exact. Besides quality materials' and boot makers that have more experience most boot makers could dream of, Rios of Mercedes boots are very well-known for the fit of their boots. The way the leather is cut for each particular type of material they are using is kept in mind so they stretch the hide of the leathers from side to side over the ball of the foot where other boots may slip and slide. Especially in boots that use synthetic components. Rios boots practically mold to your feet and you can feel this in every step.
Rios of Mercedes has made boot making a science and knows that certain leathers will stretch or not stretch as much to fit your foot depending on what it's made from (i.e. calf skin, stingray, kangaroo, ostrich, etc…). When you understand some of the intricacies of boot making such as this, you end up making a quality pair of boots that others just can't match. If you haven't tried Rios of Mercedes, you're missing out!
*At the time of this post, there were 20 pairs of Rios of Mercedes boots on sale and you can literally save hundreds of dollars. They will go fast, so act accordingly!
Stallion Boots – A Newer Brand With An Awesome Look
With an extraordinary sense of style and fashion, Stallion has caught the attention of the high-end fashion world in Europe and the US. Stallion boots will take you from ordinary to one of the exclusive "in crowd" with a single pair!
⭐⭐⭐⭐⭐"Man, I Love Your Boots." ~ Bob Dylan – Singer / Song Writer
⭐⭐⭐⭐⭐"Best Boots Ever! I received my boots and after wearing them a few days decided they were a bit too small so called to exchange…..WOW, what great service….I am from Houston myself so my wife was able to hear from my speaker phone call how nice Texans' are about everything !!!! I will always buy my boots now from team Pinto :)" ~ Pinto Ranch Customer
You can check out Stallion boots at the Pinto Ranch website and here is a link to every single pair of their boots and many of the prices have been slashed. That is 34 pairs of men's and women's boots. I said Stallion is pricey and you will know why if you ever get a pair. They just don't get any better.
Lowest priced pair I found was $671.25 (On Sale)  –  Highest priced pair was $2,995 (I did see a pair or two originally priced at $2,995 on sale for $1,799)
My favorite pair has to be the Stallion Men's Zorro Antique Saddle Full-Quill Ostrich Ankle Boots and you can find them right here at Pinto Ranch for $1,095.00
At the time of this post, there were 11 pairs of Stallion boots on sale and you can see all of them right here!
I'm just constantly impressed by these boots. You never see a commercial, advertisement, radio ad, etc… for these boots. They are pretty pricey, but they are definitely worth it. They aren't a 100-year-old company like some other companies by any means. They made their debut in 1980 and boy have they made a name for themselves in such a short period of time. Stallion boots and leather goods have definitely caught the attention of the high end fashion world in Europe and the United States. The list of movie starts, singers, famous personalities that wear Stallion boots is second to none!
The Essence of Stallion Boots! Some of the Best Cowboy Boots Money Can Buy!
To me Stallion is kind of in a cowboy boot league of their own. They aren't a boot I would associate with a cowboy in the bull riding circuit, that's for sure. You aren't gonna head out to a working ranch in Oklahoma and see any of the farm hands wearing Stallion boots. These babies are high end made with the most expensive and highest rated quality materials' money can buy. These are boots that you will see on the fashion runways of Milan, Paris, and New York by all the big names in the fashion industry like Dolce & Gabbana, Dior, Céline and Ralph Lauren. Because of this, they definitely have a hefty price tag, so now you have been warned.
Lane Boots – Handcrafted Modern Styles To The Western Boot Market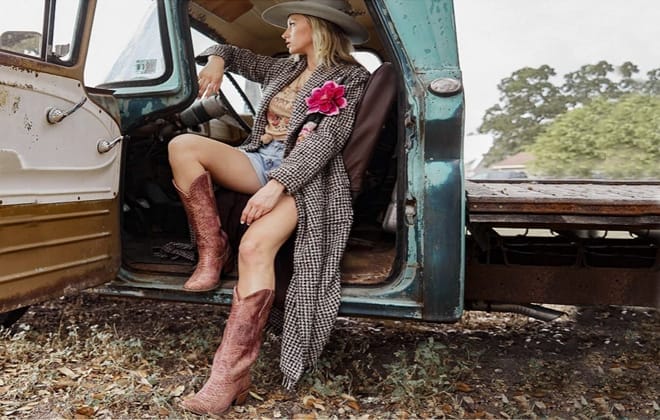 ⭐⭐⭐⭐⭐"These booties are just the ticket. They arrived in less time than I expected and fit exactly right. I wear a solid 9.5 in shoes but ordered 9 and I'm glad I did as they fit just great right out of the box. Great Company and boots." ~ A Pinto Ranch Customer
⭐⭐⭐⭐"Beautiful Boot – These boots were beautiful! So comfy for the minute I wore them. Unfortunately they were a half size or so too big and I had to return. Hoping a 7.5 comes back in stock so I can reorder. The return process was so easy though. Thank you Aly for your help!!" ~ Klerstin A Pinto Ranch Customer
Lane cowgirl boots are a brand that you will instantly fall in love with! They do sell men's and women's boots, but we mainly love them for the ladies cowgirl boots. They are cowboy boots, but boy, did Lane think out of the box when designing them! Designer boots with a western influence and they are absolutely amazing! You can view all their ladies boots right here.
I'm totally impressed with Lane boots. If you were to ask me "Who makes the best western boots for women?", I would have to say Lane hands down. The quality, look, feel is unbelievable. I've never met anyone who had a bad thing to say about them. Make sure you check them out!
The lowest price pair I found was $147.50 (These boots are on sale and come in a couple different colors. The links above will take you to the page they are on. Low prices all over the place!)
The highest price I found was $475. (For designer boots, all their prices are very reasonable. Especially if you like that out of the box designer look!)
You will definitely love Lane boots and they have so much more than just cowgirl boots. Booties, bags, a couple really cool country t-shirts and accessories. You can see some Lane boots up close on our site here. If you are kind of tired of paying huge prices for designer boots and looking for a cowboy boot with a designer look, then look no farther. Give Lane boots a try and head on over to Lane's website and check out what they have to offer. You will be pleasantly surprised I'm sure!
What's your favorite color, red or black? Check out these great black cowboy boots for men and women and these ladies red cowgirl boots!
Black Jack Boots – Exotic Leather Boot Experience Like No Other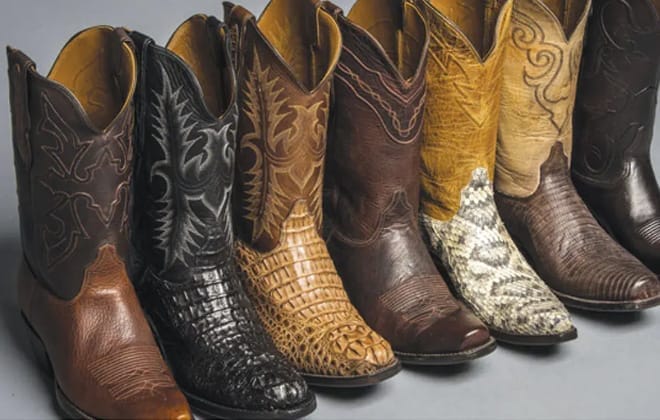 Black Jack made the list of one of the best boots out there because they are of the highest quality boots out there. They will last for years if taken care of. They are also listed on Pinto Ranch and you can find all of them right here in this one location. Black jack does have a website and below I tell you why is absolutely atrocious!
The lowest price pair I found was $349.99 (These boots are on sale and are almost $50 off their regular price. They are one of the nicer pairs of boots I have seen for this price.)
The highest price I found was $1,195. (The most expensive I found was actually $1,550 but were on sale for $899. That's $650 off and they are absolutely amazing!)
One of my favorite pairs of Black Jack boots are the Black Jack Exclusive Natural Caiman Tail Boots for $995.  You have to see these things. They remind me that would come out of Lord of the Rings or something.
*At the time of this post, there were 10 pairs of Black Jack boots on sale and you don't want to miss that sale. They will go fast, so act accordingly!
I'm gonna start off by saying that Black jack made the list because they have some excellent boots that are top quality. For a boot company that has only been around less than 25 years, they sure do seem to know what they are doing. With that be said, you really don't want to visit their website. It's absolutely atrocious. Very hard to navigate, no prices, I don't know if they are ladies' boots, men's boots, or what. You can't search for anything on the site and it's just basically not very user-friendly. One other thing, you can't even buy them from their site, so there really isn't a reason to go there.
Designer Spotlight: Black Jack Boots – A Great Western Cowboy Boot!
Thank god you can get them at Pinto Ranch where Black Jack makes many a pair specifically just for them. You can get the price and any other info you need on this great boot. Black Jack has a 100 step process when making their handmade boots. That process starts with using the best top quality leathers form around the world to ensure fit, comfort and durability.
Black jack is committed to produce the finest all-leather, handmade boot in the United States and will not waiver from this. The satisfaction of every customer is their first priority and they exceed this with every pair of boots they make!
Old Gringo Boots (Ladies) – Vintage Charm With Contemporary Style
I'm gonna only mention Old Gringo's ladies' boots here only because Pinto Ranch doesn't offer men's boots for whatever reason. After doing some research and talking with some boot experts, they are great boots that are really popular and you can find all 40 pairs of Old Gringo boots right here at the Pinto Ranch site.
The lowest price pair I found was $239.99 (These boots are on sale and are almost $150 off their regular price. Lots of boots on sale.)
The highest price I found was $1,899. (Ummm, these boots are a show stopper for sure!  If you want to get noticed, check them out!)
*At the time of this post, there were 21 pairs of Old Gringo boots on sale and you don't want to miss that sale. Absolutely amazing pairs on sale right now!
Old Gringo has made the list because we love how Old Gringo incorporates a contemporary look along with the traditional western style into women's cowboy boots. There are 3 things they believe in when designing and producing their boots and that is art, quality, and innovation. Another boot brand that is really new in the boot world. Old Gringo started back in 2000 and they decided to make each and every boot its own experience with its own personality.
The company was started by Ernie Tarut who had years of experience in leather manufacturing and Yan Ferry who is a master of European design. The combination morphed into a beautiful western boot that is known as Old Gringo today.
"It is and always will be about making the right pair of boots. You know those boots you always turn to and never want to take off" – Ernie Tarut, President & The Old Gringo
Tony Lama Boots – Have To Include A Legend
If you are new to the cowboy boot world or have been wearing them for sometime, you've most likely heard of Tony Lama. One reason I'm adding them to the list is because they have always made a great quality boot and they make them in all price ranges, so almost anyone can afford a pair. You can literally get a pair for just over a couple hundred bucks or you can go high end at over a thousand. My favorite pairs are at Pinto Ranch and they have 32 pairs for men and women and you can see all of them right here at Pinto Ranch and they always have Tony Lama boots on sale.
The lowest price pair I found was $324.99 (These boots are on sale and are almost $150 off their regular price. Lots of boots on sale.)
The highest price I found was $1,499. (Want big savings? These handmade boots were regularly priced at $2,295.  Save around $800. Amazing!)
*At the time of this post, there were 26 pairs of Tony Lama boots on sale. I think that might be the most I have ever seen and they are absolutely amazing!
Tony Lama boots have been called "The boot of the American west" since 1911. This guy actually started in the boot industry as an apprentice at age 11 and that experience still shows today in every pair of their boots. Quality and a comfortable boot fit are key characteristics they stride for in every pair they sell. Each pair of Tony Lama's can be considered a true work of art and are handcrafted with the finest materials' available. When you wear a pair of Tony Lamas, people know it.
That's Enough Cowboy Boots To Last For A while
Well, I told you we wouldn't be talking about 10 brands. But, if you count that some of these brands are for men and women, then you get a total of almost 10 of the best cowboy boot brands, so that works in my opinion. What really matters is that I think those are the best brands out there and I didn't want to waste your time with some lesser boots. The Best Cowboy Boot Reviews Here all in one place! If that's what you are going for, shop for some boots on Amazon or some other site that that just throws some boots on the screen and doesn't give you any information on the brand or specifics about the boot itself. That's no way to find your new favorite pair of cowboy boots.
There are certain things in life where it really doesn't matter who makes a certain item that you may buy at say the grocery store or Target, Wal mart, etc… The item may only be a couple bucks or something simplistic, so you really aren't concerned about the quality like you would be on say a new car. Now saying that, you also have to be careful when buying a product just because of it's name. There are a lot of companies that have done a great job in their marketing efforts and their name is very popular and they charge big bucks for that name. That is okay if it's a great product, but I'm sure you can think of a couple right off the top of your head where maybe their product isn't as good as they would have you think.
There's two ways you can look at it when buying a pair of boots. You can buy something that's cheap, from a brand that is just throwing boots out there that are low price, low quality, and really don't care about you the individual or their boot for that matter. Or you can fork out a little more money and buy a pair of boots like the brands we mentioned above. Then you know what you are getting. You are getting a boot made from the upmost highest quality leathers. A boot with the best designers in the industry. A boot made by artisans with more experience than any other boot makers in the world. And last but not least, a boot where you can tell that the boot maker really put their heart and sole into each and every pair they make. Just because a pair of boots are expensive doesn't mean you are getting a raw deal. I have written an article about it here and most of the time a more expensive pair of boots is cheaper in the long run! I'm telling you, buying from the best just isn't about trying to look cool or flaunt your money, you actually save money in the long run!
When you get a pair of boots like that, it's just not a piece of footwear, its something that you will be able to identify with for years to come. A quality product like that, you will acquire an emotional attachment to. You can't get that from "those other guys". You only get it from one of the best cowboy boot brands that we mentioned above.
Good luck with your boot hunt. If you have any questions or comments, make sure you leave them below and we will get right back with you if need be.