Enter the Lama
Hi everyone, it's Eric W. here with wehearthandmadeboots.com and I'm here to tell you why the Tony Lama Cowboy Boots are a good choice for the boot-savvy individual. Picture this, you're outside, the sun is beating on your tired face. You hear the soft crunch of underbrush beneath your boots. The dust around you settles, and you slam the last wooden beam against a pile of similarly shaped pieces of wood. Wiping your brow, you breathe a sigh of relief and you step back. There it is, in front of you, is a fully finished shed, a cabin, or whatever your expert mind was tasked with building.
If this imagery resonates with you as it did when I first saw a pair of Tony Lama Cowboy Boots in one of the small shops in Florida, then these boots are exactly what you need. When I saw a pair, I knew that these handcrafted masterpieces and others like them, not only belonged on my feet but also the feet of all who enjoy the iconic look of handcrafted boots, the design, style, and culture of the Tony Lama Cowboy Boots.  But, before you jump in, let's take a closer look at what makes the Lamas stand out.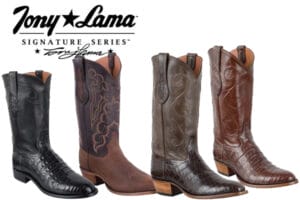 What Sound does a Lama Make?
It hums, but the Tony Lama Cowboy Boots are nothing to simply hum about. There are many fashionable styles and boot designs that allow you to really strut your stuff and keep it classy while also being affordable. Don't believe me, then check out some styles below.
Latilla:
The Latilla is an 11 in. Tony Lama Cowboy Boot that sports a mint green leather color with copper and green stitching. The collar is uniquely cut with black piping. Stirrups are no match for the square toe and the trademarked Lama Comfort Technology insole.
Highlights:
11" Turquoise Shiloh Top (Upper)
Choc Vintage Belly Caiman (Foot)
H Toe, Broad Square (Toe)
H Heel, 1 ⅜" Height Walking w/ Spur Ledge (Heel)
Lama Comfort Technology Insole (Interior)
Leather Exterior
Arlow:
Another boot style that deserves a good look at is the Arlow. It features An Elegant golden Chestnut leather upper with orange and yellow stitching. It's mahogany caiman narrow round toe foot shows a well-polished finish. With this boot style and all other Tony Lama Cowboy Boot styles, it also features the Lama Comfort Technology insoles which offer support and comfort. A single stitch welt around the leather out sole adds durability and extends the life of this boot.
Highlights:
13" Rust Tuscan Goat Top (Upper)
Cognac Vintage Belly Caiman (Foot)
R Toe, Traditional Medium Round (Toe)
4 Heel, 1 ⅝" Height Western Dress (Heel)
Lama Comfort Technology Insole (Interior)
¾" Welt Leather (Exterior)
-Take care of your Tony Lama boots with these great boot products!-
Griffon:
Let's get into the last style of the Tony Lama Cowboy Boots that I want to talk about that jumped out at me when I saw it. It doesn't have wings but it's design and style will make you soar. It's none other than the Griffon. When my eyes met this glorious display of craftsmanship, I knew I had to add it to the list. The Griffon has a distressed golden brown leather exterior accented by a multi-color stitching. A smooth ostrich square toe foot has added texturing for that lived-in feel. However, none of this would be complete without the Lama Comfort Technology insole. It's double stitched welt adds durability and the rubber out sole provides both oil and slip-resistance. It also features a horseshoe pattern that adds traction to each step.
Highlights:
11" Tan Worn Saigets Goat Top (Upper)
ANT Dark Brown Vintage SMO OST (Foot)
H Toe, Broad Square (Toe)
Cowboy Crepe Heel (Heel)
Lama Comfort Technology Insole (Interior)
Cowboy Crepe (Exterior)
I know, I know, it's only three styles, but I assure you that the Tony Lama Cowboy Boots come in many shapes and sizes that will please both the working man and the rodeo superstar.
Cowgirls, Rejoice!
Something would surely be amiss if I neglected to mention my lovely rodeo vixens. You need a boot that can handle your stride as well, right? No worries, Tony Lama has a collection of styles that will knock you off your feet (hopefully into a pair of Tony Lama Cowboy Boots *wink). Of course there are plenty that I could mention, but there are two beauties that grabbed my eyes and clutched my beating heart.
Magnolia Rose:
Yes ma'am, the Magnolia Rose! Now, I'm a sucker for a beautiful woman wearing some sexy boots, but a beautiful woman sporting my favorite color (red), now that would just give me a heart attack and send me to an early grave. This 16-in tall heel features of plum leather, with a fashionable pink, white, and purple stitching. The golden brown foot sports a square receipt toe and the scalloped collar as flair and style to this blooming Magnolia. A Buckaroo spur heel allows for an easy fit. The orthotic insoles provide comfort and support for the would-be Rodeo Fashionista.
Highlights:
16" Cerise Carrizo Top (Upper)
Tan Cuero (Foot)
U Toe, Round (Toe)
438 Heel – 2 ⅜" Height Buckaroo Heel (Heel)
Orthotic Insoles (Interior)
Rubber (Exterior)
—-Check out our Review of Tony Lama Boots!—-
Mm, yes, another pair of red Tony Lama Cowboy Boots for Women. The Penella Red is a definite must for my list of Tony Lama boots that every rodeo queen should sport. This 15-in tall Vanquero Women's Boot has a ruby (there goes the red again) leather exterior adorned with silver stitching along the collar and silver leather strands woven throughout. The Penella Red has a medium square toe and a 1 ⅜" heel with a spur ledge. As with all of these handmade styles and designs, the Penella's welt stitch ensures durability and extends the life of the boot.
Conclusion – Bye Tony…
The Tony Lama brand started in 1911, where Tony Lama himself began as a cobbler, selling his boots for cowboys everywhere. From this humble beginning, Tony Lama began to perfect his craft and soon he passed his techniques to his corporation. Now his corporation features the same handmade craftsmanship that made the Tony Lama Cowboy Boots famous. In closing, it Don't Get AnyMore Famous Than A Pair Of Tony Lamas!
If you have a question about Tony Lama boots, Lucchese boots, hiking boots, or a good pair of work boots, check out our posts or ask a question below and we will get back to you or maybe even another internet savvy boot shopper like yourself can help you out.
Save
Save