I wanted to take the time out and do the next series of posts on our favorite boots from each brand by leather type. In this post, we will be talking about our favorite ostrich cowboy boots for men by five different boot makers available at Pinto Ranch. I may add or subtract from this list due to popularity. I will add or subtract different boots as needed.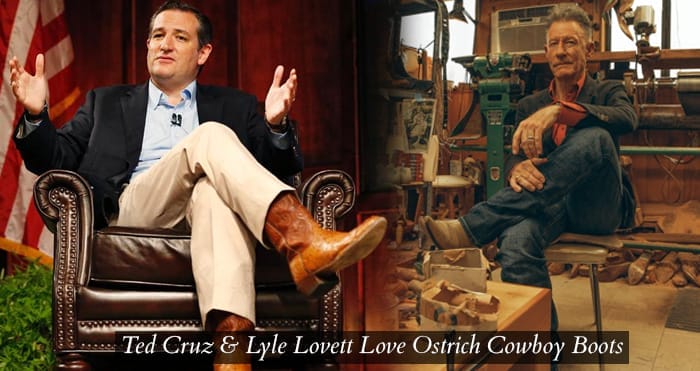 As you may already know, ostrich cowboy boots are super popular and often have a distinctive look because of those little bumps on the leather from their quills. Ostrich leather is also one of the softest skins, if not the softest out of all the exotic leathers made into handmade cowboy boots. This was supposed to be my "Top 5 ostrich cowboy boots for men" but I'm about to add another pair that kind of slipped through the cracks. I'm not gonna tell you exactly which pair I just added because it doesn't really matter. If I find another great pair of ostrich boots, I will just add them to this article under the brand name as needed. I have 5 great brand names that are all handmade listed here and it will be easy to add them as needed. The important thing is it's here now and when it comes down to it, you be the judge on the pair you like the best. You can click on any of the images here and see those particular boots or from there you can easily navigate to a wide selection of ostrich boots or any other exotic leathers or basic cowboy boots made from calf, goat, etc… Just click a boot and check them out!
BLACK JACK MEN'S BURNISHED CIGAR SMOOTH OSTRICH BOOTS
This is my favorite ostrich skin boot from Black Jack boots. These boots are handmade in Texas that are durable, soft, and have a great classic look. The boots are two toned made with smooth ostrich skin with a burnished cigar look. The tops are goat mad dog goat skin and have a round toe and a super comfortable walking heel.
Click Image To View These Ostrich Cowboy Boots & Get More Info
Price: Was $675.00 Now $540.00
Handmade: Yes
Material: Smooth Ostrich
Color: Burnished Cigar
Details: Hueco Cording, Overlay on Pull Straps, Toe Medallion
Toe type:Black Jack '6' Toe
Heel type: Black Jack '3' Heel
Outsole: Leather
Insole: Leather
Heel Height: 1 3/8″
Shaft Height: 12″
Manufactured: El Paso, Texas
Durability, Look, And Super Soft
Another great thing about ostrich skin is it has the highest tensile strength when it comes to leathers used in making cowboy boots. Because of this, they can make it very thin which is also one of the reasons that it's the softest of the cowboy boot leathers. It's not unusual to see a person wearing a pair of these handmade boots all the time that are 20 years old. They can do this because they are so strong and durable that after a long time of wearing, they still look great!
LUCCHESE MEN'S BLACK FULL-QUILL OSTRICH ROPER BOOTS
This was a hard choice. I mean it seems like all Lucchese cowboy boots are awesome, but they all looked kind of similar with subtle differences here and there. I will say, there was one boot that reminded me of the ice king from Game Of Thrones. I don't know why, but that is the first thing I thought of. If you want, head over to Pinto Ranch's site and go to Lucchese ostrich skin boots and you will know right what I'm talking about when you see it.
These boots are hand made in the unofficial cowboy boot capital of the world, El Paso, Texas. They have a full quill ostrich skin vamp and feature a hand calf leather shaft with some beautiful hand stitching on the front of the vamp.
Click Image To View These Ostrich Cowboy Boots & Get More Info
Price: $1,150
Handmade: Yes
Skin: Full-Quill Ostrich, Ranch Hand Calf Leather
Color: Black
Details: Full-Quill Ostrich Overlays, Stitched Designs on Quarters, Kennedy Pulls
Toe type: Roper
Heel type: Lucchese '9' Heel
Outsole: Leather
Insole: Leather
Heel height: 1″
Shaft Height: 10″
Manufactured: El Paso, Texas
What Cut Ostrich Do You Like
Full quill ostrich skin boots are probably the most preferred. That is where you can really see the bumps on the boot where they yanked out the feathers. Most of the time they are burnished or have some "antiquing" done to them that highlights or makes those bumps really stand out. This is what probably immediately comes to mind when you are thinking of ostrich skin boots.
CLASSIC MEN'S LUCCHESE OSTRICH COWBOY BOOTS IN BARNWOOD
Click Image To View These Ostrich Cowboy Boots & Get More Info

A LUCCHESE CLASSIC COWBOY BOOT IN BARNWOOD WITH THE RIGHT STUFF:
FULL-QUILL OSTRICH, DETAILED STITCHING, A TRADITIONAL ROUND TOE AND WALKING HEEL.
I hate to judge people, but if you can't see the beauty in this handmade ostrich boot, something is wrong with you lol! This pair in particular had one of the the largest amount of reviews that I've seen a pair of cowboy boots have and they were all 5 stars. This is definitely a BEST SELLER when it comes to cowboy boots from Pinto Ranch and definitely stands on it's own! The full-quill ostrich vamp and the dark tan ranch hand calf leather shaft combine for complementary contrast. The boot also has an ostrich inlay on the front of the shaft, a traditional round toe and a 1 3/8″ walking heel. You seriously need to click on the image above and check them out. Read the reviews by the way. "Excellent design and quality", "Excellent boots, got exactly what I imagined", "Beautiful boots", etc….
Price: $1,195 (This is literally a steal for a best selling pair of handmade ostrich skin boots)
Handmade: Yes
Skin: Full-Quill Ostrich, Ranch Hand Calf Leather
Color: Barnwood
Details: Full-Quill Ostrich Overlays and Inlay, Stitched Designs and Cording on Shaft
Toe type: Lucchese '6' Toe
Heel type: Lucchese '3' Heel
Outsole: Leather
Insole: Leather
Heel height: 1 3/8″
Shaft Height: 12″
Manufactured: El Paso, Texas
Smooth ostrich skin boots don't have the quill bumps like the full quill boots. Full quill leather coming from the top or back of the ostrich with the big feathers, the smooth ostrich skin is coming from the side or the legs. Fewer feathers or smaller feathers. It makes the leather coming from there with smaller bumps or even smooth. It definitely doesn't have that full quill look. It's still soft, just doesn't have that distinctive look as the full quill look and the price is usually considerably cheaper. Same great quality, just a different look and different price.
You can also get a "Piece cut ostrich skin" boot which has a combination of some parts being full quill and some being smooth ostrich skin. These boots have a really different type of look and a real classic look. It's been around for a long time and really distinctive as well.
One last cut is the ostrich leg cut. You won't see any quill bumps on this boot. The ostrich leg cut is always pieced because the ostrich legs aren't big enough to cover a whole boot. This boot leather is usually pretty shiny and not as soft as the quill skin. This leather also isn't as soft and usually used as a dress boot because it's really shiny. Lots of people mistake ostrich leg cut boot to be reptilian or snake because it looks so different from the full quill or smooth ostrich.
RIOS OF MERCEDES BRANDY AND MAD CAT RUST GOAT & FULL QUILL OSTRICH BOOTS
Wow, that was a mouthful! I guess you can say the bigger the name, the bigger the boots lol! These boots are awesome. These full quill ostrich boots are handmade of course and the leather is a very bright brandy color that stands out against the darkened quills. These boots immediately caught my eye in a group of beautiful boots made by Rios Of Mercedes.
Here is a whole article on Rios of Mercedes full quill ostrich boots with plenty off styles to choose from for both men and women!
If you know anything about Rios Of Mercedes, you will know you can't get these boots anywhere else. They are exclusively made just for Pinto Ranch and they want to pass on the savings to their customers. Rios has been making boots for over 150 years and it definitely shows in the quality and stunning beauty of every pair of handmade boots that they make.
Click Image To View These Ostrich Cowboy Boots & Get More Info
Price: Was $895.00 Now $699.00
Material: Ostrich, Goat
Color: Brusciato Brandy, Rust
Details: Mad Cat Finish, Wheat Stitch Pattern
Toe type: 'KS' Toe
Heel type: '3' Short Heel
Outsole: Leather
Insole: Channeled Leather Insole
Heel Height: 1 3/8″
Shaft Height: 12″
Manufactured: Mercedes, Texas
Don't Worry About Returns Or Exchanges
We've mentioned this before, but Pinto has the best return or exchange policy, so don't let shopping online scare you. You may get the size wrong or want a slightly different look in your boot, they understand that. If so, it won't cost you a penny!
FREE SHIPPING ON ALL BOOT EXCHANGES & RETURNS
We believe the right fit is the most important thing, and that is sometimes hard to achieve with an online order. Pinto Ranch will cover your return shipping until you find the perfect fit

STALLION MEN'S ZORRO ANTIQUE SADDLE FULL-QUILL OSTRICH ANKLE BOOTS
Stallion also makes full quill ostrich cowboy boots, unfortunately there are only three to choose from. The good news is all three are pretty awesome and are 100% ostrich skin from the vamp to the 7″ shaft. If you've never worn a cowboy boot with a short shaft, you've really got to try it. I love them. The shortened shaft means you can wear them with any pair of pants. Jeans, dockers, whatever. I love all three but chose this pair because I'm kind of partial to brown cowboy boots. For some reason they just seem more casual to me.
If you don't know about Stallion boots, let me give you a quick rundown. They are pretty new by boot making standards. They started in 1980 which seems like a long time when you compare them to other industries, but not in handmade cowboy boot years. They are handmade by some of the best cowboy boot artisans in the USA. They are pretty well-known when it comes to boot fashion and have been featured on the runways of fashion shows in Paris, Milan, and New York. They also can be found on the feet of a lot of Hollywood personalities.
Click Image To View These Ostrich Cowboy Boots & Get More Info
Price: $1,095
Handmade: Yes
Skin: Ostrich
Color: Antique Saddle (Brown)
Details: Chocolate Leather Piping, Hidden Side Seam Zipper
Toe type: French – Stallion "T" Toe
Heel type: Walking Heel – Stallion "3" Heel
Outsole: Leather
Insole: Leather
Heel height: 1 1/4″
Shaft Height: 7″
Manufactured: El Paso, Texas
TONY LAMA SIGNATURE SERIES MEN'S DARK NICOTINE NILE BELLY & OSTRICH ROPER BOOTS
I have to begin with an apology here. There are 9 different ostrich skin cowboy boots offered by Tony Lama on Pinto's site and I had to pick the most expensive. Some under $400 and a couple over a grand. I'm sorry, but these immediately made an impression on me.
You had me at ostrich skin and Nile crocodile, then you throw in Ropers and I was sold. The vamps are a beautiful crocodile skin pattern with amazing color. The design is very neat and orderly with just a slight roughness around the edges. This is definitely the Cadillac of handmade cowboy boots!
Click Image To View These Ostrich Cowboy Boots & Get More Info
Price: $1,399
Material: Smooth Ostrich, Crocodile
Color: Nicotine
Details: Overlay Fancy Pull Straps
Toe type: Tony Lama 'M11' Roper Toe
Heel type: Tony Lama '13' Roper Heel
Outsole: Leather
Insole: Channeled Leather Insole
Heel Height: 1″
Shaft Height: 11″
Manufactured: El Paso, Texas
Feathers Or Not, Ostrich Skin Boots Are Classic
These were my favorite five or my favorite from each brand. In all, there are 38 different ostrich skin cowboy boots offered by Pinto Ranch. You should just head on over there and see what you like for yourself.
These are the different cuts of ostrich boots and maybe you have a certain taste and a cut that you prefer. All these boots are distinctive in their own way and might have different appeal to different people. Remember, different strokes for different folks. Ostrich being one of the favorite exotic skin boots in the western world. Well known for being very comfortable and having a distinctive look.
Check out our men's exotic cowboy boots or some beautiful exotic cowboy boots for the ladies!
I hoped you found this post really informative and it will definitely give you a leg or feather up when you are choosing a great ostrich skin boot. Remember, I only picked out my favorite boot from all 5 boot makers at Pinto Ranch. They have a ton more ostrich boots and hundreds of other boots in other exotic and non exotic leathers. Head on over there and give them a looksie! As always, if you have any comments or questions, give us a shout below in the comments section.