Normally I tell you about either a great pair of cowboy boots that I found or a brand name of boots, general information and history on cowboy boots and why you might want to get a pair. But this time I have to do something a little different because it's a huge sale and it's kind of directly related to cowboy boots.
Pinto Ranch is having a sale where you can get up to 70% off of men's and women's western sale apparel and accessories. These are items already on sale and then you get to take more money off the price. Doesn't get any better than that!
To test this sale out, I went into the men's sale items and found a full-quill ostrich belt strap that looks amazing. The regular price was $195 and it's crossed out because it was on sale at $116.99. It shows you right upfront what you are saving. Also, if you make a purchase where your total is over $100, you qualify for free shipping in the U.S.
If you scroll down towards the bottom, I'll talk about Pinto's cowboy boots that are on sale and you will know right where to go!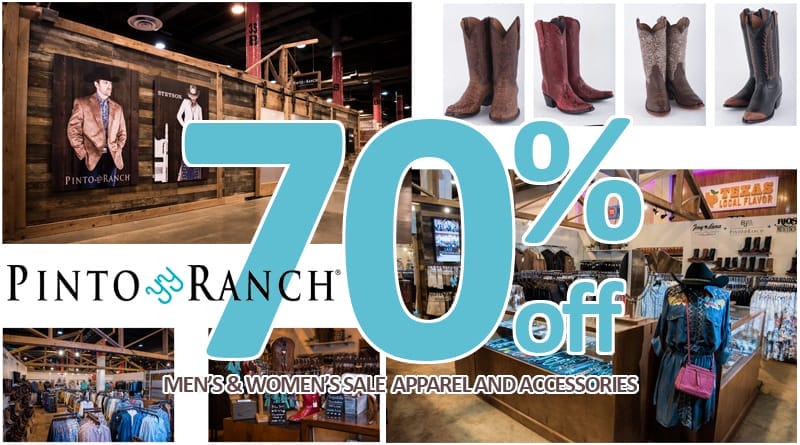 Men's Western Wear On Sale
Discover men's western wear on sale from top brands like Stetson Apparel, Ryan Michael, Scully and more! Browse our collection online or visit the store to peruse the sale racks and get styled by one of our experts. With many styles in-stock, you're sure to find something you like and that fits your unique style.
One of the first shirts that caught my eye while browsing these sale items was a Cinch men's teal multi plaid western shirt that I snatched up. I loved the colors and had that traditional "cowboy plaid" look to it. It was regularly priced at $65 and now it's on sale for $19.50! I'm all over it for that price.
Shirts (long sleeve & short sleeve), pants, belts, vests, hats, you name it. 16 pages of men's western wear on sale!
Women's Western Wear On Sale –
Find chic, sophisticated, and unique western wear for women at Pinto Ranch. From the streets of Santa Fe to big city society galas, women's western wear is in. Pinto Ranch offers premier designer apparel, accessories, and jewelry for the best-dressed woman in town so you can look great from your hat to your boots. Delicate suede, embroidery, silk, and beading are only a few of the fine details that make up our one-of-a-kind collections of western clothing. Exquisite handcrafted jewelry from some of the best Southwestern designers will complement any wardrobe.
Tops, blouses, dresses, hats, belts and more on sale with over 9 pages of items to choose from!
Cowboy Boots On Sale – You Heard It Here First
Now we can get down to business. I've been waiting and waiting to talk about cowboy boots. I had to save the best for last.
Something you need to know. These boots are on sale and have the prices marked off. So you might see a pair of boots at $1,595 and they are on sale for $1,199.99. When you add these to your cart, they are now gonna be $839.99! That is awesome! That is what makes this boot sale unbelievable. I actually picked a great pair of boots for this example and they are absolutely beautiful. It was the pair of Lucchese men's chocolate wild gator boots. Love these boots!
– One other thing, when these sale boots are gone, that's it. You might not find them again. That's why there are limited sizes!- Get them while they're hot!
Let's make this easy so you don't have to go through and look at men's and women's. Here is the link to the Men's Sale Cowboy Boots which include Black Jack, Lucchese, Rios Of Mercedes, Stallion and Tony Lama. I'm sure you have heard of most of these names and they are definitely the top brands. Here is the link to the Women's Sale cowboy Boots which include brand names like Lane, Lucchese, Old Gringo, Rios Of Mercedes, Stallion and Tony Lama.

Men's & Women's Sale Cowboy Boots With Additional 30% off!
These boots aren't just a couple bucks off. There are some in here that are more than a $1,000 off on the higher end and some $500 boots marked down to $371 for the guys and $250 cowgirl boots marked down to $187 for the ladies. Not to shabby in my opinion. Don't have a pair of cowboy boots? Listen to what Jeremiah Craig has to say about his 5 things cowboy boots says about a person. A really good insight on the type of people that wear these boots and I think it's something we all strive for!
If you want to see our page on discounted or cheap boots, you've come to the right spot! Head on over and see discounted name brands from Lucchese, Rios of Mercedes, Tony Lama, Stetson and many others. Also some quality cheap boots from Hat Country!
The Conclusion Of This Post, Not The Sale
If you didn't know it, this post was a bit different from our other posts, but I really didn't want you to miss out on all that money you could save. Hey, if you didn't like any of the sale items, then no harm, no foul. If not, you might have liked something else on Pinto's site and that's a win win for the both of us. This is their summer sale, but once it's over, that's it. I don't see you saving up to 70% for a while. When it comes to sale cowboy boots, Pinto always has some boots on sale, but once they are gone, that is it. You might not find them again. At least not for that price. If you want to check out some great boots, check out our Top 10 Cowboy Boot Brands Here!
Make sure you check out our other great posts on Lucchese, Rios Of Mercedes, Tony Lama, etc… These are the highest quality boots a cowboy or cowgirl can buy. Also, they pretty much all lead to Pinto Ranch which is one of the best places to buy these boots. Their customer service is 2nd to none and FREE shipping is included and free returns and exchanges until you get the boot you want. As always we hope that we've helped you to find your new favorite pair of handmade cowboy boots!