Hi everyone, this is Eric with wehearthandmadeboots.com, and today I want to go in depth with some great men's work boots for sale that can be found here at We Heart handmade Boots!
When you think of that construction site you passed the other day, that nightmare traffic jam down the street because of the endless road construction, or even those beautiful handcrafted custom kitchen cabinets, what do you think these things have in common? They all required the skilled hands of a hard-working person. For them, a simple log of wood can become a masterpiece of epic proportions such as a beautiful handmade set of cabinets, a steel beam can transform into a mighty high rise apartment, and a load of asphalt is converted into a 3 lane highway. You need a boot that can endure the surroundings and workload that hard-working men require.
-A great selection of women's leather work boots here!-
Now, there are many types of work boots to consider. Almost all of which contain the iconic steel toe to absorb any impact from a falling object and preventing injuries. They also possess slip resistance soles for those workers who want to keep their feet on the ground. Many of these handcrafted men's work boots possess heat resistance to keep the leather on the boot and keep it from peeling. There are a few styles that have other features useful for different occupations and can meet the need of your requirements such as rubber soles for those working with electricity or insulation for workers that deal with colder environments.
Work Boots, Many Shapes And Sizes
Work boots come in many shapes and sizes and you can find many of these handmade beauties right here and handpicked by yours truly! This site has always delivered when it comes to quality, and these handmade work boots are of no exception.
Please let me show you a vast array of handmade boots for plenty of different needs and wants made by many legendary brands such as the well-known tractor phenom John Deere. We've picked a variety of work boots that range from cowboy style pull-ons to the traditional lace-ups. These handmade men's work boots include a few accouterments to make life easier and to make work safer whether you're at work or at play. Featuring steel toes for protection, slip resistant soles to prevent any slips and falls, comfort insoles to absorb shock, and water and fire resistance to keep the boot lasting and durable. They are an amazing necessity for the working man. John Deere, McRae Industrial, and others make a wonderful show in this handmade work boot selection that I'm sure you will love!
McRae Wellington – Safety Firsty
At the Hat Country site, they have pioneered many of the men's work boots with their amazing selection. Each of them are crafted with skill and expertise and all focus on the safety and comfort of the wearer. McRae serves as an innovator of the protective work boot with the McRae Wellington Safety Toe Men's Work Boots. The boot's steel toe meets ASTM F2413-11 standards, a set of standards for safety provided by OSHA. Like most work boots, they are built to be slip-resistant, making them a perfect match for the oil and grime found at most work sites and keeping your feet on the ground for longer. The Wellington's Moisture Wicking Nylon Lining, just a big word for liquid-proofing, provides resistance from water, oil, and other liquids, giving this McRae boot some well-needed versatility for any worker. The 11'' shaft of this boot is made with full grain leather, protecting your shins and the entirety of your lower legs from any would-be occupational hazards.
John Deere Jameson Hiker – Men's Work Boot
Tractors aren't the only thing that this American classic brand is known for. They have also entered the foray of work boots for men and one of those work boots seeking to stake their claim on Hat Country is the Jameson Hiker Boots. The Jamesons are crafted with waterproof leather that keeps them, more importantly your feet, high and dry. With it's padded collar, your ankles will stay secure and comfortable during a longs' day work. Being one of the shorter boots with it's 5'' shaft, it makes up for it with it's removable airflow comfort insert, adding a great deal of comfort to offset some of that ache you might get from a long shift. Like it's counterparts, these boots have a tempered steel shank for rigidity and protection from puncture damage and an iconic safety toe to help the Jameson serve as a work boot.
Dan Post Albuquerque – Men's Cowboy Work Boot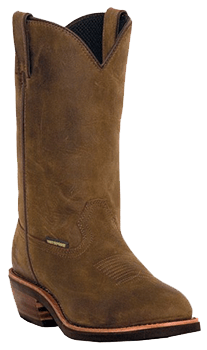 I had wondered if I would ever see a Dan Post work boot, seeing as how they have boots of many kinds and my answer was the Dan Post Albuquerque men's work boots. Dan Post is a great brand and have many classes of boots from biker boots, cowboy boots, and now the Dan Post brand makes a display with it's Dan Post Albuquerque Boot. This boot serves as a hybrid between a cowboy boot and a work boot and there are also some John Deere. It's larger 12'' shaft is an homage to it's cowboy boot origins and is round steel toe is attributed to it's work boot style. These genuine waterproof leather boots are broken in from the moment they arrive to your doorstep. Other features include a comfort cushion insole, a round steel toe, and a mini-lug traction out sole.
John Deere Killian – Men's Work Boots
When I saw these magenta tinted boots, I was taken aback. In the back of mind, I was like there is no way that this could qualify as a work boot. But it's true, John Deere has it's very own cowboy/work boot hybrid. The tractor company is bringing it to you again with another entry with it's introduction of the John Deere Killian men's work boot. This boot sports an average sized 11'' shaft, a tempered steel shank to prevent punctures, Goodyear welt construction for lasting durability, and the iconic work boot steel toe. The sole has a thick layer of rubber that adds grip and liquid slip-resistance. The metatarsal guard adds flexibility to accompany the rigidity of the steel toe.
---
Also, for you sports fans, check out our college team cowboy boots. They will definitely give you something to cheer about!
---
John Deere Hogan – Men's Work Boot
The last boot of note from Hat Country that I wanted to mention is the John Deere Hogan. Similar to the design and style of the John Deere Killian, these boots have a thicker sole, adding an even more effective floor grip with the Hogans. These boots are made with waterproof leather, provided by a moisture wicking membrane, and John Deere's removable airflow comfort orthotic insert for comfort. Its WCT dual density polyurethane mid sole and out sole adds lasting durability to this boot. If you have no idea what WCT dual density polyurethane mid sole and out soles are, then do not worry, it's a very long phrase meaning that these boots will last longer than most of it's competition. Its 11'' shaft is accompanied by John Deere's safety toe adding protection to the boot and it meets the current ASTM F2413-05 standards.
I'm Sure You Will Be Able To Work It Out
I was really surprised to see that there were so many types of work boots and I was taken aback even further when I saw that John Deere had so many men's work boots featured. This is a great selection of men's work boots in my opinion and I'm sure you won't be disappointed with this selection of boots that can serve a variety of functions and uses. Whether you want a work boot to keep you from being shocked from a loose wire or keep your feet safe from the crushing effects of a steel beam, This is a great selection of men's handmade work boots that are sure to get you going in the right direction. These boots aren't just made to be fashionable, but also safe. They are built with steel toes for injury protection, slip resistance for protection against oil slicks and slips and slides.
Bikers have a boot, cowboys have a boot, even women have a work boot, there are even little kids cowboy boots and now there's a boot for the laborer, the builder, and the welder, all have a boot that can match their pace. John Deere has some great work boots all with cushion insoles and built with a steel toe. These boots can withstand all the hazards of the workplace, whether it be heat, oil, water, and electricity resistance, and all of them have been tested and meets OSHA standards.
These boots are made specifically for you while you work. In a way, I consider the work boot the modern day cowboy boot. You can wear them for both work and play. The days are long, the jobs are tough, and through the blood, sweat, and tears you will need a boot that fits your needs. You're tough, you're strong, and you've got plenty of grit and fortitude and if you want a boot that works as hard as you do, that can last longer than any other, that is up for the challenge, then look no further. We have a great selection of men's work boots right here for you to choose from.