Hi everyone, my name is Eric and I am here with another post from We Heart Hand Made Boots. Today, I will be giving you all a rundown on another brand of beautifully handcrafted cowboy boots. I'm here to present, the Lucchese Handmade Boots. You will not be disappointed with a pair of these fabulous western works of art! Style, Fashion, and the American west, all with the click of a button. Before you guys dive into a bunch of great information I have dug up for you about these boots, let's dig deeper into why Lucchese Handmade Cowboy Boots  is an excellent choice for the handmade cowboy boots connoisseur.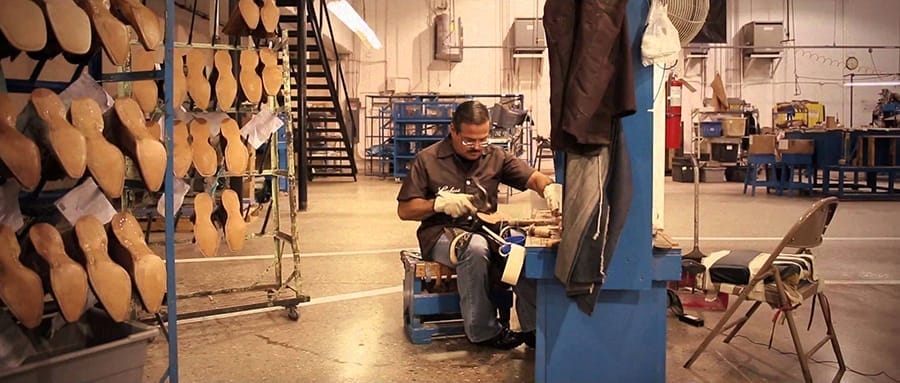 Why Lucchese Handmade Boots?
I've kept you all waiting long enough. Well, here it is. The year is 1883, and you hear about a young Italian immigrant by the name of Salvatore Lucchese.  You walk into his boot making shop at Fort Sam Houston and are greeted by a professional, yet humble man. He greets you with a smile and gives you a firm handshake. "Hi, I'm Salvatore, nice to meet you.".
He shows you around his shop, all the while you glance at all the various boots with different stitching and engravings. As he's talking about his newest styles of boots, you see them,  the perfect pair of cowboy boots. They are pleasing to the eye and it's as if you hear them call out to you, it's as if you see yourself with them on walking down the street. He glints at you, he knows that you just had a moment of pure awe and bliss. With a bent knee, he kneels and hands you one of the boots.
You reluctantly slide your foot inside, you are met with comfort and you visibly relax. The humble man stands and dusts himself off. "So do you like? They are one of a kind." he says, smiling back at you. You glance down again, trying to make sense of all this. This small shop in the middle of nowhere made these beautiful boots that seem to fit me perfectly. A smile undoubtedly adorns your face. A smile also appears on Mr. Lucchese's face as he replies, snapping his fingers. "Go on, get the other one on." as he hands you the matching boot and you slide your foot into that one as well. He knows you've fallen in love with his craftsmanship and he couldn't be more proud as you strut around his store, each thud of your foot coming down on the hardwood floor bringing you closer and closer to the register. Now you feel it with each step, you feel the power, the prestige, the care, the craftsmanship of the Lucchese Cowboy Boot, and boy does it feel good.
Check out what boots celebrities are wearing – Celebrities Wearing Boots!

Lucchese Cowboy Boots For Men
Lucchese has some great styles for men made with many different exotic leathers and standard skins as well. With great pride and joy, We Heart Handmade Boots are proud to present five great Lucchese Cowboy Boot styles for men.  You can also find some great sales on Luchhese boots and other high quality discounted cowboy boots here!
LUCCHESE MEN'S PEARL BONE MAD DOG GOAT BOOTS
HANDMADE GOAT COWBOY BOOTS IN DISTRESSED GRAY LEATHER WITH A SNIP TOE AND WALKING HEEL.
Snip Toe and Walking Heel
Pearl Bone Goat Boots
Distressed, Mad Dog Finish
Saltillo Cord Pattern on Shaft
Handmade in El Paso, Texas
Where contemporary style meets quality, this handmade classic boot features a cool, distressed finish in pearl bone (gray) smooth leather. The snip toe makes this boot a great partner for jeans and a pearl snap. Other details include a Saltillo cord pattern on the 12″ tops, a Duke toe medallion, and Kennedy pull straps with chain stitched overlays.
LUCCHESE MEN'S WHISKEY BABY BUFFALO BOOTS
A TWO-TONE COWBOY BOOT MADE FROM BABY BUFFALO LEATHER, WITH A TRADITIONAL ROUND TOE AND 1 3/8″ WALKING HEEL.
Whiskey Baby Buffalo Leather
Bandera Stitch Pattern on Shaft
Comfortable 1 3/8″ Walking Heel
Handmade in El Paso, Texas
Lucchese's baby buffalo cowboy boot features a whiskey brown vamp and a black shaft with elegant stitched designs. The boot has Kennedy pulls with stitched overlays, a traditional round 6-toe, and a 1 3/8″ walking heel for comfortable wear while out on the town.

Click Image: This is the place to buy the best boots – Hands down! Get The Best Prices
LUCCHESE MEN'S BLACK BURNISHED JERSEY CALF ROPER BOOTS
A SIMPLE AND TRADITIONAL BLACK BOOT IN BURNISHED LEATHER WITH A COMFORTABLE ROPER HEEL AND TOE.
Smooth Black Calfskin
Leather Lined
Traditional Roper Toe and Heel
Handmade in El Paso, Texas
Expertly made by hand in El Paso, these classic boots from Lucchese appeal to those with traditional taste. The vamp and shaft are both made from burnished Jersey calfskin, with minimal stitching along the top of the shaft and pull straps. This boot is all about simplicity and softness from collar to toe.
LUCCHESE MEN'S SAND BURNISHED BABY BUFFALO ROPER BOOTS
SMOOTH LEATHER ROPER BOOTS IN BURNISHED LIGHT TAN WITH A PITCHED ROPER HEEL.
Sand Burnished Roper Boots
12″ Tops with Stitching
Stitched and Corded Toe Bug
Roper Toe and 1″ Roper heel
Handmade in El Paso, Texas
Our best-selling boot is now available in a new color – Sand Burnished Baby Buffalo. These soft leather ropers feature western stitching on the shafts and pull straps with a classic toe bug on the vamp. The round roper toe and 1″ heel provide all day comfort.
LUCCHESE WOMEN'S BLACK BABY BUFFALO ROPER BOOTS
HANDMADE BLACK BABY BUFFALO ROPER BOOTS WITH CHAIRMAN CORD PATTERN AND ELEGANT, SIMPLE PULL STRAPS.
Black Baby Buffalo Boots
Chairman Crown Cord Pattern
Straight Pull Straps
Roper Toe and Roper Heel
Handmade in El Paso, Texas
This pair of handmade cowboy boots by Lucchese is a Classic! For more than 135 years, Lucchese Classics have been the cornerstone of western wear, and have set the example many other boot makers have followed. It's no wonder these Classic boots have been worn by icons of American culture from the oval office to stage and film.

Click Image: This is the place to buy the best boots – Hands down! Get The Best Prices
Loving Everything About Lucchese Handmade Boots
Lucchese Boot Company was established in San Antonio, Texas in 1883 by Sam Lucchese Sr.  I guess that answers to the question of what do you get when you you put Italian shoe makers in Texas?  A pair of the finest handmade cowboy boots money can buy in the answer. Their main customer was the United States Army stationed in Fort Sam Houston. Sam Lucchese "stressed quality, quantity and cost efficiency" in the boot-making process. He would often invest in new technology, machines and in developing new techniques in order to increase the production of boots without compromising quality. In 1961, Sam Lucchese Jr. took over, and by 1964, President Lyndon B. Johnson admitted to wearing Lucchese boots. Celebrities such as John Wayne, a customer for over 50 years, Bing Crosby, James Garner, Andrew Sweet, and Zsa Zsa Gabor wore custom Lucchese handmade cowboy boots. In 2009, the Texas Legislature recognized the company's contribution to Texan culture by passing House Concurrent Resolution 226 Honoring Lucchese handmade boots.
I would like to say that Lucchese offers that similar handmade craftsmanship that we at We Heart Handmade Boots really enjoy and love. Lucchese boots stand out for its price point and great value when it comes to handcrafted boots. If you were to take anything away from this post, just remember L for Lucchese and L for the Lucky person that owns a beautiful pair of these boots. I promise you won't be disappointed with a pair of handmade cowboy boots that could easily last the rest of your life!
If you have any questions, requests, or just want to chat about some great handmade cowboy boots or other questions about getting a pair of Lucchese handmade cowboy boots, please let us know below. I hoped this post helped you out in your quest for a great pair of fitting boots. As always we hope that we helped you to find your new favorite pair of cowboy boots!
Save
Save