We really love Lane boots for the simple reason that they have definitely thought out of the box. Quality designer boots with a western influence is what they were after and they definitely hit it out of the park!
I bet you are sick of buying an expensive pair of boots only to find out they really weren't put together well or used materials that just weren't up to standards after you looked at the price tag. One great thing about cowboy boots is that even a decent pair will last a long time. Luckily for you, Lane boots uses top quality materials with some of the best handmade craftsmanship in the business!
Lane Boots – "Bringing Meticulously Handcrafted, Modern Styles to the Western Boot Market"
Plain Jane By Lane Boots Aren't very "Plain"
One of Lane boots most popular boots, the Plain Jane is definitely a crowd pleaser. There are actually 2 different styles that I want to talk about and two different websites. Yeah, that is a little weird, but Pinto Ranch (where I give a bunch of my business to) has a pair on their site considerably cheaper than the Lane website.
Plain Jane – Suede Limited Edition is on the Lane website and comes in 2 different colors "soft mocha suede" and "jet black suede". Sizes run from 5 to 11 with a ton of half sizes in between. This is definitely Lane's tallest boot and is absolutely loved boot that is limited in availability in either color. Every pair is crafted from high quality suede, mated to a Goodyear welt, and Lane's signature turquoise sole. Decorated just enough with leather braiding along the collar and side seams. The 15-inch height makes them leggy, and the rounded toe is super comfortable.
A versatile style that blurs the line between contemporary fashion and western boots. The Plain Jane will look great with your favorite skirt or dress for a fun night out on the town. There's nothing plain about this boot.
Shaft Height: 15″
Heel Height: 2.5″
Toe Shape: Round Toe
Welt: Goodyear
$295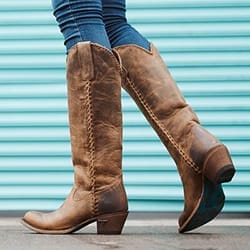 The Plain Jane Boot is available in 6 colors (distressed midnight blue, dewberry, brown, charcoal black, cognac and bone) They come in sizes 5 to 12 and half sizes in between. Like the suede Plain Jane boots above, they are Lanes tallest boots. Made with distressed leather, let the soft, vintage classic leather do the talking. Decorated just enough with leather braiding along the collar and side seams. The 15-inch height makes them leggy, and the rounded toe is super comfortable.
The Plain Jane will look great with your favorite skirt or dress for a fun night out on the town. There's nothing plain about this boot.
Shaft Height: 15″
Heel Height: 2.5″
Toe Shape: Round Toe
Welt: Goodyear
$295
About the 2nd website I wanted to mention was Pinto Ranch. They actually have a selection of Lane boots (Pinto Ranch) and one of them is the Plain Jane distressed leather boot in brown for the price of $219.99. It's usually on sale for the same price as the Lane website and I don't really know why it's cheaper here but who cares. Let's save some money! Pinto has 7 different styles of Lane boots and they are all on sale, so you might want to check them out.

Click image for Pinto Ranch Handmade boots – Western Wear – and Lane Boots
Junk Gypsy By Lane Boots Is A State Of Mind
No joke, these "cowgirl boots" are a state of mind if you ask me. Traditional cowboy meets, well I'm not sure what it meets because it's just not one particular look when you look at Junk Gypsy by Lane. There are several different looks from tall boots to short boots. Boots with a lot of fringe, accessories or designs to them to a couple pairs that just have a look of class and style to them.
Another great thing is that the prices are all over the place for these magnificent eye catchers. There are a couple pairs for as little as $147.50 and the highest price that I have seen is just under $400.
What's your favorite color, red or black? Check out these great black cowboy boots for men and women and these ladies red cowgirl boots!
What ever you are looking to get into, I guarantee you will find a pair in the Junk Gypsy by Lane Boots that will fill your needs. No matter if you are wearing jeans, shorts or a dress, you will find something here that you'll love guaranteed!
I've went ahead and included a link to all the Junk Gypsy by Lane Boots here or you can click on the pic. Make sure you get a good look because these boots go fast.
Did Somene Say Lane Boots Sale
Not only do we have some Lane boots on sale, they also have some booties, some sandals and the most comfortable socks in the world. They matched Canyon merino wool with Lane design for comfort beyond belief. Some great colors and I love the turquoise socks that go awesome with the classic turquoise color of the bottoms of Lane boots.
At the time of this article, there were 21 pairs of Lane boots on sale (that includes sandals and booties). The number might be greater or less depending on when you read this. I have also left a link to the lane boots sale page and you can also click on the image above to access them all.

To give you an idea on the prices included on this sale:
The Tattoo Shortie was $1,700 and is now on sale for $595! This is by far the most expensive boot I've seen on the Lane site, but wow, it's an amazing boot! This is a sample boot and I do believe there is only one pair left in size 9.5. That's it, the only one you will find on their site.
The Cahoots were $350 and are now on sale for $174.50. Nothing says a sale by Lane boots like half off!
Also they have several pairs of Savannah Sandal styles on sale that were originally priced at $295 and they are on sale for $103.25. I do't know how good at math you are, but that is almost two-thirds off the original price. Absolutely incredible.
Something you might miss when on the Lane boots website is their Closeout deals / final sale. This is a whole other section of Lane boots that are marked down as well. You can check these Lane boots on sale here.
Here is also a link to all the Lane boots from Pinto Ranch because they are also having a "Lane Boots Sale" as well.
Lane Boots Video – The Life Of A Boot | Cowgirl
Lane Has More Than Just Cowgirl Boots
Yeah, that's right, Lane boots is more than just boots! They have booties, sandals, some awesome hand bags, accessories, leather care, socks and a couple of really cool Lane t-shirts. I'm really into both of these t-shirts. Really make it a point to have a look at the t-shirts at least.
You'll get plenty of attention showing your love for Lane in the Hello Darlin or All About that Bootie tees. This Bella + Canvas shirt is super comfortable to the point you'll want every one! Unfortunately there are only 2 as I stated above lol.
This is just kind of a side note, but Lane boots also has men's cowboy boots. These boots might be something you want to let you guy, guy friend, dad or brother in on. They have some Old Glory cowboy boots that are stone-washed with a killer distressed look to them. If they like their boots a little beat up with that "worn out" look to them, they will love these. Not to mention the American flag inlays, these boots are made for rock stars in my opinion. They really have that country music vibe to them.
Besides the Old Glory boots for guys, Lane boots carries 4 or 5 other pairs of great boots and they are all under $300 (except 1 pair), and are all top quality. Make sure you give them a look!
Difference In Price Between Lane and Pinto Ranch
I stated earlier that there were a couple of the same boots on each of these sites. They are different prices and as far as I could tell, the one Plain Jane from Pinto Ranch was the cheaper of those 2. Pinto also had 6 other pairs of Lane boots, but I don't think any were cheaper than the Lane site. Make sure you check it out though.
Also, you might want to check out Pinto Ranch anyway because they have some extraordinary women's cowboy boots made by Lucchese, Tony Lama, Rios of Mercedes, Old Gringo, just to name a few. Also, they have a huge selection of women's western apparel (dresses, jeans, tops, belts, etc…).
The Best Cowboy Boot Reviews Here all in one place!
Men's Cowboy Boots by Lane Are Stylish & Affordable
If you head over to the Lane website, you will see a pretty small, but very stylish men's cowboy boots that not only look cool, but you really can't beat the price. A couple pairs go for $295, 1 pair goes for $350, and the most expensive is $395. I have included some pics and links so you can go directly to the Lane website and check them out.
I really love the Old Glory Men's cowboy boots. According to Lane, they were designed for all-American, rockin' country star Ryan Weaver. I love the inlaid American flag design. These are about as American and patriotic as a pair of cowboy boots can get! 100% handcrafted leather and a Goodyear welt, these boots are built tough and will last. You can get these beauties in jet black, distressed jet black, or burnt caramel.
If you love Lane boots, we know you will also go crazy about these beautiful cowgirl boots by City Boots!
The other boots to check out are the Bodega, Give It a Shot, Dustoff, Ranahan and Rio Riata. This is a link to all of the boots on one page including the Old Glory men's boots.
Lane Boots Are A Game Changer
These boots really are meticulously handcrafted, modern styles to the western boot market just as they claim. I don't think I've seen a boot brand with such a great selection off boots for such a great price. So many boots by Lane that can be worn with jeans or say your favorite summer dress.
Lane boots actually reminds me of a menu from a really good restaurant. It's not too over crowded with way too many items to choose from and everything on the menu is good. I definitely recommend you stop by there and give them a look and I bet you will find a pair of boots that are just what you are looking for. I think you will hear the phrase "Hey, I love your boots" a whole lot when wearing a pair!
One last thing I wanted to mention was that Lane boots are pretty active on Instagram #GETYOURLANEFIX. They have a "top secret tip" that states: All the best Lane contests and giveaways happen on Instagram. There, you've been warned / notified lol!
I hoped we helped you out here and this should give you a head start on what to look for. As always, we hoped we've helped you find your new favorite pair of Lane boots!