Hi, It's Angelique again with another post. This one is all about the little girls! Finding boots for your little girl can be a challenge. They need to have a great fit so that they can wear them all day. They also need a little wiggle room as they grow, and of course, they need to be adorable! That isn't a small order at all. Kids cowboy boots are perfect because they are a mix of fashion and function. This is the same for little girls. Make sure to take the time with your child and see some things they like in cowboy boots. An easy way to do this is to take them to a physical store and let them touch and try on boots, even if you ultimately plan to buy them online. This way they are involved in the process, and excited about their cowboy boots!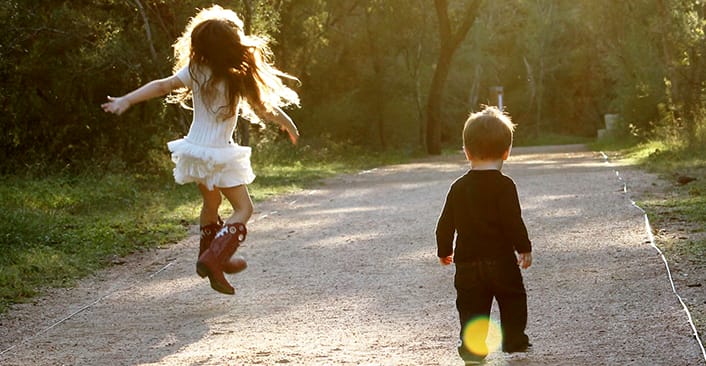 Tips For The Perfect Fit – The Struggle Is Real
As a parent, fitting your young one for footwear can always be a little challenging. You want to make sure they fit, but at the same time leave some room for growth so you don't have to buy them a new pair in a couple of months. Trust me, I understand this perfectly. Yes, when thinking about fitting my youngster for shoes, it does instill the slightest sense of fear into me. Kids are impatient and I really can't tell if they are telling me the shoes are comfortable because they are comfortable, or they just want to get the heck out of there. For some reason, kids cowboy boots instilled the fear times five! I'm not sure exactly why, I guess it's just because they just seem to be "more shoe" or bigger or something. I figured it was gonna be allot harder than it was. Truth be told, it's pretty much the same thing. I've left a helpful little guide below that should help you make the process as painless as possible. Let me know if you have any added suggestions in the comment section below.
1. Start by putting your fingers in the bootstraps and pulling outward to make the boot's opening wider. Then let them slide their foot into the boot using their body weight. The boot should definitely be snug and a little challenging to put them on the first time. If the boot goes on too easy, then they are too big. A boot that fits like that is likely to flop off their feet.
2. Repeat this process for both feet as each boot, especially handmade boots. Each individual boot can fit a bit differently. When you hear a light thump as their foot gets into the boot, you know you've found the right boot size.
3. Talk to your child. Show them the widest part of the boot which is right in front of the arch in the boot. Ask if it feels tight or uncomfortable. That should be the most comfortable part of the cowboy boot, so if it's not try another pair. Squeeze the toe of the boot. Make sure that there is at least a half an inch to a full inch of space between your child's toes and the boot's end.
it's also important to explain to them all about breaking in a boot. Telling them that they may feel a little stiff now, but will get more comfortable should help when deciding which boots to get them. Remember this is true for many boots you can by. They all need a little time to get more comfortable, and once they do you'll never want to take them off. If you follow these easy steps, you'll be well on your way to find some awesome kids cowboy boots for your child.
Let's look at some boots that come with a variety of styles and designs for parents that will help them find the perfect pair their little girls will love!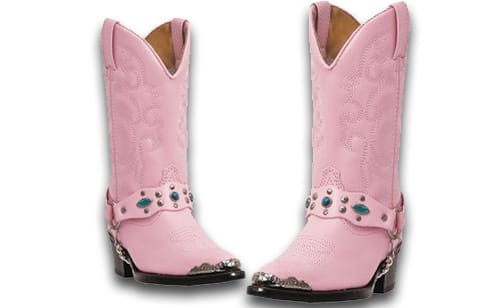 These are perfect for the little cowgirl in your life! The Laredo Little Pink Concho cowboy boots are a pretty pastel pink. Their leather-like material will be durable for all the adventures she is bound to have in them. They are cushioned inside, and the heel is very light and flexible. The boot itself has a stitched scalloped design. It has a bejeweled strap with turquoise stones going along the base of the shaft and a scalloped metal toe. It also has a comfortable J toe. They cost $66.00 dollars from Hat Country.
If children feel like they have a say in what they wear and the style they are developing they are bound to love what they wear. Feeling confident in what they wear on the outside, can help them feel confident on the inside. Confidence is so important for children, as they go to school and interact with other little girls in the world. No other shoes can start a conversation quicker than cowboy boots. To a kid, they are like getting to play dress up while going to school. Is there a kid anywhere that wouldn't love that?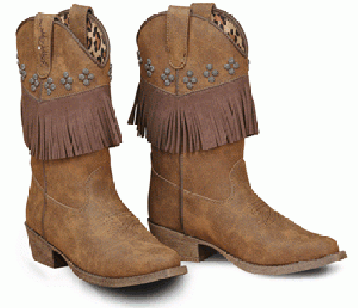 I love these Dan Post Vintage Blazin Roxx boots. Every little girl deserves a pair of sassy fringed cowgirl boots, and Annabell by Blazin Roxx are just the pair she needs! Annabell is a faux leather boot with fun fringe detail that goes all the way around the shaft, and a studded pattern just above that. The inner lining is an adorable leaopard print. Boot pull tabs make for ease of putting on and taking off, in addition to a side zipper. Your little lady will love these Annabell boots, and so will you!  Be sure to check out our articles for Dan Post Women's Boots and a great article for Dan Post Men's Boots!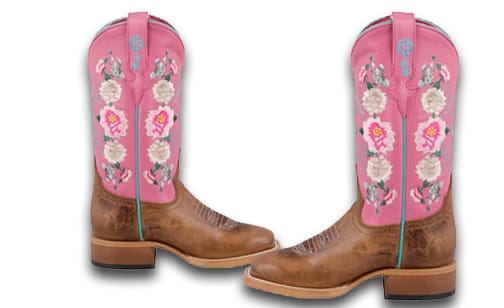 These pretty boots are precious. They are handcrafted and all leather. The shaft of these boots is definitely the star of the boots. They are baby blue and pastel pink. They have a skinny blue strap going down the length of the boot. The shaft also features a flower pattern that has a lot of really great details. Even the bootstraps have a curvy embroidered design. The toe and heel part of the boot is a light brown and is square with a stacked heel. The leather lining will make your little girl even more comfortable. These beautiful kids cowboy boots cost $149.00 on Pinto Ranch.
Let's Wrap It Up
The boots I have listed will be comfortable and you and your daughter are sure to think they look beautiful! View all of Hat Country's Children's Cowboy Boots Here!
They all have bootstraps that will make getting them on and off pretty easy. The curved or square toe areas of the cowboy boots will ensure that their toes will have plenty of space. They also all have unique designs that are bound to stand out. These boots are meant to stand out just like the star your little girl is.
So go on and get your little girl the boots of her dreams. Let her express her creativity in a beautiful pair of kids cowboy boots. They'll look great with anything they'll wear.
Save
Save
Save
Save
Save
Save