Yeah, you read that right, ladies do it better and with a pair of Dingo ladies black biker boots, this statement rings true. This is Eric W., with wehearthandmadeboots.com and in my last post I showed some great options for men's biker boots from Hat Country, but that does not mean that there aren't any choices for women. In fact, women have made more than just a mark, rather a complete movement, resulting in an overhaul of the stereotypical male biker. Gruff beards and haggard voices are now accompanied now by long flowing locks and tough women, yearning for the roar of the hog and the rev of its powerful engine, even more so than their male counterparts.
You feel it, the wind in your hair as you rip through the summer highways, the thud with each stride as you stroll into a friendly, yet quaint dive bar, and the narrow lean of your motorcycle as you make that turn, leaving all who see you in the dust. The dust settles and you see them, a pair of biker boots fastened to your feet. You make your way down the winding road, boots in tow and the roar of the motorcycle sounds off in the distance.
What's your favorite color, red or black? Check out these great black cowboy boots for men and women and these ladies red cowgirl boots!
Popularity within this segment of the biker wardrobe is added as you hear such names as Laia Sanz, Maria Costello, Beryl Swain, and many more. There are plenty of women that have made significant impact in the biker community and Hat Country has a great selection of shoes to fit their tastes as well. From such brands as Abilene and Dingo, these handmade biker boots are perfect for the woman on the road. Hat Country and especially the Dingo brand truly make a wonderful show in this collection of handmade biker boots.
Dingo Annabelle
On the Hat Country site, the Dingo brand has always made a grand entrance with and with a collection like this, they are surely here to stay for the long haul. There are many options listed and out of those I selected five that I wanted to present to you in this post. The first of Dingo's show stopping women's biker boots is the Annabelle. The Dingo Annabelle is perfect for a midnight stroll on the town or a ride through the moonlit city, making them an excellent choice for your wardrobe. These boots are adorned with attractive beading along its 10'' shaft, lined with exotic leopard print, and the ensemble is finished with a steel toe. This look comes together with a dancer heel. Dingo's cushion insole makes for a comfortable fit for the would-be female rider and can handle the elegant stride of any woman who is brave enough to slide their feet into a pair of Annabelles.
Genuine Leather
10'' Shaft
Comfort Cushion Insole
Dancer Heel
Fashion Toe
Leopard Print Inner Lining
Dingo Molly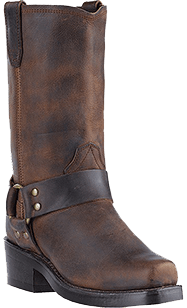 Looking for a solid boot that can stand the road and turn heads alike, then the Dingo Molly boots are a perfect match for you. The Dingo brand makes another show with the entrance of the Dingo Molly. These handmade biker boots set themselves apart by being the first female cowboy / biker boot hybrid featured on the site. Made with genuine leather and a 10'' stovepipe shaft, these boots are like none other. This sturdy leather features a silver harness and pull tabs for an easy slip. The Dingo brand's cushion insole prevent foot fatigue and reduces the shock from a stroll or a ride. Built Dingo tough, the Molly boots have a stockman heel and a snoot, square toe. These boots also have an oil resistant membrane out sole to keep these Dingos on the road longer.
Genuine Gaucho Brown Leather
10'' Stovepipe Shaft
Comfort Cushion Insole
Stockman Heel
Snoot Toe (Square Toe)
Oil Resistant Membrane Out Sole
Dingo Aydra
The Dingo Aydra is the next addition to the Dingo brand of biker boots for women found on Hat Country. It is a smaller boot and with stitching along the top of the boot, a bit of flair, added durability, and an easy in and out with its zipper closure, the Dingo Aydra makes its way through to the creme of the crop. They have a smaller shaft, only 7'' high, but that doesn't mean that the Aydra is anything less than her companions. A wonderful accompaniment to any women's outfit, the Aydra has class, prestige, and beauty. Like the other boots in the Dingo brand, the Aydra boots feature the Dingo cushion insole so that these beauties won't wear out your feet. The Aydra's braided strap which is curled around its shaft adds a layer of charm to this already fabulous boot. Made with vegan leather and a cowboy heel, the look is completed with a zipped closure on the boot's inside.
Vegan Leather
7'' High
Comfort Cushion Insole
Zipper Closure
Cowboy Heel
Dingo Prairie Rose
A tall boot stitched with care along the shaft and top of the foot, the Dingo Prairie Rose boots are a sight to behold. These are featured alongside the other women's biker boots and are an absolute must buy. This boot is available in two colors: a rust brown and gray, so therein lies two option to accentuate the biker chic in you. What drew my attention to this boot is the ornate stitching adorning the 10'' shaft of the Prairie Rose, finished with its snip toe. The Dingo cushion insole makes itself known throughout this boot as well, adding a layer of comfort and shock absorption to complement the attractiveness of this excellent women's biker boot. It's 10'' shaft is brought to fruition with a cowboy heel, adding extra height and grip to your ride.
Vegan Leather
10'' Shaft
Comfort Cushion Insole
Snip Toe
Available in Rust or Gray
Dingo Juju
For the conscience biker boot enthusiast, these boots are made with vegan leather. However, there is no Juju happening here, but there is some magic found in these well-crafted ankle boots. The last of the Dingo women's biker boots that I wanted to discuss that can be found on Hat Country, and one that is the most iconic, is the Dingo Juju. The real magic comes with the vegan leathers' ability to give it an easy clean. Simply spot clean any marks and smudges with a baby wipe and these boots will look as good as new. This boot's smaller shaft features elegant fringe detail and the ankle opening is surrounded by a zipper teeth accent. The Juju boots have a pull tab making it an easy wear, simply slip on these beauties and you will be hitting the pavement in style. This boot's accoutrements are magnified by the ease of impact provided by Dingo's cushion comfort insole. The Juju is complemented by its soft round toe and stacked tall fashion heel.
Vegan Leather
Pull On
Comfort Cushion Insole
Zipper Teeth Accents
Stacked Heel
Hat Country – A Biker Boot For Women
There you have it, five of Hat Country's amazing, astounding, women's biker boots, crafted by the Dingo brand. As with any great collection of boots, there are many types, some with short shafts, some with zipper teeth, a few with taller heels, but the Dingo brand has brought them all together with their signature crafting style and their comfort cushion insole. These boots are easy to wear and hard to tear, meaning that a pair of these boots will make their way into your heart and will find a permanent place in your closet. Great for a night on the town, a midday motorcycle ride, or a pop-in for a drink among good company and great friends. If you are interested in cowboy boots, check out these beautiful black cowboy boots here.
Remember when I had said that there was a mark, more so a movement in the women's biker culture, well I was right, and this movement pioneered the crafting of the Dingo brand's finest handmade biker boots on the Hat Country site. Bars are now filled with female motorcycle enthusiasts. The streets are littered with black streaks from a well-made hog tearing up the road. And now, where there was once humility and serenity, now it has been replaced by the roar of the bike's mighty engines, all led to the streets by women. For these women, the Hat Country site is a perfect place to be.
There are many brands of biker boots available and with so many to choose from, it can be a bit daunting to decide. Maybe you want a pair for yourself or even for that biker girl in your life or that girl who frequents the bars, if so, these boots are perfect for any wardrobe or any selection of jeans and dresses. From the graceful Dingo Annabelle to the iconic Dingo Juju, Hat Country will not disappoint the biker girl in you. If you want a boot, crafted with care, precision, and grace, at an affordable price, then look no further than the Dingo brand women's biker boots found at Hat Country.