As soon as my eyes gazed upon these pair of boots, I'm not gonna lie, I was intrigued as hell! Such a unique look to them that I had to know more. I read the title "Handmade Pirarucu Boots" and it sounded very familiar. About 2 hours later I realized how I knew the name. I was watching a show on Animal Planet by the name of "River Monsters" with Jeremy Wade and he was going after Pirarucus. They are massive fish that will eat just about anything. Mystery solved? Yes and no, I mean I still needed to know more about these handmade boots. They are absolutely amazing.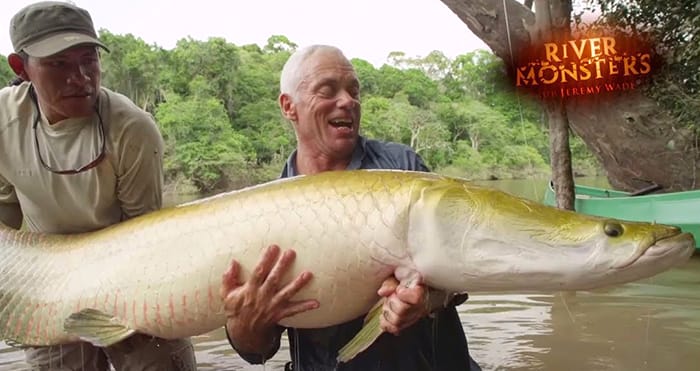 The Boot and the Fish
The legendary Pirarucu is the largest fish in the Amazon river, one of the most incredible and exotic places on the planet. One look at this incredible boot and you'll be taken away to an exciting place. The Marfa cord and stitch pattern looks almost like a blazing fire, with cascading, exotic lines zigzagging up the front and back of the boot. Pull straps show off more of these boots' beautiful, bright Pirarucu skin with overlays, complimenting the rich color of handmade goat leather cowboy boots. I can almost guarantee you, if you walk into a place with others wearing any type of cowboy boots, it's gonna be tough to find someone wearing a pair of Pirarucu Boots. Not because they are lower quality or don't look as good as other boots, but they just aren't a well-known species. I never heard of them until I watched Animal Planet and trust me, not everyone watches that channel and even less that show. It's definitely cool if you could be the first of your friends or colleagues to own a pair of these beautiful handmade boots!
"HANDMADE ALL LEATHER 12 INCH GINGER CHESTNUT BROWN INVERTED PIRARUCU COWBOY BOOTS WITH OVERLAY PULL STRAPS, & 'MARFA' CORDING.
EXCLUSIVELY MADE BY BLACK JACK. INCH."
Product Description
Handmade Luxury Exotic Leather Boots
Premium Select Amazonian Pirarucu Leather
Rich Brown Finish & Appearance
'Marfa' Cording with Rust Stitching
Fancy Exotic Overlay 'S' Pull Straps
3/4 Single Welt Stitching
Black Jack 'V' Wide Snip Toe
1 1/2 INCH Cowboy Heel
Exclusively Available from Pinto Ranch
Handmade by Masters in El Paso, Texas
Specificatons of This Beautiful Handmade Pirarucu Boots
Handmade: Yes
Material:Pirarucu, Goat
Color:Ginger, Chestnut
Details:Marfa Cording, Brown Piping, S Style Overlay Pull Straps
Toe type:"V" Wide Snip Toe
Heel type: INCH3 INCH Cowboy Heel
Outsole:Leather
Insole:Leather
Heel Height:1 1/2 INCH
Shaft Height:12 INCH
Manufactured:El Paso, Texas
Shipping & Returns of These Great Boots
All boot orders within the U.S. qualify for FREE UPS Ground Shipping (excludes Alaska and Hawaii).
FREE SHIPPING ON ALL BO OT EXCHANGES & RETURNS
We believe the right fit is the most important thing, and that is sometimes hard to achieve with an online order. Pinto Ranch will cover your return shipping until you find the perfect fit under the following conditions.
It's within 60 days of your order.
The boots have not been worn and the sole is in new condition.
The boots are shipped back in the Pinto Ranch-provided shipping box. Any boots returned in just the boot maker's boot box will be charged a $20 boot box replacement fee. Please use the original plain kraft shipping box from your order to affix any labels and ship.
You Seriously Need to Reel In A Pair of These Boots
I don't know what I'm more impressed with, this incredible fish or these magnificent boots! I definitely think these boots are a game changer and will make you stand out in a crowd. If you are looking for style, comfort, quality and most likely some conversation, these boots are for you. You might even be able to throw in a little fish story here and there how you caught the Pirarucu yourself. Yeah, you might be reaching there, but it's worth a try.
Remember, these boots are handmade by some of the best boot makers in the world. I guarantee you will never be disappointed by their quality and if you do have a problem, you saw above about their magnificent shipping and return policy. That policy is second to none!
Black Jack Boots is a premium handmade boot collection made exclusively by Black Jack master boot makers. Designed and manufactured in El Paso, Texas, Black Jack Boots uses 100% genuine exotic and smooth leathers that meet the highest quality and style standards.