I didn't grow up in Texas or Montana. Not even in Georgia or South Carolina. I didn't live in an area that you would consider "country". I like to consider my self mid-western if anything. Now, with that being said, nobody in my family ever wore cowboy hats or anything like that. We were pretty much salt of the earth plain old vanilla Midwestern dressing people. Nothing crazy, nothing really special, typical jeans and some kind of t-shirt (usually with a sports team logo) or some kind of plaid or flannel shirt in the colder months. The more I think about it, us mid westerners really didn't like to stand out back in the day as I was growing up in the flat featureless plains of Indiana.
But there is one thing I do remember having as a little boy in the Hoosier state, and that one thing was a pair of cowboy boots. I couldn't tell you why I had a pair. I'm sure I begged my parents for them constantly. Birthday or Christmas gift or something. I'm pretty sure of this just because I do remember the frequency that I wore them. Pretty much all the time. When you're a little boy and you wear the same item constantly, that a pretty good sign it's definitely one of your favorite items.
My youth cowboy boots when I was a kid were brown. Looking back on them as an adult, I would say there was nothing really special about them. No crazy designs. They weren't snakeskin cowboy boots or anything. They were just a pair of boots that looked like they would be worn by a ranch hand in an episode of Bonanza. But guess what? They were my cowboy boots and when I wore them, I was practically a real life cowboy. They not only gave you that distinctive look, they also felt completely different from wearing a boring ole' pair of sneakers. I was practically a mini John Wayne! They were awesome!
With that being said, I have put together some of the best kid's cowboy boots for your little man that I could find. These are proven quality boots that will last them through thick and thin. Enjoy!
Your little cowpoke will be riding high in these Anderson Bean embroidered boots. With intricate blue jean stitching and blue leather, this boot is great for kids who want to live the western lifestyle. The blue shaft is complimented by silver and copper stitching and a brown elephant print foot. This boot has a square toe and roper heel.
Your boy will absolutely love these boots! They have a classic look and a real cowboy feel to them. The elephant print idea is absolutely genius! It's subtle and not too flashy or cartoonish. I mean who doesn't like elephants? Whoa, I forgot to mention, I love the square toe. Over the years, this has become my favorite part of any handmade cowboy boot.
Handmade: Yes
Skin: Elephant Print
Color: Blue Jeans
Details/Accents: Silver and Copper Stitching, Pull Straps
Toe type: Square Toe
Heel type: Roper Heel
Outsole: Leather
Insole: Leather
Heel Height: 1″
Shaft Height: 10″
Manufactured: Leon, Mexico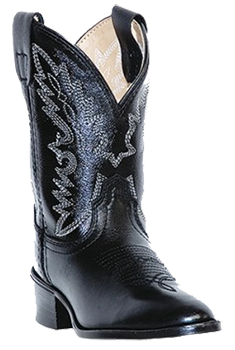 • All Leather
• Comfort Cushion
• Round Toe
• Children Sizes good
All Hat Country's Boys and Girls Cowboy Boots!
Sizes: 8 1/2 – 13 1/2 and 1-3 also including half sizes
Get your BB gun and go after Black Bart, but don't forget your boots. The Chaps Children Cowboy Boots will finish off your little sheriff's look. Lightweight for little feet yet durable enough to (hopefully) out last your young cowpokes. The Thermal Poly Rubber (TPR) Outsole is lightweight for comfort and resists abrasion for longer wear. These are a great looking pair of boots and the black leather will go with anything your little buckaroo is wearing. With a pair of jeans or khakis, these could double as a pair of dress shoes that he will love to wear for any occasion!
All Pinto Ranch Boys and Girls Cowboy Boots
Whoa! Hold your horses. Yeah, these stunning boots come directly from a crocodile. Your bot won't be able to stop talking about that. I remember being absolutely crazy about my pair of boring regular brown leather kid's cowboy boots when I was younger. I can't imagine if they were made out of actual crocodile!
Chocolate Nile croc print. Genuine premium leather. Tan colored uppers with orange, cream, and chocolate embroidery. Chocolate piping along sides. Leather lining, insoles, and stacked heels. Three quarter welt. Double welt stitching. Roper heel. Square toe.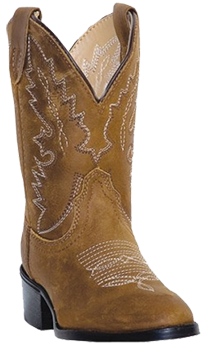 The Shane Children Cowboy Boots are a great pair for your lil partner. This is a beautiful tan boot with some really great looking stitching that give this boot the all American cowboy boot feel. When I look at this boot, I can't help to think that your boy will absolutely fall in love with it! All leather, vamp stitching and thermal poly rubber state this boot is quality made for a reasonable price. Be sure to put this pair of boots in your cart today. Your child will thank you!
These are definitely one awesome pair of boots. Yeah, I'm talking about the pull rings on the top. I would have loved to had those on my pair of boots when I was a kid. I loved my boots because I didn't have to tie any laces (lol), but sometimes I had a heck of a time getting a grip on them to pull them on. These rings are a game changer! I don't want to forget to mention how stunning these boots look. The tan uppers and the bottom chocolate distressed leather look absolutely amazing. How in the world could your boy not fall in love with these boys's cowboy boots!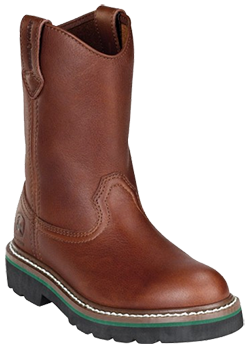 I mean seriously, what could be more country to a little boy than those two words, John Deere! The Gage, from John Deere is the perfect boot for any little one! Made from genuine leather and boasting comfort at every curve, this boot is sure to keep their feet comfortable throughout even the toughest play days. A beautiful boot with subtle highlights of that iconic brand name John Deere. He will absolutely love these boots!
Boy's Cowboy Boots – Something He Will Remember For The Rest Of His Life!
There you have it. Those are definitely some of our favorite hand-crafted kid's cowboy boots. You defintely can't go wrong with any of these handmade cowboy boots. They are sturdy, dependable, practical, and most importantly, they look great. If they are your boys first, second, or even third pair of boots, they are something I'm sure he will cherish for the rest of his life. The great thing about these boots is I think it's something that you think looks absolutely fabulous and something your boy will think looks like the coolest thing he could ever wear.
If you have a cowboy boot story or recommendation or whatever from when you were younger, please let us know in the comment section below. Any advice or comments would be much appreciated!