Hello everyone, in this article I wanted to do something a little different and give you my favorite or the best men's cowboy boots from each brand at Pinto Ranch. The 5 brands in question here are Black Jack boots, Lucchese Boots, Rios of Mercedes, Stallion, and last but not least, Tony Lama men's western boots. These are my personnel choice and a couple are probably on sale. You're welcome!
Now, I would like to make it clear that I am doing this in alphabetical order by brand name. Just because I'm doing Black Jack first, that doesn't mean it's my favorite out of the top brands. Picking a favorite would probably take me months and months to ponder, and then I would probably end up changing my mind a hundred times just because all of these boots are absolutely fantastic! Rounded toe, snip toe, roper, or a square toe cowboy boot, Pinto Ranch has them all.
I'm also gonna do something I normally do and list the price of the boot with each pair. I want complete transparency. Some of these may seem pretty expensive, but trust me, you are definitely getting what you pay for. The quality of every boot that I've seen at Pinto Ranch is second to none. This is definitely footwear that could easily last you for the rest of your life. Many a person have actually stated they wanted to be buried in their cowboy boots. Once you get a pair from Pinto Ranch, you will know why they made this statement.
Worry Free Shopping on Pinto Ranch with FREE SHIPPING ON ALL BOOT EXCHANGES & RETURNS
The Best Black Jack Boot Is Exclusive To Pinto Ranch
BLACK JACK CHOCOLATE CAIMAN HORNBACK COWBOY BOOTS FOR MEN
Click Image To View Boots & Get Info
It took me awhile to pick from the 37 different Black Jack men's boots that Pinto Ranch (exclusive) offers, but I just love these chocolate caiman handmade men's cowboy boots. Then I saw that they were almost $400 off and that just solidified my choice. Hey, I love saving money just like anyone else. Not all the Black Jack boots at Pinto Ranch are on sale, but they do have quite a few and I guarantee you that you will find a pair you love.
This particular boot comes in sizes from 8.0 up to 13.0 and offers many half sizes. It also offers width D and EE which a lot of you will love.
These boots feature an exotic take on exotic leather, featuring a not-so-often seen side of the legendary caiman Crocodile. The flank vamp has luxurious caiman leather in three sections, with circular scales that give this boot an undeniable, unrivaled quality. These boots are as incredible as the modern dinosaurs they come from. The shaft of these boots is supple, brown brush off goat leather.
How awesome are Black Jack Boots? Well, to tell you the truth, Black Jack Boots are made exclusively for them. That's it, you can't get them anywhere else. They make a selected few and only offer them in one place. That has the siqn of quality written all over those boots! They are designed and constructed in El Paso, Texas by Black Jack's master boot makers only for Pinto Ranch. That is pretty special if you ask me. They only use 100% leather that is genuine and conform to Pinto's highest standards and quality. The only thing that I ask of you is that you try not to get overwhelmed by the sheer beauty and attention to detail these boot makers put in to these magnificent boots!
These boots feature an elegant and sleek 'Sunland' cording pattern, outlined by chocolate stitching. The vamp rises with texture, with a '6' round cowboy toe. The pull straps match the rest of the boot. They're elegant, with caiman overlays and a defining flourish.
$995 on sale for $599
Handmade Luxury Exotic Leather Boots
Premium Choice Caiman Crocodile Leather
Rich Chocolate Finish & Appearance
'Sunland' Cording with Chocolate Stitching
Fancy Exotic Overlay 'S' Pull Straps
3/4 Single Welt Stitching
Black Jack '6' Round Cowboy Toe
1 1/2″ Cowboy Heel
12″ Shaft Height
Exclusively Available from Pinto Ranch
Handmade by Masters in El Paso, Texas

Click Image Above To Save Big On All Cowboy Boots Already On Sale!
The Best Lucchese Boot, Handmade Quality Since 1883
LUCCHESE MEN'S PEARL BONE MAD DOG GOAT BOOTS
Click Image To View Boots & Get Info
I don't know, call me crazy, but I just picked a Lucchese men's boot made from goat! LOL. Now just the process of picking a Lucchese handmade western boots out of a selection of 41 different styles is like trying to pick the best Lamborghini on a Lamborghini lot. I mean it's Lucchese for god's sakes. I want them all. I love some of them, but I definitely like them all. When it came down to it, I ended up choosing one of the cheaper pairs just because I like the look of it the best. It has some sort of antique or vintage look that I just love. I mean the boots are made from goat and I could have selected from ostrich, elk, caiman, etc… etc… A ton of exotic leathers and looks to choose from, but I loved these!
Here's a number for you……1883. That is the date Lucchese boot makers first started making handmade cowboy boots. It's crazy to think about a company that has been around that long if you ask me. Lucchese is definitely synonymous with the word cowboy boots. It's also synonymous when you think of words like handcrafted, excellence, quality, style, and attention to detail, etc… when you are trying to describe a pair of their cowboy boots. Like every classic pair of Lucchese handmade cowboy boots, they all come with Lucchese's one year warranty so you know you are getting the highest quality pair of boots money can buy!
This particular boot comes in sizes from 8.5 up to 13.0 and offers many half sizes. It also offers width D for a little extra width.
$595
Pearl Bone Goat Boots
Handmade Cowboy Boots
Saltillo Cord Pattern, Kennedy Pull Straps with Chain Stitched Overlays, Duke Toe Medallion
Lucchese 7″ Toe
Lucchese 3″ Heel
All Leather Outsole
All Leather Insole
12″ Shaft
1 3/8″ Heel Height
Distressed, Mad Dog Finish
Saltillo Cord Pattern on Shaft
Snip Toe and Walking Heel
Handmade in El Paso, Texas
Where contemporary style meets quality, this handmade classic boot features a cool, distressed finish in pearl bone (gray) smooth leather. The snip toe makes this boot a great partner for jeans and a pearl snap. Other details include a Saltillo cord pattern on the 12″ tops, a Duke toe medallion, and Kennedy pull straps with chain stitched overlays.
Rios Of Mercedes Finest Pair Of Handmade Boots
RIOS OF MERCEDES MEN'S BLACK CAIMAN BELLY BOOTS
Click Image To View Boots & Get Info
This has been my hardest pick so far and that is only because there is another pair of boots by Rios that came in a really really close second place. I mean a photo finish. I'm not gonna tell you what pair, because as I said earlier, this is my top 5 best cowboy boots for men, not the best and runner ups.
If you want to see the others, then by head over to the Pinto Ranch site and check out all the Rios Of Mercedes boots and make up your own mind. Hey, different strokes for different folks. It's all about what you like anyway.
Another date in the 1800's. 1853 this time and of course it's one of the finest cowboy boots out there! Rios of Mercedes have been making quality stylish handmade cowboy boots in Mercedes, Texas for almost 170 years. That is absolutely incredible. This is also another boot made specifically for Pinto Ranch. These beautiful works of are are designed and handcrafted by master boot makers all under one roof in the Texas, the cowboy boot capital of the world!
This particular boot comes in sizes from 8.5 up to 13.0 and offers many half sizes. It also offers width D for a little extra width.
$995 on sale for $795
Pinto Ranch Premium Handmade Boots
Men's Exotic Black Caiman Vamp Boots
Black and Rust Lava
100% Leather Outsole
Rust Lava 12" Tops
Overlay Caiman Pull Straps
Snip Toe and 1 3/8" Walking Heel
Cushioned Insole and Leather Outsole
Exclusively Designed for Pinto Ranch
Handmade in Mercedes, Texas
Exotic luxury at its finest. These striking cowboy boots from Rio of Mercedes feature an edgy black caiman belly vamp with rust lava 12" tops, decorated with black and gray six-row western stitching and black caiman overlay pull straps. These boots are finished with a comfortable snip toe, 3" walking heel and the signature Rios cushioned insoles.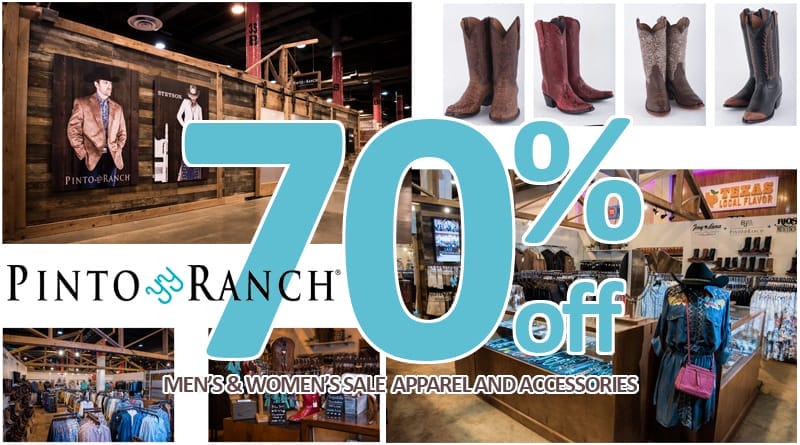 Click Image Above For Up to 70% Off On Western Apparel and Cowboy Boots On Sale!
Stallion Handmade Boots – New On The Scene
STALLION MEN'S COGNAC CAIMAN ZORRO BOOTS

Click Image To View Boots & Get Info
Stallion handmade boots didn't come on the scent until 1980 which is almost 40 years ago, but in the boot world, they are pretty young. They definitely don't show it though because they have some beautiful styles and the quality is exceptional. They also have some great reviews on the Pinto Ranch site. They are definitely a hit.
I really loved these boots and went with a shorter look this time. Hey, you don't always need or even want a 12″ shaft. Actually Stallion only has 11 different styles on the Pinto site and 8 of them are shorties. This look caught my eye immediately and I just had to have them. Definitely one of the best cowboy boots for men I've seen.
These particular boots come in sizes 8.5 up to size 12 and they also offer width in D
$1,395
Men's Cognac Caiman Boots
Short Zorro Boot Style
Side Zipper
Antique Tobacco Caiman Gallegos Design
Cognac Leather Body Construction
Bucklacing Detail
1 1/4″ Fashion Heel
Leather Outsole
Leather Insole
8″ Shaft Height
Walking Heel
Zipper and Heel Foxing
Snip X-1/2 Toe
Handmade in El Paso, Texas
Handmade in Texas by Stallion, these Zorro boots are stately and luxurious. If there's a better made boot in the world, we haven't seen it. Deep and rich Caiman skin rises over the vamp of these boots in an ornate Gallegos design and also forms a heel foxing on the back of these boots. A smooth Cognac leather forms the rest of the boots, contrasted by dark lacing detail. These boots feature a side zipper, a snip toe and a 1 1/4″ heel.
The Stallion Boot & Belt Co. of El Paso, Texas, was founded in 1980 by designer Pedro Muñoz. Stallion selects only the finest skins and materials, with a small team of artisans who are regarded as the best of their craft. Stallion's authentic western boots are known throughout the runways of Paris, Milan and New York as well as among Hollywood stars.
Can't Talk About The Best Men's Cowboy Boots Without The Lama
TONY LAMA SIGNATURE SERIES MEN'S BRANDY VINTAGE NILE CROCODILE BELLY BOOTS
Click Image To View Boots & Get Info
I mean if you're gonna do a boot review, Tony Lama has to be mentioned. Some of the best men's handmade cowboy boots out there. I love this vintage crocodile belly boot. I think the Brandy color is what got my eye right off the bat. From the top of the shaft, all the way to the tip of the square toe, I love everything about this boot!
These particular boots only come in a size 10 and a D width. You lucky son of a gun if this is your size.
Tony Lama offers around 23 different styles on Pinto Ranch and they come in a number of different sizes, this pair just only comes in size 10. You might be able to contact them and see if other sizes are available. Their customer service is outstanding!
$2,295 on sale for $999
Brandy Vintage Nile Crocodile Belly Cowboy Boots
Nile Crocodile Belly and Calf
6-Row Western Stitching
Nile Crocodile Overlay on Pull Straps
Walking Heel – Tony Lama '7' Heel
Leather Outsole
Channeled Leather Insole
1 3/8″ Heel Height
13″ Cognac Calf Tops
Western Stitching on Shaft
Square Toe and Walking Heel
Handmade in El Paso, TX
The rich brandy and coordinating cognac color with classic western stitching make this style from Tony Lama Boots one for the ages. Western details include a 6-row stitch pattern on the shaft and pull straps with Nile crocodile overlays. A modern square and a comfortable 1 3/8″ walking heel completes the style.
Tony Lama is a legendary brand known around the world as the boot of the American west. Their commitment to quality and authentic craftsmanship remains the same since the beginning in 1911. The newly designed Signature Series Collection features hand-picked styles built in the El Paso, Texas factory by the brand's top craftsmen.
Five Amazing Cowboy Boots – You Be The Judge
Wow, those western boots were amazing! If there was a sports center equivalent for boots, those 5 would definitely be on there. Now this was my own personal review of my five favorite handmade cowboy boots for men, but you should check them out yourself. I guarantee that you will find something else on Pinto Ranch that you like better. It's all about your taste and style, not mine.
I just hope the boots that I have picked out can lead you in a direction to find your new favorite pair. Snip toe, round toe, square toe, or whatever, I'm sure you will find a pair that you love. That's the whole point of this article, it's acting like a sign post to point you in the right direction to your next favorite pair of boots. This should put you a couple steps ahead in your search for perfection!
Please let us know what you think below and if there is something in particular we can help you with or maybe you just have some general info, questions, or comments about the brands above. Thanks!